Comparison between D2 and Tein Coilovers are:
Price – D2 coilovers are more costly than Tein Coilovers.
Design – The D2 coilovers feature a monotube setup, whereas the TEIN coilovers are constructed with a twin-tube setup.
Adjustment – D2 coilovers offer an extensive 36-way dampening adjustment, while Tein coilovers feature a 16-level Linear Damping Force Adjustment System.
Ride quality – D2 coilovers don't give as good of a bouncy feeling as Tein does because Tein has springs that are softer.
Durability – The monotube design of D2 Coilovers is proven to be more durable than Tein Coilovers.
Different coilover series are offered by both D2 and Tein coilovers.
D2 Coilovers:
Tein Coilovers:
D2 vs Tein Coilovers In a Table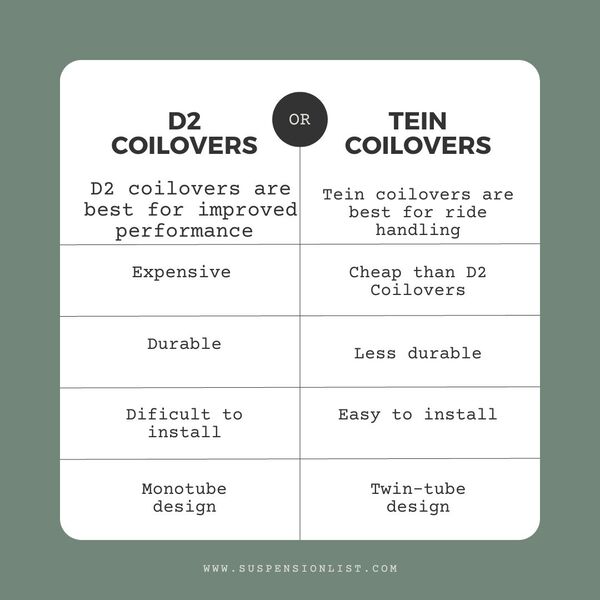 What are D2 Coilovers?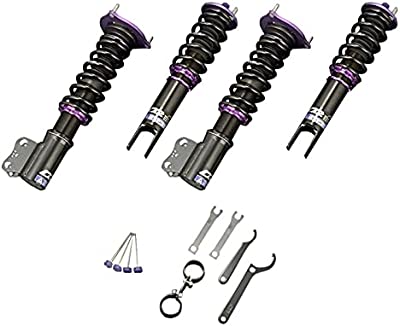 D2 coilovers offer 36-way dampening adjustable monotube shock assemblies, providing an optimal balance of performance and comfort.
The adjustable monotube provides a wide variety of options for a driver's preferences, allowing you to customize the ride to your own preferences, whether you prefer a stiffer or less bouncy ride.
As a monotube design, D2 Coilover helps to reduce body roll and maintain a more consistent ride quality.
The D2 coilover system offers an aesthetically pleasing and protective Anodized finish to the coilover shock body and the threaded surface of the lower mount, providing maximum longevity and a lasting shine.
D2 Coilovers are backed by a comprehensive 1 Year Manufacturer's Warranty.
It is known for its longevity and can last up to 7 to 8 years with proper maintenance and usage. 
Pros:
Increased level of performance and customizability.
Precisely adjust the damping and stiffness.
Comfortable and smoother ride.
Adjustable ride height.
1-year manufacturer warranty
Cons:
Expensive
Difficult to install
What are Tein Coilovers?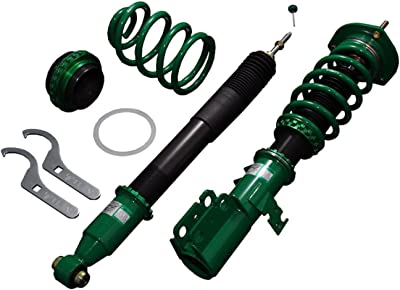 Tein Coilovers feature thread-type adjustability, twin-tube construction, original equipment mounts, dependable and reliable performance, and compatibility without EDFC.
They feature an impressive 16-level Linear Damping Force Adjustment System for precisely tuned suspension.
When it comes down to it, Tein Coilovers craft to elevate your driving experience. They afford you greater ride height control, adjustable ride stiffness, and a notable improvement in handling performance.
Tein Coilovers are made with high-quality materials and are available in a variety of sizes to fit different vehicle makes and models. And, Its rigid bracket and shell case provides a reliable construction.
The springs are constructed from high-tensile steel and cold-formed to enhance ride quality and comfort.
Tein Coilovers can have a service life of up to 3 to 4 years.
Pros:
Customize the ride height and suspension dampening.
Increased performance.
Improved a custom look
Using high-quality materials
Maximum comfort
Easy to install
Cons:
Require regular maintenance, such as periodic re-tightening of the nuts and bolts.
D2 vs Tein Coilovers – Which One to Choose?
After carefully weighing the advantages and drawbacks of D2 and Tein Coilovers, and taking into account the particularities of the roads, I am now more persuaded that D2 Coilovers are the superior choice to Tein coilovers.
When deciding between D2 and Tein coilovers, it is important to note that D2 coilovers are more costly than Tein coilovers, and it requires a larger financial investment because it also requires professional help to install.
If you take the cost into account, then D2 coilovers are clearly the superior option due to their increased durability and adjustable damping performance which make them suitable for various off-road conditions.
It is important to note that Tein coilovers may not provide the same level of damping ability and durability as D2 suspension systems. So, if you consider their durability and damping ability, Tein coilovers still are an excellent choice.
If you're looking to upgrade your ride with enhanced comfort and style, then Tein is a great selection.
Tein coilovers are cheaper than D2 and easy to put on, so you save lots of money.
Summary
D2 and Tein coilovers are excellent choices for any car enthusiast looking to improve the handling and performance of their vehicle.
Both offer excellent dampening characteristics, allowing for a smooth and comfortable ride regardless of the terrain.
If you are interested in learning more about Tein Coilovers, we recommend reading a Tein Coilovers Review.
To gain insight into the differences between Tein Flex Z and Street Basis Z coilovers, you can read here.
Comparing the cost of coilovers, it looks like D2 Racing is kinda pricey, but BC Racing has some good options too. If you want to figure out which one is better, you might wanna check out what people are saying about D2 Racing vs BC Racing.
Another alternate option to consider is the Ksport coilover, which offers a more cost-effective alternative than the D2 coilovers. See a comparison of the two on Ksport Vs D2 Coilovers.