Every vehicle contains a suspension system that works as a linkage between the wheels and the chassis of the vehicle. The prime role of a suspension system in maintaining vehicle stability, reducing wear and tear on tires, and promoting passenger comfort makes it imperative from the perspective of steering stability and mobility of the vehicle.
We've seen the advancement of various technologies over the years, continuing to debut new types of vehicle suspension under increasingly advanced circumstances. However, with the introduction of even more brand-new vehicles, you might particularly notice the new talk about their cars featuring double wishbone suspension. 
But what's a double wishbone suspension? Should you also have one in your vehicle? Before you decide, check the advantages and disadvantages of double wishbone suspension here. 
What is a Double Wishbone Suspension System?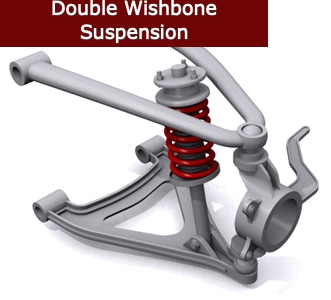 So, what's actually a double wishbone suspension? Well, technically an independent suspension design, the double wishbone suspension, is structured for automobiles using two wishbone-shaped arms at the front and rear of the car to locate the wheel. 
Each wishbone or arm features two mounting points to the chassis and one joint in the knuckle. The shock absorber and coil spring are attached to the wishbones to control vertical movement.
Developed over a century ago for automobiles, the double wishbone suspension has become used to facilitate the driving experience on difficult roads. Since it's structured based on an independent suspension design, meaning that each wheel has a separate suspension, and thus a single impression on bumpy roads primarily affects the wheel contact.
This video can give a good description so that you can really get it when it comes to your double wishbone suspension explanation.
How Double Wishbone Suspension Works
Once again, before we head to the later discussion, let's explain how the double wishbone suspension system works. The double wishbone suspension is sometimes referred to as "double arms." The upper arm is usually not much shorter to create a negative camber for jouncing (rising), as this arrangement is usually called an "SLA" or "short long arms" suspension. 
When the car is in a turn, body roll results in positive camber gain on the lightly loaded inside wheel, while the heavily loaded outside wheel loses significant camber. 
Between the top two ends of the arms is a knuckle. The knuckle contains a central point for rotational movement. The kingpin of older models is utilized in a horizontal motion, while rubber or grunion bushings are employed for vertical sliding purposes. 
As the sprocket rises, the push rod (the typical mobile arrangement) pivots along both sides of the inside spring via a spindle or pivoting system, whereas the different method has a gear (i.e. the unfolding arrangement) that will pull on the rod during bump travel, and the rod must be attached to the upright at a slight angle downward.
Advantages And Disadvantages Of Double Wishbone Suspension 
What are the positive and negative aspects of a double wishbone suspension system? Now we are able to count those because the time has come to do so. The advantages and disadvantages are laid out separately for you below.
Advantages
Yes, there are some real-life advantages that have kept double wishbone suspension systems on the list of choices. Check those advantages below:
The primary advantage of a double wishbone suspension is that the introduction of a negative camber enhances the stability characteristics of the automobile as the outside tires maintain greater contact with the road. This steadies the vehicle, too, while enhancing handling.
The double-suspension system is firmer and more rigid than other suspension systems, so the process of adjusting the suspension and maintaining its alignment is remarkably easy even when you're applying a lot of force.
In addition, they offer greater negative camber gain up to full jounce travel, in contrast to the MacPherson strut, which affords greater negative camber gain only at the start of jounce travel and then reverses into greater positive camber gain at maximum jounce levels.
Superior Fine-tuning and Load Capacity
A double wishbone suspension is simple to fine-tune owing to its functionality, so the suspension can be achieved to best take full advantage of wheel motion and fine-tuned to accurately reflect suspension movements. The load distribution for different components is also simple to evaluate, allowing optimized lightweight parts to be designed.
The suspension system's adjustability allows it to be well-adapted to the needs of product designers, especially since it can maneuver differently for different camber percentage points, roll center heights, and swing arm lengths. 
Disadvantages
Here we've gathered the most notable disadvantages of the double wishbone suspension system:
Maintenance Complexity and Cost
A double wishbone suspension is oftentimes compromised by system issues because it is more complicated than other kinds of suspensions. It is requirement-driven, and there are several piecemeal modules to the system reminiscent of a party clown. 
If any of such pieces are broken or damaged as a consequence, your system will be out of order. Maintenance and service of the double wishbone suspension are likely to have more expenses due to this.
Yet another concern is that at least some of the torque coming from braking has to be controlled by changing your whole body, and the traction force has to be an area of the road that is not spontaneously noticed. 
To counteract this problem, the bottom wishbone is frequently prolonged to provide a better road. Once that is done, the need for a higher wishbone goes away, and you end up with a multilink of some kind.
Best Cars with Double Wishbone Suspension
Curious to know which vehicles use double wishbone suspension systems? Let's see here. Well, double wishbone suspension systems are generally found on a number of luxury performance vehicles and sports cars. 
Some of the most popular cars to come with double wishbone suspension systems are the Mercedes-Benz, the Lancia Delta S4  (most models), the Toyota Tundra, the Aston Martin DB7, Alfa Romeo Giulia 952, the Honda Accord, and the MG Rover TF.
If you observe carefully, you can see double wishbone suspension systems are often used on motor racing cars, such as Formula 1 or Indy, where the controls are plainly noticeable at the roll-up brace.
Upgrading to Double Wishbone Suspension – Our Verdict
After seeing all the advantages and disadvantages of the double wishbone suspension system, what is your thought? Should you upgrade your suspension to a double wishbone system? Well, let's summarize our thoughts in this light. 
While most individuals look at upgrading to a double wishbone suspension as the single best upgrade for their vehicle, there are several aftermarket upgrades to any suspension type. 
In addition to all of that, while those who wish to upgrade a vehicle to a double wishbone suspension have many options available to them, they'll have a harder time bringing it to a truck with no alternative suspension.
However, if you're obsessed with performance and used to driving in rough and tough conditions, a double wishbone suspension would be your best option. Alongside, the double wishbone suspension system is a real beast in terms of load capacity, so while you have a large or heavy-duty vehicle, don't hesitate to pick it.
See also: