BC Racing Coilovers are renowned for their versatility, providing optimal performance for both street and track use. There are two main series within the BC Racing range – BR and DS – both of which are designed using a monotube construction. Each series boasts 30 levels of damping force adjustment.
The main differences between BC Racing BR vs DS series Coilovers are:
Valving system – The BR series coilover is ideal for Linear Valving, providing a consistent damping sensation at higher piston speeds. Conversely, the DR series coilover is best suited for Digressive Valving, delivering enhanced damping forces at lower piston velocities.
Ride height – For those seeking to make the most of their street driving performance with the ability to compete in weekend events or entry-level racing, the BR series coilovers are the ideal choice. In contrast, the DR series coilovers have greater low-speed damping force to provide an enhanced sensation for the driver, such as for roll, pitch, dive, and quick weight transitions when navigating technical road courses.
Price – The BR series coilovers are a cost-effective choice, with the DR series being more costly than the BR. This is why the BR series is a popular choice for most drivers.
The BR and DS series coilovers are the most sought-after in the BC racing Coilover. Both are equipped with the same features and are differentiated mainly by driver preferences.
The BR series coilover is ideal for daily driving.
The DS series coilover is an ideal choice for adjusting to various road conditions and different weights.
Many individuals opt for BR series coilovers due to their affordability when compared to DS series coilovers, as they offer the almost same capabilities.
BC Racing BR vs DS In a Table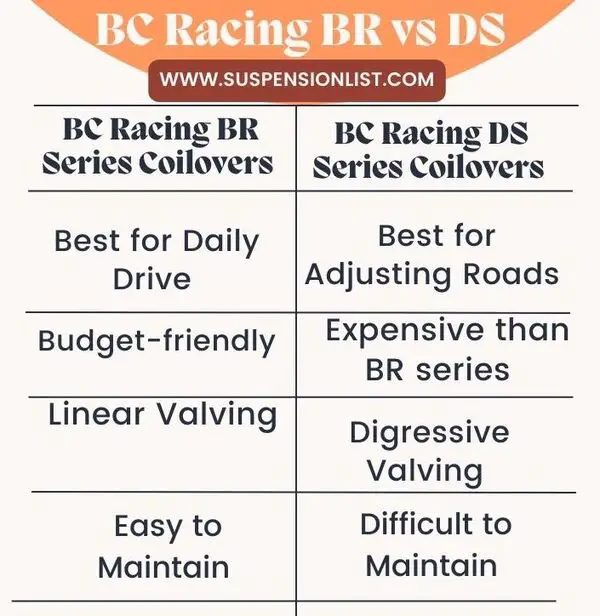 BC Racing BR vs DS: Overview
BC Racing Coilovers are renowned for their monotube suspension systems that meet the individual requirements of drivers.
It is a well-loved brand, offering multiple series of coilovers, with the BR and DS series proving particularly popular. Many consumers struggle to decide between the two due to the similarities in their features and level of ride height adjustability.
The Ride height can be adjusted independently of the spring preloading.
They offer 30 simultaneous compression and rebound damping force adjustment levels, allowing for optimal performance on any terrain.
They are covered by a 1-year warranty.
BC Racing BR vs DS: Durability
Both BC racing Coilover BR and DS are renowned for their durability.
They each have distinct features that make them individually strong.
The BR Series Coilover features a dust boot to protect damper seals, while the DS Series Coilover has a satin chrome-finished shock body that offers an upgrade in durability.
BC Racing BR vs DS: Maintenance
BR series coilovers deliver a more reliable suspension system with reduced upkeep due to its integrated characteristics, including adjustable dampers, adjustable spring rate, and adjustable ride height.
This facilitates simpler adjustment and upkeep, rendering it the perfect selection for those searching for a minimal-maintenance suspension system.
You can get new components or have them repaired for much less than the cost of replacing the entire BR series coilovers system.
On the other hand, DS series coilovers offer a slightly more complex suspension system that requires more maintenance, particularly in the form of regular adjustments.
The adjustable dampers, spring rate, and ride height are also included in the DS models but require more attention when it comes to tuning and maintenance.
The increased low-speed damping force offers various advantages, but can be complicated to adjust due to the need to modify adjustability in certain scenarios.
It is necessary to possess specialized expertise in order to install the coilover.
BC Racing BR vs DS: Which One Is Best for You?
When selecting a suspension system between BC Racing BR vs DS, it is essential to take into account cost, customer feedback, and your own preferences.
The BR series coilover is a more cost-effective option than the DS series coilover, making it an ideal choice in terms of pricing.
When considering customer feedback, the BR series coilovers have proven to be the more popular choice due to their ease of use and cost-effectiveness when compared to the DS series Coilover.
When considering your personal preferences, it is fully dependent upon your expectations and needs. What precisely are you looking for? Are you seeking a coilover that is suitable for daily driving? Or are you seeking something that is completely adjustable?
When most people ask. Are BC Racing BR series Coilovers good?
There are 10 out of 10 drivers highly recommended that the BR Series Coilover be installed, with its top-notch installation and budget-friendly option, making it the prime choice of BC Racing Coilovers.
How about DS coilovers? People also ask. Are BC racing DS Coilovers good?
7 out of 10 drivers believe that the 30-way adjustable facility of DS series coilovers facilitates precise adjustment of the car to suit prevailing conditions. That is why they love the DS series in the BC racing coilover.
It is essential to identify your needs and determine which option is most beneficial for you.
See more about BC racing: