What's the difference between Truhart and Tein Coilovers? They're both twin-tube designs, so what makes them different?
Price – Truhart Coilovers are more cost-effective than Tein Coilovers.
Durability – Truhart coilovers offer enhanced longevity in comparison to Tein coilovers.
Comfortable ride – Tien Coilovers offer a more comfortable ride than Truhart Coilovers due to their highly-rigid bracket and shell case design.
Vehicle specifications – Tein Coilovers are suitable for heavier vehicles, while Truhart Coilovers are better suited to lighter vehicles.
Off-road – The Tein coilovers boast an impressive 16-level Linear Damping Force Adjustment System, providing superior off-road capability compared to the Truhart coilovers.
Tein offers a variety of Coilover series designed to meet specific performance requirements. Please explore the options below.
Truhart Coilovers:
Tein Coilovers:
You can look at a comparison between Tein Flex Z and Street Basis Z Coilovers.
Truhart Vs Tein Coilovers In a Table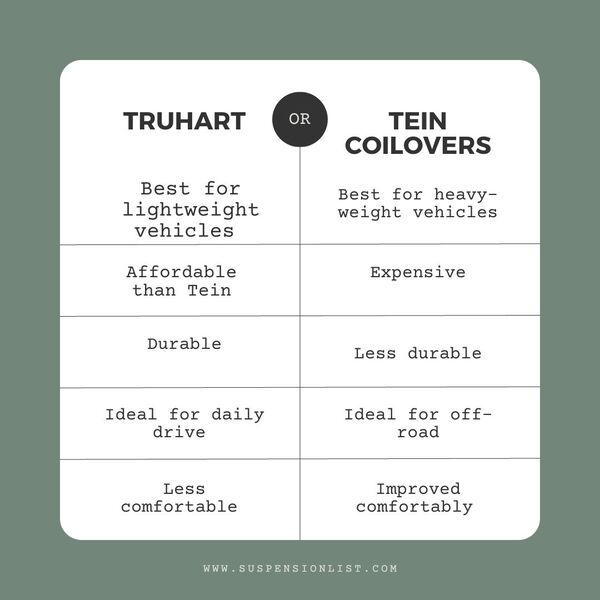 What is Truhart Coilovers?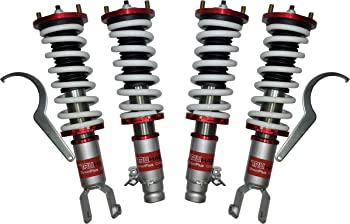 Truhart Coilovers are a cost-effective, high-performance suspension solution that allows drivers to have enhanced control over their vehicle's cornering dynamics.
They have a really cool adjustable lower mount that lets you change your car's height without ruining the shock travel or spring preload.
This product is designed with adjustable ride height, ranging from a minimum of 1.5″ below the original factory height to a maximum of 4.0″ above.
The suspension system includes a 50mm twin-tube strut up front in addition to camber plates, as well as a 50mm twin-tube strut with camber plates in the rear.
Zinc plating, powder coating, anodizing of shock bodies, lower mounts, and lock rings/top mounts offer enhanced rust/corrosion protection for increased durability.
The suspension components of these coilovers provide a dynamic yet comfortable ride, making them an ideal choice for daily driving.
Pros:
Adjustable dampening and height options.
Constructed from high-quality materials
Comfortable ride quality
Easy to install
Backed by 2 years warranty
Cons:
Not so good for heavy-weight cars
What is Tein Coilovers?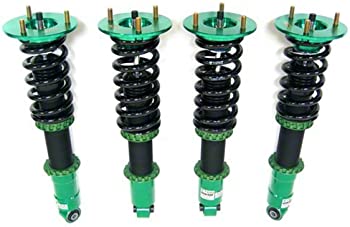 Tein Coilovers are a great way to make your car bouncy and fun, especially if it's already low to the ground. You can even adjust the bounciness with the 16-level Linear Damping Force Adjustment System.
Tein Coilovers provide a precise suspension adjustment, featuring adjustable rebound, spring preload, and ride height so that you can customize your ride to your vehicle's specific needs.
They provide a comfortable ride due to their excellent spring rate, which ensures a smooth ride.
Its dust boot protection shields the piston rod from harm and impedes dirt from entering, making for a durable and velvety compression even when you take the dirt road and off road.
Proper installation and maintenance of Tein Coilovers can ensure your vehicle's optimal ride and performance.
The comprehensive range of features makes Tein coilovers an ideal solution for heavy-duty vehicles.
Pros:
Suit a particular driving style or terrain.
Improved ride handling.
Excellent performances.
Improved comfort.
Best for heavy-weight vehicles.
Cons:
Truhart Vs Tein Coilovers: Ride handling
When it comes to riding handling, Tein coilovers provide superior performance due to their adjustable design. While Truhart coilovers are also capable of providing adequate ride handling, they do not match the level of comfort provided by Tein.
Truhart Vs Tein Coilovers: Installation
Comparing the installation of Truhart and Tein coilovers, it is evident that Truhart is simpler to install than Tein. Tein coilovers boast a variety of customizable designs, making them challenging to install for those without experience.
Truhart Vs Tein Coilovers: Durability
When it comes to durability, both Truhart and Tein Coilovers are considered highly durable. However, Truhart is generally accepted as having a longer lifespan due to its design for lightweight vehicles, which does not put as much strain on the components as a heavier vehicle would.
Summary
Truhart and Tein coilovers offer quality suspension upgrades that can improve your car's handling and performance. 
The choice of which coilovers to buy depends on your personal preferences, budget, and car make and model.
If you have a lightweight vehicle, then why not take advantage of the great value that Truhart Coilovers offer? It's an economical choice for your everyday driving needs, so you don't have to break the bank.
For heavier vehicles, you should strongly consider Tein coilovers despite the higher price point than Truhart. If you are choosing between Tein and Truhart coilovers, Tein is the ideal option.
More resources on Truhart coilovers:
More resources on Tein coilovers: