The Bilstein B12 and B14 suspension systems both feature a monotube design from Bilstein. The comparison Bilstein B12 vs B14 are:
Valving – The Bilstein B12 offers more sporting tuning, while the Bilstein B14 is designed to provide a more comfortable ride.
Ride height – The Bilstein B12 provides a lowered ride height, while the Bilstein B14 offers an adjustable ride height.
Adjustability – The Bilstein B12 is a non-adjustable that provides an optimal balance between look and performance, with a typical 30-40mm lowering. Conversely, the Bilstein B14 has fixed ride height adjustment capabilities, making it a cost-effective choice for those looking for an adjustable suspension option.
Springs – The Bilstein B12 kit is accompanied by Eibach Pro-Kit springs, tailored to reduce the height and enhance handling. The Bilstein B14 kit contains street-performance coilover springs to enable customizable ride height.
Price – The Bilstein b14 is slightly more costly than the Bilstein b12.
In addition to the above characteristics, there are a variety of differences between Bilstein B12 and B14 suspension systems. This article outlines the pros and cons of each, as well as the optimal road conditions and cars for each suspension.
Bilstein B12 vs B14 In a Table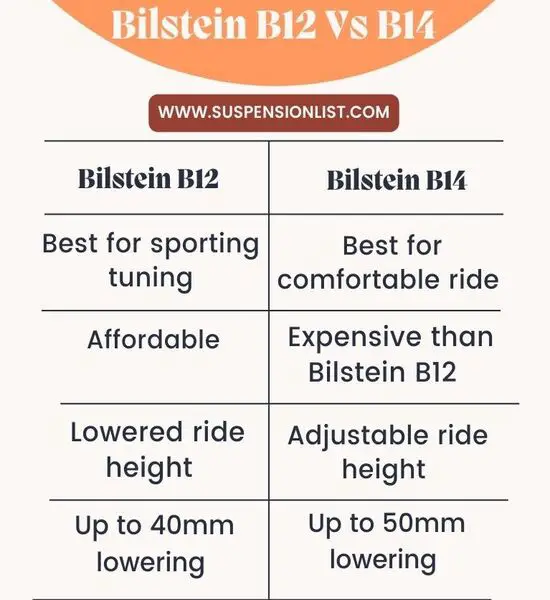 What is Bilstein B12?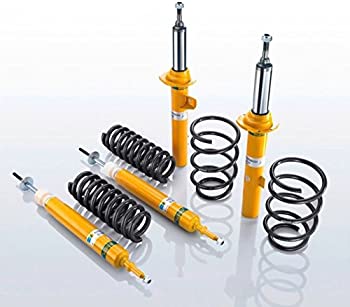 The Bilstein B12 coilover kit is a luxurious suspension system designed to provide a smooth, enjoyable ride.
It comes complete with four Eibach coil springs of an optimally-balanced spring rate, as well as Bilstein's monotube gas-filled shocks and struts, which offer an enhanced level of stability for your vehicle.
Bilstein B12 suspension systems offer superior performance, lowering, and convenience capabilities for luxury vehicles.
This beauty has been lowered in both the front and rear to create a sleek, sophisticated look. The front has been lowered by 30mm and the rear by a further 40mm.
For daily driving, a lowered car is ideal, and the Bilstein B12 is the perfect option.
It is important to bear in mind that the ride will be much firmer if you opt for lowering springs. If you prefer the smoother ride of a midsize sedan, which is able to effectively absorb shocks from bumps and potholes, then this is not the ideal option for you.
Pros:
Professional Cornering System PCS
Improved comfort
Durable and long-lasting
Lowering up to 40 mm
Excellent driving performance
Easy installation
Cons
Recommend video:
What is Bilstein B14?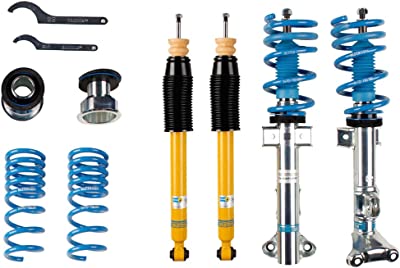 The Bilstein B14 provided an excellent combination of performance and aesthetics for daily driving. Despite being stiffer than the spring/shock combination, the superior quality and adjustability made it worthwhile.
The Bilstein B14 Fixed Adjustability Rate provides an extended period of smooth and comfortable performance.
The Bilstein B14 coilover provides a range of 30-50 mm in terms of lowering from the stock ride height on both the front and rear suspension.
It really gets your car low to the ground, with less than a finger's gap all around and you can even lower it further. It's not necessarily a comfy ride, but it's not overly stiff either.
Though Bilstein suspensions are meant to be durable, the B14 kit has been tried and tested in the most rigorous of motorsport conditions, ensuring a quality product for your driving pleasure.
The Bilstein B14 is the optimal choice for mid-sized vans.
Pros:
Lower your ride height by up to 50 mm
Damper settings for very sporty handling
Improved handling
Fit with all terrains
Improved stability in long drive
Perfect lowering
Cons:
Limited adjustability
Higher cost
Recommend video:
Bilstein B12 Vs B14: Which One is Best?
The decision between the Bilstein B12 and B14 suspension kits will largely be based on your individual driving requirements and tastes. The Bilstein suspension is highly durable.
If you are in need of a height-adjustable system, the Bilstein B14 provides superior adjustability compared to the Bilstein B12. Therefore, the decision is yours, depending on the desired outcome.
If you require a more comfortable ride, then the Bilstein B12 is a great choice. It is engineered to provide a plush ride, in contrast to the more performance-oriented Bilstein B14, which is tailored to provide a stiffer, more dynamic driving experience.
Due to its adjustable features, the Bilstein B14 typically carries a higher price tag than the B12. If you're looking to stay within a budget, the B12 may be a more cost-effective option.
The installation process for both is straightforward, however, b14 requires more effort for its more advanced features.
Both suspensions provide a comfortable and smooth ride for both daily drives and long trips.
To specify the cars, When driving a mid-sized van or sedan, the Bilstein B14 is the recommended option as it offers a more comfortable ride than the B12.
Both suspensions are durable. But, the Bilstein B14 boasts superior durability, and its zinc-coated, threaded body design promotes enhanced durability and ride quality.
More resources: