The Bilstein B14 and B16 are two of the expensive suspensions manufactured by Bilstein. Bilstein B14 Vs B16 differences are:
Height adjustment – The B14 suspension system has a fixed damping rate, whereas the B16 model allows users to modify the dampening rate according to their desired preferences.
Ride comfort – The B14 provides a smoother experience compared to the B16, perfect for daily commuting and long trips. On the other hand, the B16 is tailored to those who want a sharper ride with more precision when it comes to cornering and handling.
Vehicle Specifications – The B14 is engineered for compatibility with a broad spectrum of vehicles, both those with factory-installed and aftermarket lowering springs. In contrast, the B16 is exclusively suited to certain vehicles and additional modifications may be necessary to ensure complete compatibility.
Price – The B16 suspension is more costly than the B14 due to its additional advanced features.
There is plenty of fascinating information to explore, from the pros and cons of each system to the unique features they offer. Keep reading to discover all the Bilstein B14 vs B16.
Bilstein B14 Vs B16 In a Table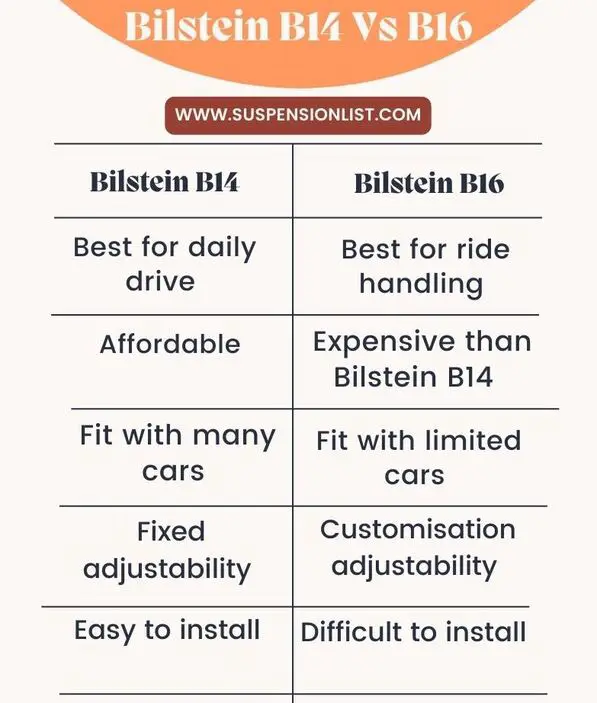 What is Bilstein B14 Suspension?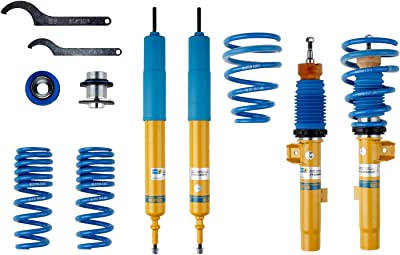 The Bilstein B14 offers state-of-the-art suspension technology to enhance the driving experience of luxury cars, sedans, and SUVs.
The Bilstein B14 features adjustable dampening settings designed to provide enhanced performance and improved handling both on the road and the track.
It reduces the ride height of your vehicle by 30 to 50 mm, providing flexibility and customization.
This zinc-coated, threaded body design provides the flexibility to achieve an ideal ride height, allowing you to maximize your driving experience.
Through rigorous testing of their suspensions, they have perfected their ability to handle any terrain.
Bilstein's suspension system is an ideal choice for long and comfortable drives.
The Bilstein B4 Perfectly Tuned Lowering Kit ensures a smooth ride and long-lasting performance. You can rely on it for extended use without any issues.
Pros
Excellent ride comfort and handling
Easy to install and maintain
Lightweight and durable
Excellent for a long drive
Durable
Affordable
Cons:
It is not fully adjustable coilovers
What is Bilstein B16 Suspension?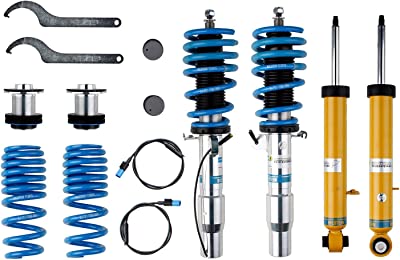 The Bilstein B16 suspension system is an advanced coilover suspension system. It offers superior adjustability, making it an ideal choice for both on-road and off-road driving conditions.
The Bilstein B16 is an adjustable coil-over kit that enables 30-50mm of lowering, with 10 different pressure settings for further customization.
You can customize your ride to your own preferences with the adjustable setting options available.
It has a monotube performance damper that is tailored to the specific application with corresponding springs, providing a reliable ride on all terrain, whether it be roads with sudden dips or winding routes.
No doubt, its ideal ride height allows you to customize your ride to your exact preferences, making every journey more comfortable.
The Bilstein brand offers unparalleled durability with its coilovers, suspension, and shock and strut components. The Bilstein B16 takes things a step further, featuring zinc coating and adjustable settings to provide your suspension with maximum strength and longevity.
Pros:
Adjust the damping or stiffness
Customize the ride.
Made from high-quality materials
Improved Ride Quality
Improved Handling and performance
Cons:
Not easy to install
Expensive
Bilstein B14 Vs B16: Damping Ability
The Bilstein B16 offers an outstanding damping performance, with its adjustable ride height allowing for the most comfortable ride when traversing challenging terrain. Meanwhile, the Bilstein B14 features a fixed ride height, guaranteeing a consistently pleasant experience throughout extended drives on a highway.
Bilstein B14 Vs B16: Installation
The installation of Bilstein B16 is more complex than that of Bilstein B14 due to its adjustable system. This can make it challenging for some individuals to install their ride. On the other hand, the B14 has a fixed adjustable system, which makes installation more straightforward.
Bilstein B14 Vs B16: Terrains
The Bilstein B16 provides an unparalleled level of versatility, allowing you to customize your ride to your own personal preferences. You can do customization rides with different roads. Meanwhile, the Bilstein B14 is ideally suited for long-distance journeys, providing a consistently comfortable ride.
Recommend video:
Conclusion
Bilstein is widely regarded as a leader in automotive suspension technology, offering consistent performance across its range of models.
Both Bilstein B16 and B14 are highly reliable suspension systems, boasting exceptional longevity.
It is imperative to address your budget and determine the appropriate level of performance.
The Bilstein B14 provides superior daily driving performance, while the Bilstein B16 offers outstanding ride handling.
More resources: