Both Kyb Excel G and Gr2 shock absorbers come with the same internal features, yet their design, price, and color make them stand out from one another.
Price – Kyb Excel G gas shocks are more economical than Gr2 shock absorbers.
Color- The Kyb Excel G gas shocks come in a black finish, while the Gr2 shock absorbers have a black and silver combination.
Design – The Kyb Excel G gas shocks offer a straight pipe configuration, while the Gr2 shock absorber is side by side configuration.
Vehicles – Kyb Excel G shocks are suitable for trucks, and Kyb Excel Gr2 shocks are suitable for cars.
Kyb Excel G Vs Gr2 In a Table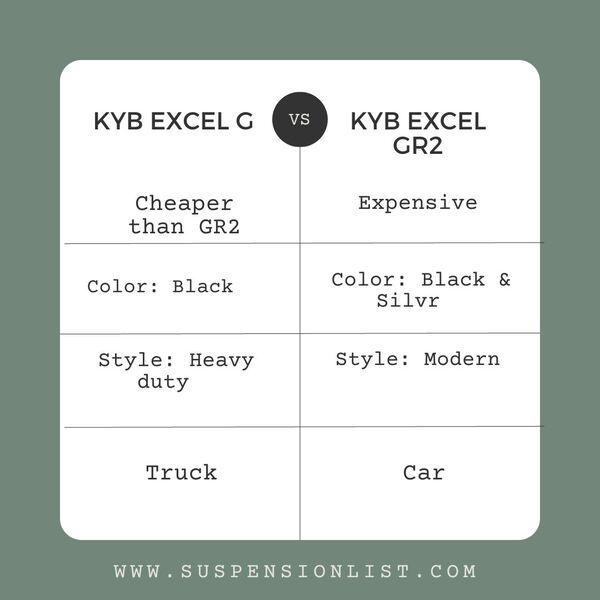 Kyb Excel G/Gr2 Shocks Overview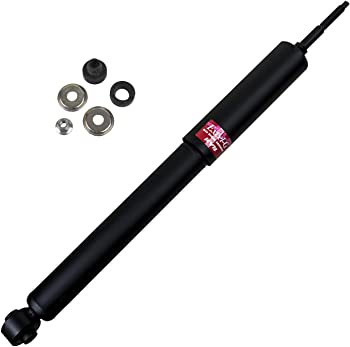 KYB Excel G and Gr2 provide superior shocks – a perfect blend of comfort and performance for your car.
These OEM replacement shocks are designed to replicate the original handling and control characteristics of heavy-duty Ford trucks.
Kyb Excel G/GR2 shocks are capable of lasting up to 50,000 miles (80,000 km).
Japan-made KYB EXCEL G/GR2 Shocks are a great asset to the field of Hydraulics Technology.
Installing KYB Excel-G GR2 shocks on your vehicle is effortless – no modifications are required.
Kyb Excel G/Gr2 shocks feature a sophisticated twin-tube design, comprising every top-notch component you would expect from OEM products.
Kyb Excel G Vs Gr2: Ride Quality

The Kyb Excel G/GR2 shock offers a softer ride, providing a smooth, cushion-like feeling as you drive.
They provide superior control and stability so you can keep your focus and stay safe on the road.
Whether you are driving in the city or the countryside, you can count on the Kyb Excel G/GR2 shocks to provide an enjoyable, safe ride for you and your passengers. Its advanced technology ensures excellent handling and stability even on the roughest of terrain and its durable construction ensures that it will last for many years to come. 
Kyb Excel G Vs Gr2: Adjustment Specification
The Kyb Excel G and Gr2 are designed to be compatible with a variety of vehicles, although there may be slight modifications necessary for some vehicles.
Compatible Kyb Excel G shocks are available for a variety of vehicles, including cars, trucks, and SUVs.
Kyb Excel GR2 Shocks are suitable for both Touring and 4×4 Offroad vehicles.
Summary
There's really no need to compare Kyb Excel G and Gr2 shocks – they're both outstanding shock absorbers, after all.
Installing these shocks is a breeze. Not only are they built to last, but their performance won't wear down over time.
Do you want to learn more about the Kyb Excel G Shock? We have a great review for you to check out the Kyb Excel G Shock review.
KYB SR4079 Review – it's like the best shock and strut thing ever made by KYB. You can read it.
You can look at your KYB shocks side-by-side with other brands like Monroe and FCS. Check out KYB Vs Monroe Vs FCS Struts and Shocks.
To further your knowledge of KYB, please refer to our comparative analysis of Detroit Axle Struts and KYB.
Which strut yields the best performance in a comparison of Sensen, Monroe, and KYB? Does KYB outperform the other two struts?