General Motors' Chevrolet Corvette generations typically have a lot of success. The strength ratings and its performance are more than any of its foreign contemporaries, costing about the same as its European counterparts. However, no matter how staggering the performance of the Chevrolet Corvette is, an obscure issue has tainted it.
You are probably aware that the Chevrolet Corvette C6 still utilizes an old suspension design called transverse leaf springs. Despite the fact that transverse leaf springs are still very much viable, it still receives criticism from those who have owned or have driven one with coilovers.
Since the public was so receptive to this Corvette five years after its introduction, numerous aftermarket coilovers have been made to cater to enthusiasts looking for the best performing C6 Corvette performance-focused kit to upgrade theirs. Take a look at the suggestions of the best coilovers for the C6 Corvette for those who are in need of improvement listed below.
Why should I upgrade my C6 Corvette's suspension with coilovers?
There has recently been a trend where, over the past decade, more C6 Corvette owners are capitalizing on coilover suspensions.  Why is that? The reason is that 
Leaf springs put minimal attention on suspension tuning, which is a vital consideration for all enthusiasts of powerful, road-oriented cars like the C6 Corvette. 
In that scenario, there are a few noteworthy advantages you can gain once you have aftermarket coilovers installed in your C6 Corvette. Below are some of the advantages that you will notice from getting coilovers put onto your vehicle. 
Enhanced Handling Capacity
Leaf springs are a poor choice for the purpose you're trying to maximize your Corvette handling. The main issue with leaf springs is that they inexcusably operate as a dependent system.
Because each wheel has a spring associated with it, they are connected and made to function the same way, which is known as cross-talk, meaning that force from one side is transferred to the other side through the mounts. 
That's why much of the unneeded roll occurs on one side of the vehicle as it is rounding a curve. To get rid of such issues, upgrading your Corvette's suspension to coilovers would be the best option. 
Greater Ride Height Adjustability
Among the biggest advantages of coilovers is their degree of ride height adjustability. Most coilovers for sale in the current market can be adjusted to accommodate a wide range of stand-in heights, from stock height to 1 inch or greater. There's nothing hotter than a sleek sports car with a lowered stance.
Precise Spring Rate Tuning
Leaf springs don't get fully adjustable. Rather, they will get stiffer or softer depending on how much weight they are carrying. If you are just cruising down the highway, this is not a problem. But if you plan a bit more on your C6 Corvette, the spring rate has an important impact on your car's performance.
With a coilover, you can easily and quickly update spring rates. As long as you have the spring rate in written form, you know the spring rate without fail. No more trusting gut feelings about how much it will cost to use a coilover to get from a parking lot to your office building after lunch.
Ensures Easy Weight Balance
When you're altering the balance of a car by loading up the back, you know how rapidly performance improves. You can control the car's weight distribution, which will improve everything from throttle reaction time to maneuvers to cornering abilities. C6 Corvettes, though, present a problem with their original setups.
The process of adjusting the ride height is more difficult due to the various levels of the console and support arms of the car, as well as the particular layout of the leaf springs. The task of doing so is a nuisance with insufficient satisfaction of results when using the adjusted springs. Coilovers can remove the cause of much of the frustration in this process. 
What factors should I consider when choosing coilovers for my C6 Corvette?
Coilovers can grant you a lot of options for your car's functionality. Unfortunately, if you're like most people, deciding on a new coilover for your Corvette C6 isn't going to be an easy task. 
In the event that you don't understand the complexities of using coilovers on a Corvette, then it'll be very hard for you even to begin shopping. Don't worry, we've compiled all the information you need to know, from what is required for a Coilover to the average price it is to acquire. We've covered this thoroughly for C6 Corvette owners, so continue reading to learn more.
Build Quality
You want a coilover unit that is extremely long-lasting, whatever your driving style is. To ensure your coilover stays in good running condition for a long time, you must select a product that's of high quality. 
Maybe you should take into account whether the assembling companies that make your coils are trustworthy prior to purchasing. KW, Adlan American, LG Motorcycle, and BC RACING are among the famous suspension providers because of their world reputation in motorsports. 
In addition, descriptions of the different products used to make coilovers are crucial. The best are forged with anodized aluminum, which is highly rust and corrosion-resistant. Stay away from cheaper, run-of-the-mill products even if they look extremely appealing. Remind yourself, high quality always costs greater. 
Spring Rates
Knowing the spring rate is as easy as looking at the amount you have to compress a spring by one inch. The spring rate of the installed coilovers will have a significant effect on your car's handling and performance. 
For race cars as well as for laid-back everyday driving, high spring rates are the best due to how the chassis stands up higher. For low-speed cornering, low spring rates give you a softer ride, but you are likely to get more body roll in corners.
If you want reasonably energetic driving, then it would be wise to invest in coilovers featuring a vigorous spring rate. However, if you are interested in dual-purpose coilovers that could be used for daily driving and the occasional race, then you ought to choose one's having mid-level spring rates.
Dampening Adjustability
The amount of adjustment available will depend heavily on how elaborately you want to customize your car's suspension. Most aftermarket suspension manufacturers offer different adjustable coilovers suited specifically to the driver. Some are simple, single adjustable, while others allow both compression and rebound to be fine-tuned at once.
You can find coilover assemblies that offer customizable compression control, 3-way vertical adjustments, along with 4-way adjustments, to help you fine-tune the dampening of your ride. To figure out which sort of suspension assembly will be most effective for you, consider your precise needs. 
Warranty Coverage and Duration
When you decide to spend a sizable sum of money, there's certainly no reason to pass up some security as well. In this case, a satisfying warranty policy can give you a peace of mind. Warranties serve as a sign of the provider's possible dedication to the overall quality of their coilovers.
Goods that fail under a manufacturer's warranty can be fixed or updated safely and securely if the owner meets the conditions required by that manufacturer. Nearly all suspension makers will provide one to two years of a limited warranty to secure your investment when the item isn't functioning as it was supposed to. 
Comparison Chart of the Best coilovers for C6 Corvette 
Before we unleash our champions, let's have a sneak peek at how all those best coilovers for your C6 Corvette compare to each other. 
| | | | | |
| --- | --- | --- | --- | --- |
| Product | Ride Height Conversion | Dampening Adjustability | Material | Suitable for  |
| BC Racing BR Series Coilover | 1–3 inches | 30-way dampening adjustability | Aluminum | Daily driving |
| ALDAN AMERICAN Adjustable Coilover Kit  | 2 inches | 30-way rebound and 6-way compression adjustment | 6061-T6 aluminum | Tracks and Streets |
| KW 35261715 Clubsport Coilover | N/A | 30-way dampening adjustment | Steel and Aluminum | Race tracks |
| Godspeed MMX2107-A Coilovers Lowering Kit | 30-60 mm | 40-way dampening adjustment | Aluminum | Day-to-day use |
| LG Motorsports G2 Corvette Coilover Kit | Up to 1 inch | 12-way dampening adjustment | Aluminum | Off-road and on-road |
5 Best Coilovers For C6 Corvette Review
Well. Now it's time to get acquainted with our selections of the best coilovers for your C6 Corvette. Each of the products on our list has been selected after thorough research. 
We have tried to make a list that can satisfy C6 Corvette owners with diverse budgets, driving styles, and preferences. 
1. BC Racing BR Series Coilovers – Best Coilovers For Daily Driving
Highlighted Features:
Aluminum top mounts
Ride height adjustment from 1 to 3 inches 
Monotube dampers with linear valving
Custom spring rates and valving 
30-level adjustable dampening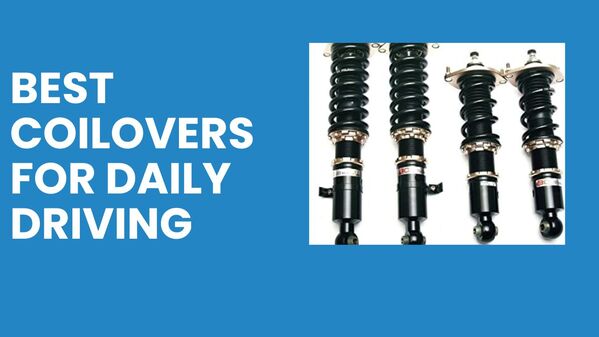 To kick off our list of the best, we're proud to include one of the best-loved C6 Corvette coilovers, which is the BC Racing BR Series Coilovers. Not only is this one a sought-after option for many C6 Corvette owners, but it's also highly regarded among tuning enthusiasts regardless of their vehicle of choice. 
This is owing to its incredible performance and great ride quality. These coilovers are a good substitute for leaf springs for C6 Corvette owners who want something they can look decent in. And, on top of that, this coilovers unit doesn't have a hefty price tag like that of most expensive coilovers options on the list yet enough to fulfill your suspension desire. 
To begin with, we will discuss the ride quality of the BR Series Coilovers. It is typical for coilovers to make the ride a little rougher because of how the added stiffness in the suspension components displaces the ride close to the ground. 
That may be different with the BC Racing coilovers, though, as they're relatively supple. By and large, there haven't been individual contradictions between the ride quality and terrain, as the coilovers do an admirable job of smoothing over bumps. 
These assertions are especially true in towns and expressways on alternative routes, where the quality is fairly smooth. All things considered, this is probably even better than the stock unit. For autocross enthusiasts or those who just wish to explore secondary roads from time to time, performance is the main priority. 
Well, these coilovers from BC Racing are the entry-level lineup in their inventory, so yes, they're tuned to provide an additional benefit over the factory, but we can't expect them to reach championship-level lap times. As a day-to-day commuter, these coilovers will make the C6 Corvette even more maneuverable. 
| | |
| --- | --- |
| Pros | Cons |
| Reasonable price | Harsh rides in off-roads |
| Monotube design | |
| Adjustable damping and ride height | |
| Suitable for daily driving | |
2. ALDAN AMERICAN Adjustable Coilover Kit – Best for Custom Independent Front Or Rear Suspension
Highlighted Features:
30-way rebound adjustment
6-way compression adjustment
Gas charged shock
Adjustable shock valving for increased traction
Lowering ride height up to 2.0 inches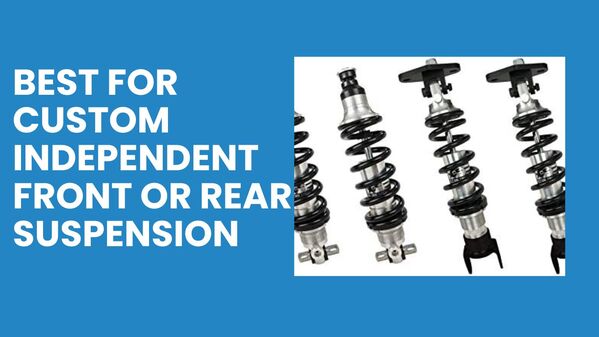 In the second position, here we've something out of the traditional but infused with uniqueness, introducing the all-new ALDAN AMERICAN Adjustable Coilover Kit to you. This coilover kit is specially designed for C5 and C6 Corvette. So, what are you going to get with this tremendous coilovers unit? 
With the Aldan coilover kit, you're going to receive two coil springs to match your OEM spring pockets. You're also going to get a set of the new Aldan double adjustable coilover shocks. What's the benefit of a double adjustable? 
First of all, you'll be able to lower two inches out of the box, that's two inches of lowering, whether you're running a stock control arm or a set of aftermarket tubular control arms. You also gain both rebound and compression adjustment out of the shock. 
So what do those do? More adjustment offers more control, better handling, and overall, more performance within your shock. They're fully bolt-on with the shock and spring. The lower coilover mount bolts to the top side of that control arm, and the upper and the spring as well, all fit into that factory spring pocket. 
When reconfiguring an Aldan American coil spring, it is useful to flatten its shape in order to make the spring have a higher compression. This is the best possible stance since when you generously wrap the spring coil around the body of the automobile, it offers superior responsiveness in tight corners and increases road adhesion.
You'll find the rebound adjuster at the top, and the compression adjustment at the bottom. So for the rebound adjusters, you just have to bottom down the knob all the way out, which is clockwise, and once that's set, now you're ready to adjust. 
Adjusting the compression is also quite simple. These adjustments help you to swap your riding mode quickly depending on the road condition. Seems pretty interesting right? 
| | |
| --- | --- |
| Pros | Cons |
| Easy to install | Unusual "play" effect in the upper spherical joint |
| Adjustable ride height | Bouncy and harsh ride |
| Aluminum construction | |
| Can be used in drag racing | |
3. KW 35261715 Clubsport Coilover – Best for Race Tracks 
Highlighted Features:
Specially focused on race track performance
Adjustable compression and rebound settings
Individually height adjustable
Comes with high-performance racing springs
Optional adjustable top mounts for convenient adjustments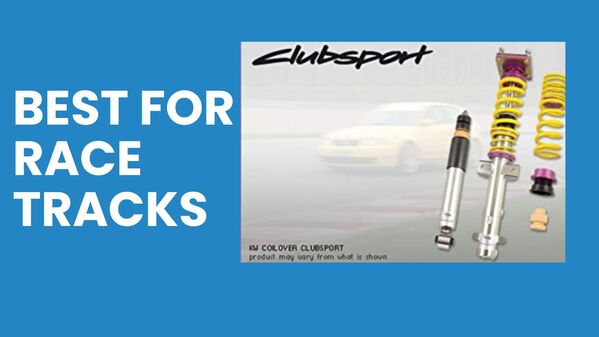 KW! KW! KW! This is a name that is praised among drivers who have ever used its suspension products for once in their lifetime. Here, for your C6 Corvette, we have the KW 35261715 Clubsport Coilover. Yeah, the price seems too high for budget shoppers, but believe it, KW won't make you regret your investment as it will be worth every penny. 
What makes ClubSport suspensions stand out as the ideal option is that they are specifically designed to be installed into the automobile's spring assembly. These not only make them convenient to set up but additionally ensure stronger control and additional dampening abilities. Clubsport coilovers also come with front adjustable tempered polyurethane mounts making them able to from zero to thirty degrees of camber. 
If you're planning to roar on the track while maintaining maximum handling, the KW Clubsport coilovers would be the best bet. As for mounting, it is completely uncomplicated, like a solo suspension mount is. When you got it installed, you're only a few steps away from feeling more thrilled while driving. 
The jaw-dropping experience of KW Clubsport Coilovers is something that simply can't be matched. Especially, the onboard jacks do not utilize the stock axle suspension. This results in a much more tactile connection between the baton and the body of the vehicle. You will get a much more effective road experience and bodily feedback using the steering wheel.
At the same time, your vehicle's grip will soon become firmer, and you virtually get rid of the tighter body roll in the cabin. Naturally, there is a trade-off for the ride comfort as the interior becomes a bit noisier and bumpier, but you will not lose too much comfort on an ongoing basis. 
| | |
| --- | --- |
| Pros | Cons |
| Incredible race track performance | Expensive |
| Adjustable ride height and compression | |
| Limited lifetime warranty | |
| Excellent handling | |
4. Godspeed MMX2107-A Coilovers Lowering Kit – Best for Budget 
Highlighted Features:
Pillow ball top mount
Lowers vehicle from 30-60 mm
Large capacity anodized shock body
High viscosity shock oil
40-way adjustable dampening
CNC-machined carbon and steel aluminum hardware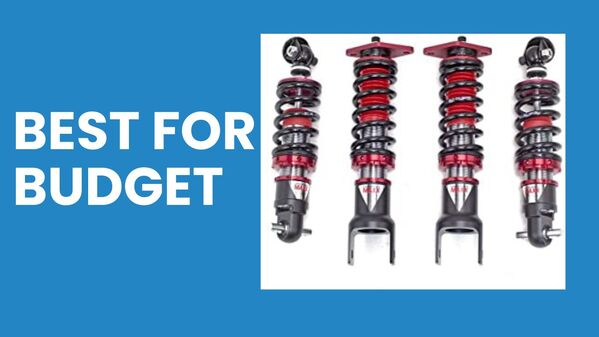 Whenever the C6 Corvette community tries to identify the greatest coilovers available in the budget segment, they're certain to talk highly about Godspeed coilovers. These coilovers provide extraordinarily good value for the price, and the performance gains they generate are astounding. 
So, if your budget is too shrunken to grab the premium options mentioned in our list, the MMX2107-A Coilovers Lowering Kit from Godspeed is here for your C6 Corvette. Well, let's now get down to business and talk about why these coilovers can be your bang for the buck investment. 
First of all, this is Godspeed's 1st tier road coilover prior to getting into the world of racing-oriented suspension parts. Still, it boasts an ultra–premium Italian shock oil that will deal with even extreme temperatures on the track. The dampers used in this line provide impeccable 40-way adjustable settings for that luxurious and larger 52 mm internal piston.
These shocks are built from aluminum and carbon fiber to reduce weight and deal efficiently with harsh treatment. These considerations demonstrate that this coilover option is an excellent fit for C6 Corvettes that spend a lot of time on expressways and occasional tracks.
However, since these are the cheapest coilovers you can buy, you shouldn't anticipate high-quality performance from them. Notice the preload, as we haven't heard of that being changed by the maker. So, attempt to adjust the preload to an acceptable level and see if that makes a difference.
| | |
| --- | --- |
| Pros | Cons |
| Superior street performance | Durability is questionable |
| 40-way adjustable | |
| Smooth ride | |
| Budget-friendly price | |
5. LG Motorsports G2 Corvette Coilover Kit – Best for Lowering Car
Highlighted Features:
12-way adjustable dampening
Uses spherical bearings
Equipped with a remote rear shock adjuster
Innovative inverted shock design
Aluminum shock mounts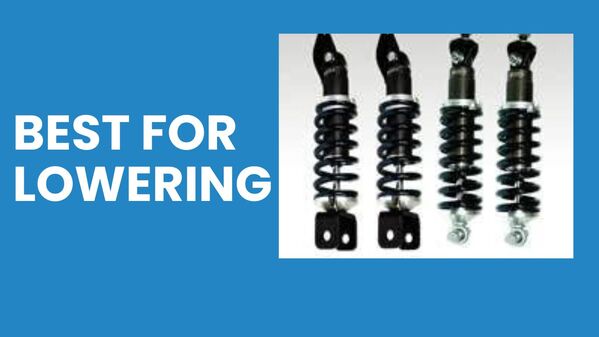 LG Motorsports' motto, "We race, you win," demands success and intense motivation in pursuit of it. They embody this prize-fighter mentality in their GT2 Adjustable Coilovers, among the most popular C6 Corvette Coilover conversion kits for the C6 Corvette. They give it a racing-inspired look and make it harder for it to shake the streets. 
Do you want to get an impeccable suspension for your vehicle which allows you to drive on either the tracks or the streets like the roads are made for you? This ingenious gear is an absolute ace at handling challenging cornering, making it unparalleled at helping you feel comfortable while driving.
There are many improvements noticeable in cornering. That is precisely what some aggressive drivers are after most when shopping for their cars, and the LG GT2 Adjustable Coilovers make that goal achievable. They make it a lot more delightful to drive hard through the corners.
A sophisticated upside-down suspension system lessens unsprung weight, contributing to its ease of use. These coilovers allow you to adjust every aspect of the compression and rebound action independently. Unlike many coilovers currently offered, the LG GT2 Adjustable Coilovers include a remote rear shock adjuster. 
A slight gap located at the rear-side upper shock mount allows an easy means of attaching the cable of the shock adjuster. With this, you'll be saving yourself the hassle of drilling holes just to get your hands on the adjuster.
| | |
| --- | --- |
| Pros | Cons |
| Easy installation | On the expensive |
| Efficient cornering | |
| Adjustable dampening | |
| Suitable for racing | |
Coilover Installation Guide for C6 Corvette 
Just grabbing the best coilovers doesn't mean your job is done since the most important task is waiting for you, which is installing the coilovers unit and ensuring proper fitment. Yeah, it's always wise to go to an expert technician to perform the installation. 
However, a DIY installation can save a large portion of the overall cost to get a new suspension setup. So, if you're confident and skilled enough to install coilovers on your C6 corvette, follow the steps mentioned below. 
Front Kit Installation Process:
We'll start with the front kit installation process and then move to the rear portion. This is going to be a lengthy yet simple-to-follow process. So, hold your breath and follow the steps:
To start with, you must inspect your car on a level surface before dismantling it and carefully note down all current suspension positions. Stabilize your Corvette and lift it with the two-wheel jack points located on each side of the car frame so the left and right front wheels can extend freely.
Disconnect the upper shock nuts and front wheels from under the hood, disconnect the windshield wipers, or manipulate the windshield washer fluid reservoir in order to eliminate the obstructive items. 
Unbuckle the brake caliper from the crash hose. Keep Freed the brake caliper by using a zip tie. Don't leave the caliper dangling from the brake hose. 
After that, remove the leaf spring by using the 4 bolts holding the leaf spring to the front sub-frame. Then remove the 2 lower shock-bolt mount bolts. Place a floor jack underneath the bottom control arm.
Now, loosen the sway bar lower nuts. At the bottom of the guide post, there's an 8-mm Allen bolt that is fixed inside the nut to keep it from turning while shifting the nut with a wrench. 
Remove the 4 Allen bolts connecting the frame to the crossbar. There may be shims behind the upper fork mounts. When reassembling, pack the shims and then put them back in the exact same position.
Lower the jack that is attached to the lower control arm to reveal the leaf spring. With the leaf spring currently exposed, install the new coilover assembly to the rod before fastening the hex nuts. Tighten the nuts on the upper end simultaneously in each of the control arms. Insert the lower shocks into the control arm.
By following factory settings, tighten the upper and lower suspension bolts. Reattach the caliper, then tighten the suspension nuts using a jack. Now, the lower control arm shock and upper control arm shock can be tightened with a wrench.
Reinstall and tighten items removed from their locations under the hood. Check the wires and sensors under the hood to be certain everything is fixed, and temperature changes do not interfere with the brake hose and sensor wire. 
 Finally, reinstall the wheels and tires. Make sure the suspension is at zero against rocking to prevent possible damage to your vehicle. Inspect the sway bar to ensure that the car has the minimum gap away from contact with the ground.
Rear Kit Installation Process:
Now proceeding to the rear suspension unit. As you are mounting the coilovers on the Corevette's position rear end, utilize the supplied hardware to bolt on the top end of every coilover and use the holding plates. 
Commonly, the instruction manual will inform you which of the two locations will utilize the left bracket and which will use the right bracket. If all are set, follow the steps:
The rear coilover installation is essentially similar to the front installation with the exception that the mount's shock bolt and nut will replace the one that's used up front. The mount on the lower control arm consists of one long bolt and a nut that needs to be removed before installing the shock. 
The shock unit is held together internally by a long bolt and a nut on either side, while the control arm being held in place at the top is a push-pin and nut bolted right into the puller. The bottom mounts support the control arms as well, and a long bolt slotted in the coilover and lower control arm holds the shock in place.
Once you've mounted the mounting bracket to the coilovers, you'll be able to bolt the coilovers back up. After getting everything else bolted back, you can put the car back on the ground. Seek out height measurements after the installation process to ensure everything is at the same height as it was before, making adjustments if necessary.
FAQs
How often should I replace the coilovers on my C6 Corvette?
For daily driving or street use, your Coilovers will need to be serviced every 60,000 miles, or every 15 to 30 thousand miles after a corresponding amount of time spent using roads. For maintaining healthy suspension performance, it is highly recommended to have your Coilovers inspected every 15 to 30 thousand miles.
How long does it take to install coilovers on my C6 Corvette?
It depends on who is performing the replacement task. For example, a home DIYer may take a longer time to install the whole unit than an expert technician. However, installing coilovers on your C6 Corvette may take 3-4 hours on average. 
What are the advantages of using coilovers over lowering springs on my C6 Corvette?
Making adjustments with coilovers is far easier than the lower spring. Besides, coilovers are versatile setups that mean you can either lower the car or increase the ride height according to your needs as the coilover unit provides. 
Final Words
Regardless of the fact that the chassis of C6 Corvettes had been intended to avert the use of coilovers, most manufacturers still managed to fit them and most car enthusiasts find them preferable above any mid or rear leaf spring version. Thus, they trade the low-height transverse leaf and pick high-performance coilovers to experience the complete handling ability of your C6 Corvette.
Coilovers are expensive, but for C6 Corvette enthusiasts focused on having the very best time while performing, coilovers are a mere means to an end. What is the purpose behind getting coilovers for your Chevrolet Corvette C6 auto? 
For example, do you really want to radically change your personality as a driver? Consider giving the idea a second thought before accepting to install coilovers on your vehicle.
See also: