Exploring the differences between Ksport and BC Coilovers, both of which come from monotube design. It's not easy to compare, especially when these two coilovers are so evenly matched in terms of their impressive features.
The major differences Ksport Vs Bc Coilovers are:
Damping adjustments – Ksport coilovers hold a remarkable 36 levels of damping adjustment, while BC coilovers hold 30 levels of adjustment. This advanced adjustment system facilitates a significant enhancement in both handling and comfort while driving.
Valving system – KSport coilovers offer a variety of valving options for their systems, including street, street comfort, race, and drag racing valving, while BC Coilovers have also a wide valving system but not as Ksport.
Durability – Both Ksport and BC Coilovers offer a comparable level of durability. However, when considering variables such as road conditions, driving habits, and maintenance practices, the longevity of either product may differ.
Price – The pricing of the BC coilover is reflective of the company's esteemed reputation as a leading manufacturer in the industry. As such, it is positioned at a slightly higher price point than its Ksport counterpart.
BC and Ksport offer a fantastic selection of coilovers for your suspension needs. Each brand offers top-notch quality and performance.
It is worth noting that these coilovers are a bit pricier than some other options on the market. The adjustable damping ability of these coilovers makes them truly one-of-a-kind and worth the investment for a smooth, comfortable ride.
Competitors:
Ksport Vs Bc Coilovers In a Table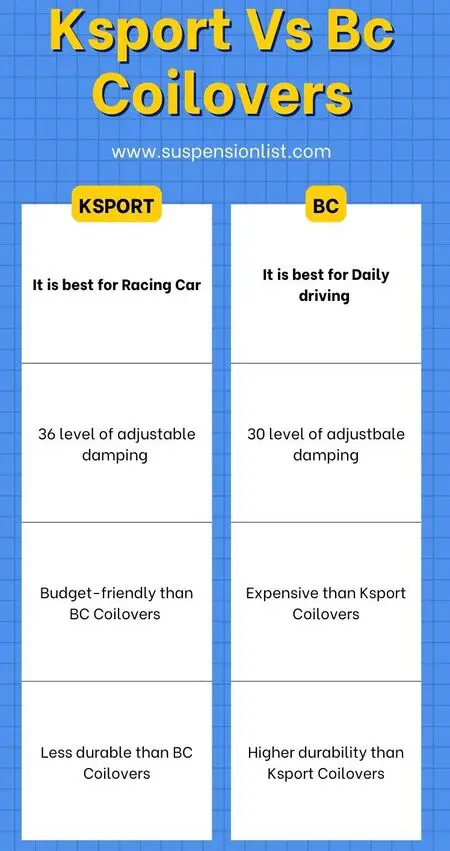 What are Ksport Coilovers?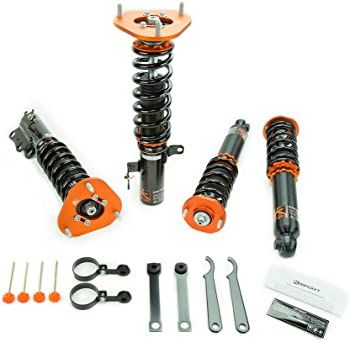 Ksport coilovers are high-performance suspension systems that are designed to enhance the driving experience of sports cars and other high-performance vehicles. These systems are engineered to provide superior handling and control, allowing drivers to take their vehicles to the limit on both the street and the track.
Ksport offers a monotube adjustable shock and it's made in Taiwan. Their popular model is Ksport kontrol pro Coilover.
The adjustable damping system on these coilovers augments their suitability for a range of diverse road conditions, offering up to 36 distinct levels of control.
The spring rate of the Super Sport model has been engineered with a high-performance vehicle in mind, featuring a stiffer spring rate of 2-3 kg/mm in comparison to its Street counterpart. Additionally, the damping force has been fortified by a 60-150% increase to effectively enhance its suspension capabilities.
The Ksport coilover kit is renowned for its capacity to alter ride height by ½ to 2 ½ inches below stock height, on average.
Pros
Excellent performance and durability.
Adjustable features
Superior handling and stability
Customizable ride height
Better Appearance
Cons
Expensive
Little stiffer at first
What are BC Coilovers?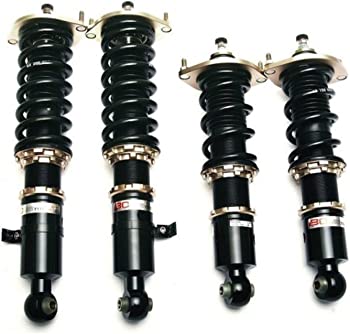 The BC coilover brand has established itself as prominent in the suspension system industry, with its coilovers providing optimal performance for everyday driving purposes.
The coilover comes with 30 levels of damping adjustability, which guarantees superior ride quality, handling, and overall comfort. Additionally, this coilover has a monotube shock absorber which ensures excellent ride quality.
BC Racing offers a range of high-performance coilover suspension systems, with the BR and DS models standing out as two of their most revered offerings. For those seeking further insight, you can read our BC racing BR vs DS.
In addition to their renowned BR series, BC Racing also boasts an impressive line of racing suspension with their BC Racing V1 series. You can also read BC racing V1 vs BC racing BR.
When considering ride quality and durability, BC Racing presents itself as an exceptional option for daily driving.
The BC Racing series originates from renowned manufacturing in Taiwan.
Pros
High level of adjustability
Built with high-quality materials
Improved handling and performance
Higher comfort and smoothness
Increased durability
Cons
Conclusion
If you're planning on hitting the streets in your racing car, you'll want to make sure you have the right gear. The Ksport Pro Kontrol coilover is an excellent option for improving the performance of your ride. Not only does it provide a smooth ride, but its wide range of damping adjustability means you can customize it to your preferences. So why not give your car the upgrade it deserves and enjoy a better driving experience?
On the other hand, If you're looking to upgrade your coilover for your daily driving, I highly recommend checking out the BC coilover. Its exceptional qualities and superior design cater to the unique requirements of daily drivers. Its uncompromising focus on user experience and comfort.