The differentiation between BC Racing and KW Coilovers lies in their adjustment systems. KW Coilovers boast superior individual adjustment capabilities, whereas BC racing Coilovers feature an independent ride height adjustment system.
BC Racing's coilovers prioritize ride comfort, while KW's coilovers place more emphasis on their outstanding look.
The BC Racing coilover uses exceptional features of superior quality, while the KW coilover is constructed with a combination of stainless steel and aluminum, Contributing highly durable choice.
BC Racing BR series is the aftermarket Coilover kit with a monotube shock design. Plenty of dampening adjustability and camper plates are available in this Coilover. Moreover, BC Racing is determined to ensure a significant customization level at a reasonable cost.
Within the realm of BC Racing, there exist two notable series, namely BR and DS. You can read them.
In contrast, the KW Coilover provides ride comfort and quality performance over high road bumps. The significant feature is they have an easy setting depending on the vehicle. Also, the installation process is straightforward.
There is a long gap in their price range. BC Racing is affordable whereas KW is more expensive than BC. However, there are lots of things you should know before buying a top-notch Coilover between these two.
BC Racing Vs KW Coilover In a Table
When you've decided to buy new Coilover kits, you should look for design, piston diameter, thread quality, coil springs, upper and lower mounts, etc here is a table that helps you to get a transparent idea about these two products.
| | | |
| --- | --- | --- |
| Key Measurement | BC Racing | KW Coilover |
| Manufacturer  | BC Racing | KW |
| Made in | Taiwan | Germany |
| Piston diameter | 46mm diameter with 53mm damper body. | The piston diameter available is 35mm, 36mm, 40mm, and 43 mm. |
| Dampening adjustability | 30-clicks | 16-clicks |
| Shock design | Monotube  | Twin-tube  |
| Height adjustable | Fully height adjustable | Sporty harmonic spring rates allow adjusting the height precisely |
| Rebuildable or not | 100% Rebuildable  | Rebuildable without changing the valve. |
| Construction  | Almost all the components are made of high-end (T6 6063) aluminum. | Stainless steel construction with polyamide endurable springs ensures longevity. |
| Pros  | Affordable, with plenty of damping adjustable benefits, rebuildable, and customizable. | Ensure quality ride, advanced technology, effortless installation, adjustable compression, and rebound. |
| Cons  | Firmer ride when setting the adjustment more than 14 clicks. | Slightly pricy  |
| Costs  | Budget-friendly | Expensive |
BC Racing Vs KW Coilover: Major Differences
Here is a detailed discussion regarding BC racing and KW's features. Read their features carefully and make your valuable decision about which you should buy.
Brand or Manufacturer
From 2006 to the present BC Racing Company has introduced its breed. Their aim is to produce Coilover kits that satisfy the customer's needs. They are improving day by day with satisfying the customer as well.
On the other hand, KW Coilovers, which started its journey in 1995, has now established its strong position in the market. KW is top-notch in terms of reliability and experience. They always make coilovers with ride comfort and performance in mind.
Quality
Both coilovers are great quality products that are unbelievable. BC Racing provides extreme suspension kits with highly customizable features. In addition, the springs, locking collars, shafts, thread, bearings, etc. are sensational.
In contrast, KW has superior performance and endurance helper springs, and an efficient damper control system (ESC module). Additionally, this Coilover is well-known for dampening control. The parts are made with established and durable materials.
Dampening Adjustability
The BC Racing Coilover has 32 different damping adjustability for smooth and hassle-free height adjustment anytime anywhere. As a result, it can adjust the damping force when turning knobs.
Alternatively, KW kits utilize Twin Valve rebound technology with 16 clicks independent rebound adjustment. This allows the driver to dial the car a little bit more efficiently with sportier yet tighter handling and comfortable settings.
Construction
Almost all the components including locking collars, shaft, coil springs, and shock body are made of high-quality T6 6063 aluminum. Aluminum-based materials are well-tuned and work as shields against rust. Therefore, it adds ultimate strength and improves performance and durability.
Alternatively, the KW Coilover uses rustproof and exclusive quality steel for long-term driving comfort. The springs are made of wear-resistant and friction-controlling high-carbon polyamide composite materials with stainless steel polishing.
Design
BC Racing Coilover has a monotube shock design whereas KW has a twin tube shock design. Monotube shock design is efficient to dissipate heat and works simultaneously as a cylinder, carrying the oil, gas, and piston valve. It has a floating piston that separates the oil from the gas.
On the contrary, the KW Coilover is made with the twin-tube damping principle. Twin tube shock has 2 different cylinders. There is no gap between the oil and gas chamber and the internal cylinder holds the piston valve.
Rebuild Option
BC racing parts are 100% rebuildable whereas KW can be rebuilt without changing the valve. So here is the difference. When the Coilover grows old, don't worry. You have the option to rebuild by spending some money instead of replacing it. But if you want to repair the KW Coilover, you need to set up the valves individually.
BC Racing Coilover: Best For Comfortable Ride
If you want to install the best Coilover within your budget, there is no alternative except BC Racing. Needless to say, they meet the product to their customer which has high-end construction, superb performance, plenty of damping adjustment, and many more outstanding features.
Customers who bought this item gave it 5 stars and appreciated it with joy. Within a thousand-dollar budget, monotube shocks provide superior handling, ride comfort, full customization, affordability, and rebuild options.
KW Coilover: Best For Performance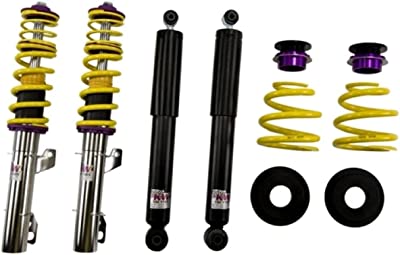 Nowadays, KW is a highly recommended performance Coilover kit with flawless construction. Made to last long without premature wear and tear. Till now, there are 4 different variants of KW Coilover with different features and benefits.
Surprisingly, perfect height adjustability, ESC module, hydraulic lifting system, street, and track performance, and TVR-A and TVC-A technology make it advanced and reliable. Though the price is slightly higher considering other aftermarket coilovers, the quality tells the reason why it is pricey.
Final Touch
So there is an ending section of this comparison article between BC Racing and KW Coilover. Almost everything that needs to be understood by those who want to buy the top-notch coilover is discussed above. Both coilovers are top-class and high-performance.
BC Racing is the perfect choice in terms of enhancing handling smoothness, price range, build quality, and dampening adjustability. In contrast, KW coilover is great in terms of street and track performance, advanced technology and features, and robust construction. For those who want the best product on a budget, go for BC Racing. Otherwise, KW is the best partner.
Read also: