Whether you're looking to lower your car or increase ride quality, Coilover makes it happen. However, there is a condition to get all the cool and calm benefits from coilovers. The Coilover suspension kits from Silver NeoMax and BC Racing ensure quality. But which is the best for which task is the question. This guide is about comparing Silvers NEOMAX vs. BC racing coilovers and every possible aspect related to them.
No matter if you are a newbie or experienced, you might hear the name of BC racing coil-overs. They are the most popular and look fresh. It simultaneously improves the ride quality and looks at a reasonable cost. On the other hand, for almost 23+ years, Silver Neomax has continuously provided the best value products to satisfy their customers. However, it features camber plates and a linear piston design to enhance ride comfort. This is the best for street driving and is trustworthy on the track.
There are many more things you must know about them. Therefore, go through this article and make your next purchase worthy.
Silvers NEOMAX Vs BC Racing: In A Table
Here's a table between Silvers NEOMAX vs. BC racing to get a clear concept quickly. Ensure you read this carefully to pick the highly-demandable Coilover for your car.
| | | |
| --- | --- | --- |
| Key Factors | BC Racing Coilover | Silver NeoMax Coilover |
| Manufacturer | BC Racing | Silvers |
| Made or Built-in | Taiwan | North America and Europe |
| Weight  | 20 pounds | Slightly heavier than BC Racing. |
| Rebuildable availability | The Coilover by BC racing has the rebuildable option. | Not has the rebuildable option. |
| Piston diameter | 46mm | 44mm |
| Dampening adjustability number | 30-32 | 24 |
| Construction  | These coilovers are highly customizable and affordability is a gift. | Praiseworthy construction. The body is made of carbon steel, T6-6061 Aluminum lower brackets, and bigger robust steel shafts. |
| Key features | Straightforward and accessible adjustment knobs feature direct and precise riding and excellent compression rebound. | Each shock is assembled by hand with the dyno-tested guarantee as a bonus. |
| Pros  | These Coilovers are highly customizable and affordability is a gift. | More accessible to install, superb ride height according to the needs. |
| Cons  | Bolts and nuts will loosen after many miles and produce a slight noise. | Don't have any rebuildable option to fix later. |
| Warranty  | 1-year | 1.5-year |
| Costs  | $1100 to $1700 | $1900 to $2500 |
Silvers NEOMAX Vs BC Racing: Major Differences
Both Silvers Neomax and BC Racing Coilover have lots of exceptional individual features that blow your mind for sure. Therefore, before purchasing any of them, you should know everything about them. Otherwise, at the end of the day, there is nothing left except worry.
Brand
First, look at their manufacturer or brand. Silvers Neomax is made by a well-known and highly-rated company named Silvers. They led the market for over 2 decades and consistently tried their level best to make their customers happy. They came to light in 1999 and still hold their position with satisfaction.
On the other hand, the BC racing company has shown its talent since 2006 and is still determined to provide quality parts to its customers. All regular customers are satisfied with their affordable and easy customization kits. They, however, have launched 6 different series coilovers till now. Among them, the BR series is now demanding.
Quality
Both are individually top-class regarding quality. Silver Neomax 2-way Coilover features both front and rear camber plates, if applicable. The pillow ball upper mount is equipped with a steel-made bearing and chrome-based steel case. These pillow ball mounts allow the kits to provide hassle-free operation and better response.
In contrast, the BC racing Coilover is customizable, affordable, and has superior ride height, and its robust construction makes it praiseworthy and sensational. Though it is affordable, it doesn't compromise the performance, comfort, and quality.
Design
ServiceNeoMax Suspension is one of the best companies that offer custom-built, made-to-order suspension parts with a linear piston design. In addition, the monotube shock design assures the oil capacity and dissipates the heat for the utmost performance.
Inversely, BC racing also has a monotube design and damping curve with an independent wide adjustment range. Camber adjustment capability with a linear piston design.
Construction
Silvers Neomax's shock body is made of chromed finished steel and robust carbon steel shock tube, and the springs are made with highly capable SAE grade steel. Moreover, the powder-coated steel lower brackets with an anodized exclusive (T6 6061) Aluminum bottom mounts make this ultra-durable.
Alternatively, BC Racing uses anodized aluminum alloy locking collars with chromed silicon steel coil springs. Consequently, it looks so bright and pretty eye-catching.
Durability
In terms of durability, it can be said that Silvers Neomax is significantly ahead of BC racing. All the components used in silvers are exclusive and the hand-built option makes it durable. But there is no deviation or lack regarding the construction.
Costs
Quality speaks louder than price. Simply, things that are the best, the price should be the best is normal. The price of the Nemomax is $500 more than BC Racing. The Neomax is more than $1900, whereas BC Racing's price is less than $1100.
BC Racing Coilover: Best for Excellent Performances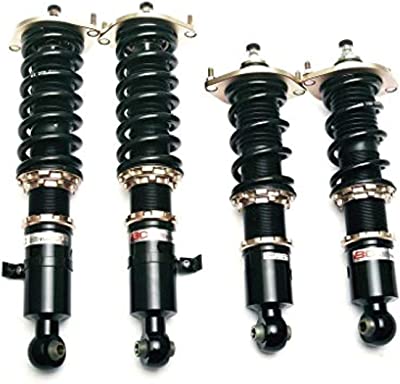 BC Racing Coilover is made to last and a completely customizable option is ideal within this budget. Although it can be purchased at a reasonable price range, it never fails to serve desired performance, ride comfort, and ride height according to the need, and construction.
The shock body and springs are made of top-class and rust-resistant materials that are very promising to last long. There is a 32-way dampening adjustability for soothing adjustment according to the needs. Finally, it is five-star rated equipment with just $1000+ and less.
Silvers Neomax Coilover: Best for Ride Height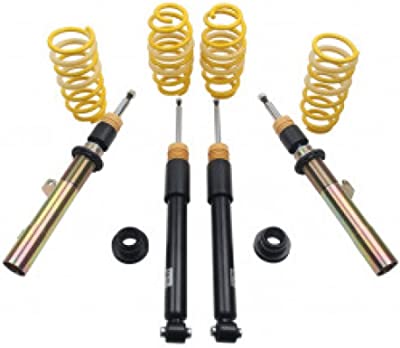 Almost every customer who bought and experienced the Silver Neomax Coilover shared their thoughts and gave ratings. All customers are satisfied with its performance, ride quality, and ride height adjustability, and the materials used to build are top-rated.
The warranty issue, high-viscosity damper oil, and height adjustability make this a top-notch choice. For anyone who wants to stay tuned while riding, this would be the next partner.
Conclusion
There is no compromise in buying a Coilover. It should be done to check genuinely when buying a Coilover for the beloved car or any vehicle. Here both Silvers and BC Racing are capable of meeting the customer's needs. The comparison between Silvers Neomax and BC Racing already disclosed the real things.
If you want the best coilovers on the budget, go for BC Racing. But if the quality and quantity matter to you, undoubtedly, Silvers Neomax is the best option. Stay connected with the most sophisticated Coilover in the real world.
More resources: