The main differences between Bilstein and OME shocks are: Bilstein shocks are mono-tube design while OME shocks are twin-tube. This means that the oil and gas are separated in Bilstein shocks while they are mixed together in OME shocks. This difference has a large impact on how the shocks respond and which is better for different applications.
Comparison between Bilstein vs Ome shock, both have their benefits to offer and may meet your needs. With their monotube design, Bilstein gas-charged shock absorbers are meant for longevity and performance.
OME (Old Man Emu) are similar to the Bilstein 5100 shocks but one major difference is that these Nitro Chargers are progressive, which means they'll soak up bumps at low speeds while still keeping your vehicle stable.
Shock absorbers are an important part of any off-road vehicle. They help keep the ride comfortable, while also providing the stability and safety you need when traversing rough terrain. So which is better: Bilstein or OME? In this article, we'll compare the two brands to help you decide which is right for you.
The Features of Bilstein Shocks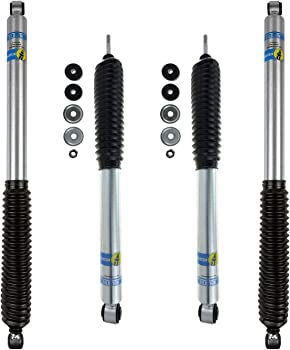 Monotube gas pressure technology is the best in class, providing improved control and stability with precise handling that you can trust to get ultimate performance every time.
Monotube gas is charged for long life, delivering great performance and durability.
Installing this kit is easy and requires no modification of your vehicle.
The boots that come with your shocks are there to protect you from any rough roads, but if they don't fit right or suit the style of driving in which case Bilstein has got plenty more options.
The new design of a 46mm digressive piston not only offers an improved riding experience but also improves road-holding off-road.
The single-tube body is specifically designed for rapid heat transfer and dissipation, which effectively reduces the risk of shock fade.
With a more compliant shock absorber, the 5100 series is better suited for off-road terrain and tough situations.
4600 shocks by Bilstein are perfect for daily driven, pavement environments.
Pros
Lifetime Warranty
Excellent for off-road and on-road drive
Improved ride handling
Improved smoothness and comfort
New high-grade technology
Lots of products variation
Easy to install
Cons
 It was a little stiff for about thirty minutes after installation.
The Features of OME (Old Man Emu) Shocks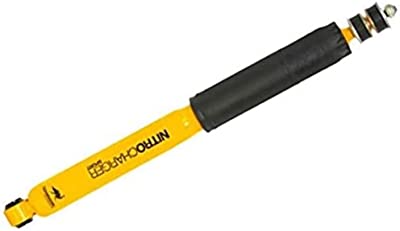 These shocks are designed to be user-friendly and reliable, no matter if you're on-road or off.
Instantly adapts to the terrain, making it safe for roadways with all types of traffic.
With OME's extensive line of springs, bushings, and hardware for a complete integrated suspension system, you can have all the right equipment to make your ride smooth as silk.
Nitrochargers' innovative and proprietary design set them apart from their competitors.
The engineers at OME are experts in the field of 4WD suspension systems, and they do nothing else but specialize.
Old Man Emu (OME) shocks are known for being progressive, which means they can take on bumps at low speeds and still provide support when driving fast.
Pros
35,000-mile warranty
With its specialized engineer, this product is certain to provide the best possible quality.
With the ability to adjust your shock valve, you are able to find a setting that works for you.
Excellent ride handling
Excellent smooth and comfortable drive
Cons
Less product variation
Not easy to install
Bilstein Vs OME – Depth Look
Bilstein, an American company known for its high-quality shock absorbers, makes them in the U.S., while OME Shocks are made in Australia.
Bilstein shocks come in many different varieties while OME's selection is more limited.
With Bilstein shock monotube shocks, you can get the same ride quality as OME with less noise and hassle.
Bilstein shocks are easy to install whereas OME ones can be difficult.
While Bilstein shocks come with a limited lifetime warranty, OME shock absorbers have 3 years.
The new OME NitroCharger Sport features a triple-stage valving process rivaled only by the remote canister adjustable shocks while Bilstein does not have any type of valves.
Are Bilstein shocks better than OME?
When it comes to shocks, Bilstein is the best brand. They control your suspension motion and make sure that you have an enjoyable drive no matter where or when.
In our collective experience, Bilstein is the best choice when it comes to handling rough roads and curving highways. They control suspension motion and help mitigate excessive lean during driving, plus they can make sure your car feels like it's on rails.
Conclusion
The Off-Road/On-Road Performance of these two differentials is perfect for any type of road, but each one has its own unique selling point. OME Shock absorbers provide excellent ride control on rough surfaces while Bilstein offers more responsive handling on smoother terrain with good maneuverability.
Bilstein vs OME, the two leading brands in aftermarket performance shock absorbers have many differences but also some similarities. Both shocks handle well and can perform under harsh conditions with their extreme railing capabilities
I would recommend using Bilstein if you plan to drive through varied terrains or need extra traction when going off-roading because it will give smooth rides throughout all types of environments.
Read also: