Your Ford E350 shocks absorb a lot of bumps on the way. So, after 50k to 60k miles, you need to give thought to changing the shocks. Removing shocks from a Ford E350 van is straightforward enough. All you have to do is just locate the shocks behind the back of the wheels and remove them. The only problem is finding the right shocks that will deliver a smooth riding experience.
You can easily find the best shocks for the Ford E350 by visiting any forum. However, people often look for encouraging words about a specific product. To be honest, there are only a few car shock manufacturer brands out there. So, most of the time, you need to compare with other brands. 
This can easily increase your frustration and confusion. Turns out, online reviews can help you make the best buying decision. As if that's not enough, a review list can help you compare other popular models and make the best buying decision. 
Now, do you want a better ride in your Ford E350? We have the perfect struts for E350 vans. That's why we will be reviewing 5 of the best shock absorbers in the market right now. Without any further ado, let's take a look at the best factory shocks list. 
Summarize The Best Struts for Ford E350 Van
Best Overall Struts: Bilstein Shocks

Bilstein B6 series is a great shock to replace OEM. It's a great fit for your Ford van and offers a smooth riding experience in extreme road conditions. Mainly, the monotube design makes Bilstein the overall best for your Ford van. 
Best Budget Struts: Detroit Axle Front and Rear Shock Absorber

Moderate riders looking for a good budget option can choose Detroit struts for their ford van. The struts are very easy to install and offer a smooth riding experience for moderate users. For your Ford E350, Detroit front and rear shocks can deliver better value for your bucks.
Best Single Struts: Monroe Gas-Magnum RV Shock Absorber

If you want a single shock absorber for the Ford E350 van, Monroe is a reliable option for you. Monroe is a budget-friendly auto part manufacturer and offers some of the best struts for mid-sized vans.
Best Front Struts: Koni RV Shock Absorber

The adjustable dampers on Koni struts sometimes offer better performance than OE. These front struts are very easy to install and you need just the hand tool. The best thing about these struts is that they are full sports struts.
Best High-Performance Struts: KYB Gas-a-Just Suspension Shock Absorbers

KYB struts are designed to perform high-efficient steering control on any type of road condition. It also has a great reputation for delivering a high coefficient of road traction. Easily one of the best struts you can choose for Ford E350.
5 Best Shocks for Ford E350 Reviewed 
In order to get more information about the product, this list of strut discussions is really beneficial.
Highlighted Feature
High-pressure gas construction
Covered by a limited lifetime warranty
Custom-tuned Ford E350 van
Adjustable monotube design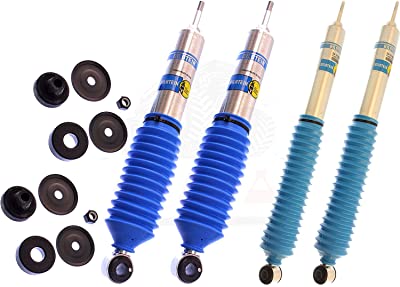 The Bilstein is a great generic stock shock for a stock van. Well, the gas-pressure gas shocks can provide great off-road performance. Basically, the high structure gives it an edge over uncontrolled movement. 
Gas pressure technology: However, the main attraction of this shock absorber is the gas-pressure technology. Thanks to this technology, you get a consistent riding performance even on rough terrains. 
Ideal upgrade for full-sized vehicles: The powerful strut is a major upgrade for any full-sized vehicle like Ford vans. Well, its design offers optimum performance for daily driving, occasional off-road riding, and heavy towing. 
Seamless Monotube Design: Another great thing about this shock absorber is the mono-tube design. Featuring a 46mm pistol, the stock shock can survive strenuous riding conditions. Not to mention, the durable construction offers an extended service life. Finally, the large diameter shock body delivers a fade-free performance. 
Precise Damping: Bilstein's precise damping settings offer optimum road adhesion. And that's just one side of the story, you get better lane-changing stability with the factory shock. Overall, it's a great product for your Ford E360 for optimal performance in harsh conditions, and to increase the capability of your 4WD. 
Note: Installing the strut is pretty easy and all you need is just a hand tool. 
Pros
Mono-tube design offers better control
Precise damping settings and towing
High construction provides extended service life
Better lane-changing stability
Cons
Stems often are defectively threaded
Highlighted Features:
OEM design direct installation support
High-quality build material
Available as a complete set
50 x 46 x 26 inches of product diameter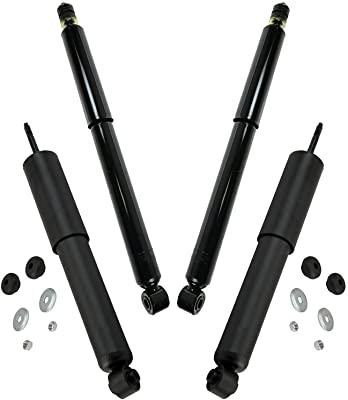 The Detroit Axle is a great budget-friendly pre-equipped factory shock for your Ford E360. At first, the strut may seem cheap but wait for the performance to back you up. 
Very Easy to Install: You don't have to spend hours figuring out the installation process. Checking the user manual can guide you through a straightforward installation process. 
Reliable Off-Road Performance: Not to mention, the OEM shocks can deliver reliable off-road performance for your vehicle. Now, why are these the best budget OEM shocks on our list? Simply put, the durable construction makes this one a great choice for off-roading. 
Corrosion and Oxidation Protection: The reliable build has an Electrophoretic coating to protect the product from oxidation and corrosion. On the other hand, you receive a 10-year warranty so you can rely on their confidence with these shocks. Simply put, if you can maintain these struts properly, you can expect them to last for years. 
Easy to install: Installing the strut is pretty familiar and you just need to follow some basic instructions. Also, you don't need help from any mechanic to install the shock absorber. 
Pros
Best budget shock absorber
Very stable and offers a smooth ride
Surprisingly super easy to install
Protection from corrosion and oxidation
Cons
The sway bar links are not up to the mark
Highlighted Features
Heavy-duty nitrocarburized construction
Single individual shock absorber
Fits specific pick-up trucks and vans
Has low operating pressure

Monroe gas magnum is another great shock absorber for superior RV performance. It's a perfect strut for mid-sized to full-sized trucks making it a perfect fit for Ford E350. 
Full Displaced Valving: The suspension combines gas charge and fully displaced valving ensuring a smooth ride. Mainly, nitrogen gas charge offers a stable ride and reduces aeration. So, installing the shock can make a significant improvement to your Ford E350 performance. 
Durable Construction: Monroe has an ⅝ inch piston rod that features pretty durable construction. As a matter of fact, the heavy-duty nitro-carburized construction can back you up for years. However, there's no corrosion protection available for the shock absorber. 
Beef up Your Suspension: the Monroe gas magnum is an affordable way to beef up your suspension. However, it's a little difficult to install the shocks. According to customer reviews on Amazon, it takes about two hours to install the shocks. The good side is that you don't need to remove the wheels to install the suspension. Just lifting your Ford E350 is enough. The shocks will work if you perfectly align them to your vehicle. 
Large Reserve Tube: Another great feature of the strut is the 2-inch reserve tube. From the size, you can tell there's room for holding more fluid. This will enhance your Ford vans' shock-absorbing performance a lot. 
Pros
Utilizes advanced technology
Longer service life and reduced friction
Improved smooth ride and better controlling
Low operating pressure
Cons
Installing the shocks can be difficult
Highlighted Features:
Features FDS or Frequently Selective Damping
Experience OE standard to the very list
Suitable for street, off-road, and on-road performance
Fast installation process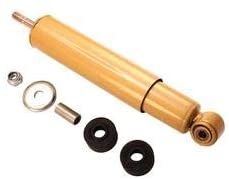 Koni has a good reputation for manufacturing global standard adjustable suspension. And the RV shock absorber is popular for its reliability.
Adjustability on Any Road: So, the first good thing about these shocks is the adjustability. You can easily set the shocks to blend comfort and optimal performance. And that's not all, you can adjust it for just about any type of road. It's made for handling small bumps and expansion joints with ease. 
Extended Service Life: The second advantage of this suspension is the extended service life. Obviously, the shocks will start to wear off, and you will notice a significant change in smoothness. However, simply dialing the adjustment can help you increase its service life. Yes, the Koni RV shock absorber is quite expensive. 
Adjustable Damping: The shock absorber features a knob to adjust the damping. So, it's an easy way to maintain your Ford van with ease. 
Better than Stock Shocks: Koni RV shock is pretty much better than any competing stock shock in the market. Not to mention, the suspension is designed to offer improved performance and sometimes better than OE. 
Pros
Super adjusting option
Complete range for adjustments
Increase damping power for a longer service life
Excellent control and comfort
Cons
Highlighted Features:
Self-adjustable monotube shock absorber
Features a specially designed valving system
Weather-resistant shock absorber
Riding comfortably in extreme road conditions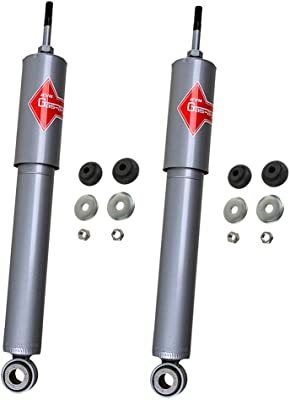 If you are thinking about upgrading to a monotube suspension then KYB is a great choice. After installing the suspension, you will notice a serious performance upgrade on your Ford E350. 
Heavy load-bearing capability: Well, the high gas pressure delivers aggressive driving capability. Not to mention, your Ford E350 will be able to handle a heavy load with ease. 
Improved Steering Response: In the riding performance section, KYB does a decent job. First of all, you will get a 30% increase in steering response. 
Responsive Monotube Design: Then, the responsive monotube design can automatically adjust to any conditions for a stable, smooth, and controlled riding experience. Anyone having a good idea of monotube shocks will find this set a great replacement for OEM shocks. However, best yet, you will receive a lifetime warranty to back you up on the reliability section. 
Leakage-proof Design: Another feature that caught our attention on this strut is the leakage-proof design. Mainly, the working cylinder matches the same Teflon piston and this combination saves the strut from any unwanted leakage. 
Pros
Never experiences shock fade
Responsive monotube design
Increases steering response
Get additional control in any riding condition
Cons
Would not recommend it for bigger vans
Buyer Guideline: Choosing the Best Shocks for Ford E350
We aim to help you make the best buying decision for your Ford E350 suspensions. From our research, there are only a few premium quality shock absorbers in the market right now. Especially for the Ford E350, the choice list is narrowed down a lot. That's why you need to check the specifications of each product you encounter. But what specifications should you prioritize for Best Buy? Follow us to know how we have picked the best shocks you can pick for your Ford E350.
The Type of Shock Absorber You Need
You can categorize the type of shock absorber by two different standards. First, you can decide the type based on the design, and second, you can check the "working fluid." 
Well, according to the design, there are two categories: first you have the single tube shocks, and on the other, you have double tube shocks. Second, for the working fluid, you can use oil, gas, or nitrogen depending on the type of shocks you buy. 
According to our research, monotube suspensions or gas-pressure suspensions are best for the Ford E350. Monotube suspensions can reduce aeration or foaming. As a result, the valving becomes more responsive for your Ford E350. Yes, monotube shocks are expensive but you won't complain after gaining better control and a smooth-riding experience. 
Aside from the monotube shocks, you can pick the following two types of suspensions for your Ford E350:
Heavy Duty Shocks: One thing is for sure, you have to carry a heavy load with your Ford truck. So, getting heavy-duty shocks can deliver a stiffer ride until you load the truck. 
Automatic Level Control Shocks: This type of shock absorber equips an air pump to level out the load distribution. Mainly, the air pump will compensate for any extra weight on your Ford. But these suspensions come at a high price and you better have a good budget ready to get one of these. 
Keep Your Budget in Mind
You will choose a shock according to your budget. If you try to find a shock based on your budget, you can easily narrow down your choice list. Also, there's room for understanding what type of suspensions you can buy for your Ford E350. 
Well, if you have a strict budget, you can go for a twin tube. On the other hand, you can buy a monotube suspension within a standard budget. You will get premium quality shocks from Bilstein or other popular brands. So, keep the budget in your mind. 
The Type of Road You will be Driving
Another key point in buying good quality shocks for your Ford truck is the road condition. Just the price segment and type of shock are not enough. To gain optimal performance, you need to combine the road condition with the type of shocks you buy. 
Now, infrequent off-roaders and highway drivers can pick twin-tube shocks. And gas-charged twin-tube shocks are better for a better response. On the other hand, extreme off-roaders should go for monotube shocks. 
Durability and Service Life
When you are buying a set of shocks, you would want it to last for years. That's why first you should check the construction material. Monitoring the construction material and design can give you a good idea of the service life. For the Ford E350, a 45mm piston rod is always a smart choice. The piston's durability depends on some key specifications. 
First, the construction material is a good indicator of durability. Then, you need to check whether the shocks can reduce or prevent oxidation and corrosion. Finally, the damping can help you make sure the shocks can offer extended service life. 
Customer Testimonial
Well, customer reviews may not give you an overall idea of the shocks you are monitoring. But it can give you a gist about the quality of the product. So, encouraging words from customers can boost your decision. 
Customer Reviews
Gary C on Bilstein B6 Series, " This is the only great shock absorber for my Ford E350. My full-size van now has a high-quality ride. First, the ride doesn't feel stiff and there are no noticeable bumps. Get Bilsteins and there will be a big smile on your face." 
Johny on Monroe Gas-Magnum RV Shock Absorber, "Well, you need 2 jacks to install the shock absorber. Well, it takes two hours to completely install the suspensions. After going for a test ride, I noticed no rattling or swaying on the road. Quite satisfied with the set apart from the long installing time.:"
Bill Resinger on Koni RV FSD Shock, "Well, the Koni shock absorber is a great choice for my Ford E350. I am a backyard mechanic and this set is pretty easy to install. Overall, the riding experience improved a lot. I have to say, with these shocks you can say money is well spent."
A Step-by-Step Process for Replacing Shocks on a Ford E350
Follow these simple steps to change shocks on the Ford E350:
Make sure the van is on a level surface and check the back wheel.
Now loosen the lug nuts on the front wheel. However, do not remove the lug nut until the van is raised up
Raise your Ford E350 so that the wheels stay above the ground
Locate the shocks and unbolt the top mounting
Loosen the bottom bolt and then remove the old shocks
Place your new shocks on the mounting bracket
It's time to add the nuts and bolts again
Use a socket wrench to tighten the bolts
Repeat the same procedure for the remaining front shocks
Softening Your Ford E350: Tips for a Smooth Ride
There are a number of ways you can soften your Ford E350. Here's a list of things you can do to improve your riding experience:
Install a new and softer suspension system
Upgrade your vehicle chassis
Install new leaf springs
Try to find and reduce vibration
Make sure to reduce the payload
How Can I Make My Ford E350 Ride Smoother?
We can suggest some key changes to ensure a smoother ride for your Ford E350 here:
Installing a good shock absorber
Raising the vehicle height
Changing the wheels
Wrapping Up
Choosing the best shock absorber for the Ford E350 can get difficult at times. There are only a few models you can pick from. Still, picking a model can sometimes get confusing. Chances are that you don't have enough knowledge to choose a shock absorber. Asking a professional mechanic will certainly make the job easier. 
Being experts ourselves, we reviewed the top models on the market right now. We even guided you with key considerations you should make for your Ford E350 shocks. From our point of view, the Bilstein B6 is the overall best product for E350. The product is fairly easy to install and is showing impressive promise in the performance section. 
Read also: