The topic of Fortune Auto coilovers frequently sparks confusion amongst consumers, particularly surrounding the distinction between the Fortune Auto 500 and the Fortune Auto 510 models. Therefore, it is imperative to establish a clear understanding of the differences between these two variations.
The distinctions between the Fortune Auto 500 and 510 coilovers are noteworthy. While the Fortune Auto 500 Coilover is suitable for street vehicles, the 510 Coilover is designed for all types of vehicles, including those for track use.
So, why is it? Let's find out.
Digressive piston: The Fortune Auto 500 series boasts the utilization of a Digressive piston, enabling a firm low-speed rebound force. This ensures a smooth and exhilarating experience, minimizing pitch and roll while enhancing high-speed traction.
In contrast, the Fortune Auto 510 series boasts a highly progressive piston design (concave flow digressive piston), distinct in its coloration, which undoubtedly enhances the overall comfort and smoothness of your ride, leaving behind any jarring sensations.
Damping capabilities: The 500 series is a highly versatile single-adjustable coilover system, renowned for its superior damping characteristics.
Conversely, the 510 Series is also a single adjustable Coilover system that is further distinguished by its sophisticated and highly advanced damping capabilities.
Fit type: The 500 series is optimally suited for luxury in-street vehicles, whereas the 510 series can be configured according to your preference for use in any type of vehicle.
Price: The 500 series coilover is priced more modestly compared to its advanced counterpart, the 510 coilover. While the 500 series shares similar features with the 510 series, the latter boasts superior quality and advanced features that set it apart.
| Name | Image | Price |
| --- | --- | --- |
| Fortune Auto 500 | | $$$ |
| Fortune Auto 510 | | $$$ |
In terms of fit type, comfort, and damping, the 510 series coilover is a great choice over the 500 series for those with more aggressive driving styles or those who frequently take their vehicle to the track. The design of the 510 series allows for more adjustability, which means you can fine-tune your suspension to fit your driving style and needs.
Fortune Auto 500 vs 510 In a Table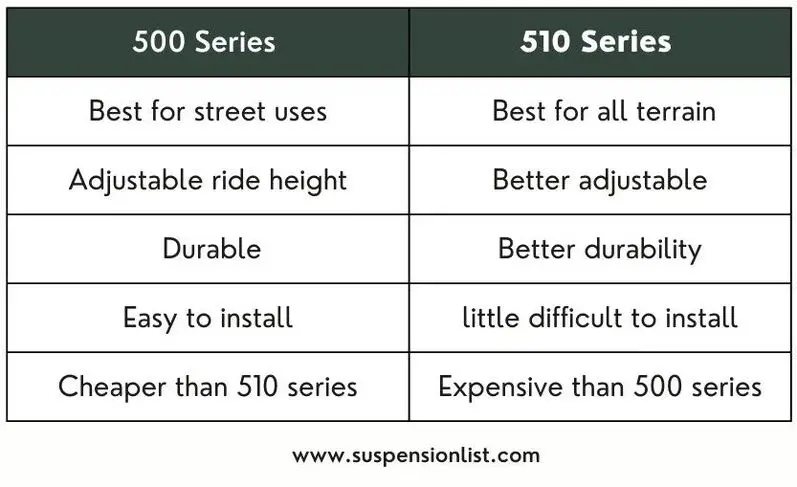 What Are Fortune Auto Coilovers?
Fortune Auto Coilover is a US-based suspension company. They provide custom and handmade coilovers for car enthusiasts.
The company offers a diverse selection of Coilover options, including the esteemed Fortune Auto 500 series, 510 series, and 520 series, as well as the high-performance PRO 2-way and PRO 3-way models, among others.
So, are Fortune auto coilovers good?
Without a doubt, their remarkable features such as exceptional adjustability, seamless compatibility with your vehicle, and unparalleled damping ability. As a result, the overall driving experience is bound to be comfortable and enjoyable.
On average, the height adjustability range of Fortune Auto coilovers is approximately 2.5 to 5 inches lower than the OEM ride height, providing ample opportunity for customization and enhancement of vehicle performance.
Pros:
Including improved handling
Better ride quality
Increased adjustability
Provide a smooth and comfortable ride
Excellent damping ability
Spring rates to suit your driving style and preferences
Cons:
Poor customer support
Stiffness can provide excellent handling and stability on the track, but it can also make for a rough and uncomfortable ride on the street.
Low instructions
Significantly more expensive, which may not be feasible for some car owners on a tight budget.
Recommended video:
Final Words
In comparison to numerous competitors such as Bilstein ( We have a comparison article on Bilstein B14 Vs B16) and BC Racing (We have also comparison article on BC Racing V1 Vs BR Series Coilovers), the Fortune Auto Coilover holds a higher price point.
Upon careful consideration of the options available between the Fortune Auto 500 and 510 Coilover series, it is advised that those seeking optimal performance select the 510 series. A resolute determination in this decision will undoubtedly lead to a superior driving experience.
The 500 series is optimal for street use, whereas Fortune Auto has a bad reputation for street use. overall, Fortune Auto Coilover is one of the best coilovers without a doubt.