The main differences between Rev9 vs Maxpeedingrods Coilovers should be noted.
Price – Rev9 Coilovers may be somewhat pricier than Maxpeedingrods Coilovers.
Ride height – Rev9 Coilovers offer better rides and make it much smoother than those Maxpeedingrods Coilovers.
Durability – Maxpeedingrods coilovers demonstrate greater durability in comparison to Rev9 Coilovers.
Installation – The installation of Maxpeedingrods is straightforward, whereas Rev9 Coilover requires professional installation.
When looking into coilovers for your vehicle, two highly regarded brands to take into account are Rev9 Coilovers and Maxpeedingrods Coilovers. Each of these brands offers multiple features and advantages, but which one may be the better pick for you depends on your requirements. There are, however, other factors to consider. Let's explore this further.
Rev9 Coilovers Vs Maxpeedingrods in a Table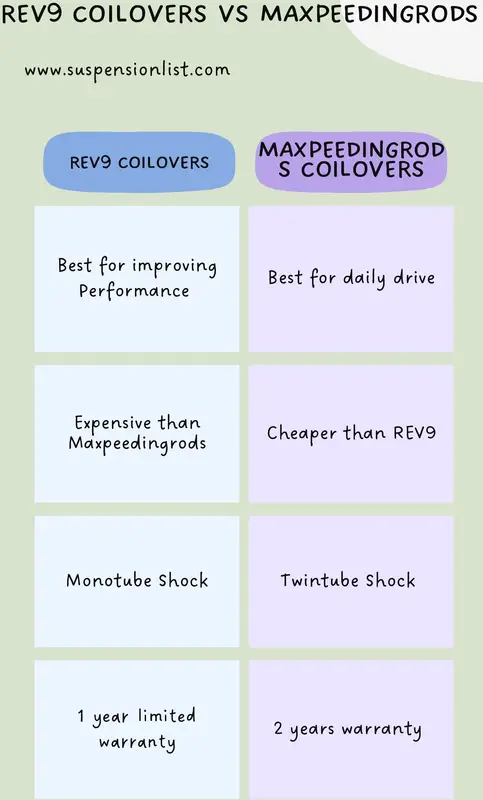 What are Rev9 Coilovers?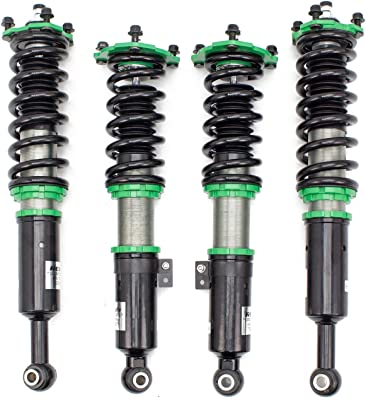 The monotube and steel body construction of Rev9 Coilovers make them exceptionally durable, ensuring consistently excellent performance.
They used Valving Allows 32 Clicks Rebound Force Adjustment and ride height setting to get awesome results, which guarantees an ultra-smooth drive on any kind of terrain.
When you wanna take your car for a long drive, you never know what the roads will be like – maybe bumpy or bouncy or really smooth. But you can have a really comfy ride on any road. Guaranteed!
They are perfect for people who want to get better performance out of their car and make it handle better. You can adjust the stiffness and ride height of your suspension with Rev9 coilovers.
Pros:
Improved ride comfort
Excellent ride handling
Better performance for all terrain
Comes with adjustable Coilovers
Adjustable settings increase flexibility
Budget-friendly
Cons:
Need professional help to install
What are Maxpeedingrods Coilovers?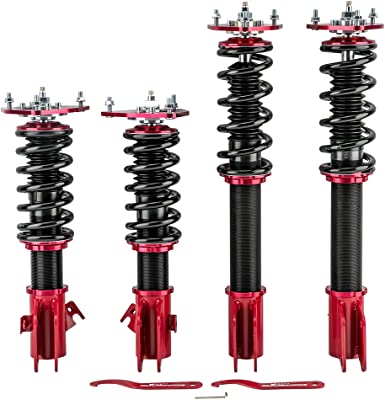 Maxpeedingrods Coilovers are popular for their efficient performance at an economical price, making them a top choice amongst aftermarket suspension systems.
They are designed to lower your vehicle between 1 to 3 inches, improve cornering and handling, and give it a more aggressive look.
Equipped with twin-tube shock absorbers, this system enables adjustable ride control and reduces turning noise for improved steering feel and response. Manufactured with high-grade components for superior durability.
Maxpeedingrods Coilovers are ideal for performance driving, racing, or just improving the look of your car.
Pros:
Comes with twin tube shocks
Excellent ride height adjustability
Durable than traditional suspension
Improved aggressive look
Improved braking capabilities
Easy to install
Cheap
Cons:
It is not advisable to use regular off-road vehicles for off-roading.
Rev9 Coilovers Vs Maxpeedingrods – Which One is to Buy?
As a driver or car enthusiast, you must always be aware of the versatility of the coilover you seek to buy. It is important to note that one coilover may not provide you with all the desired features.
When considering which of these two coilovers to select, it may be worthwhile to bear in mind that both are quite economical.
The rev9 coilover is simply the optimal choice when it comes to tackling any terrain, especially off-road adventures. Its impressive adjustability means you have the power to customize your ride to fit your preferences.
In contrast, Maxpreedingrods Coilovers are an economical option, providing excellent performance within this budget. They also offer adjustable features but are best suitable for regular and racing cars.
Summary
Investing in a quality coilover suspension system can provide a sense of security and peace of mind for your vehicle.
The primary objective of all Coilover systems is to provide high quality and satisfaction to customers. However, not all coilovers are suitable for all customer preferences.
I am confident that you are able to accurately assess the differences between Rev9 Coilovers and Maxpeedingrods in order to determine which is most suitable for your needs.
To gain a more comprehensive understanding of Maxpeedingrods Coilover, peruse our Maxpeedingrods Coilover review.
For those wishing to compare Rev9 Coilover with other types, our article on Rev9 Coilover vs Truhart is available for review.
If you're curious about how Maxpeedingrods coilover compares against other budget-friendly options, why not compare it to Raceland coilovers? Let's see Maxpeedingrods Vs Raceland Coilovers.
However, If you're interested in comparing different expensive coilovers, why not take a look at our Ksport vs D2 Coilovers? We're sure you'll find one that meets your needs.