More and more individuals have been turning to Riaction coilovers for their vehicles. They are specifically created for cars and are an ideal option for individuals with street cars that seek small ride height, better handling, and more comfortable drivability. 
From Honda Civic to Volkswagen, you'll notice that numerous high-end cars utilized Riaction coilovers. But, have you picked yours up yet? Should you grab a set of Riaction coilovers for your car? 
This is the juncture that puts you in uncertainty because it may be tough to acquire pertinent information on what coilovers to purchase. Don't be concerned, you will find all the answers explained in this Riaction coilovers review. 
Riaction Coilover Variations
So, let's start by introducing you to the variations of Riaction coilovers. Reaction classifies their coilovers into 4 major categories. These are described below:
GT-1: Linear
The most popular Coilover system from Riaction is the GT-1 Linear coilover kit. These coilover systems are capable of adjusting the height and rebound to help you achieve a luxurious ride quality. The linear valved kit offers excellent control and is well suited to street handling, driving through canyons, and driving track days occasionally.
GT-2: Linear 2-way
The Linear 2-Way GT-2 version of the valved Riaction coilovers is similar to the standard Linear 1 version, having a similar adjustment in height and rebound control, and the ability to make compression adjustments on the external reservoir. The external reservoir adds to the fluid capacity, enabling reduced fluid temperatures.
The linear 2-Way coilover kit provides increased control compared to the regular coilover kit for motorists who are serious about track racing. These are equally good for those driving on the streets. 
GP-1: Digressive
Unlike the Linear valve, the GP1 Digressive Coilover has significantly more slow-speed performance. This is because the valve is less sensitive to very small increases in flow at low shaft speeds. 
The resistance gradually increases at medium and high-speed shaft speeds before a pre-determined rate, as opposed to the Linear valve, which continues to increase in resistance until a maximum rate. As the speed increases, the resistance gradually dissipates until a point of maximum resistance is reached. 
At that point, this tapers gradually again, and the shaft speed results in a consistent amount of resistance. This allows minor body movements while providing a smoother ride. Like the GT-1, these coilovers are also suitable for driving through canyons, streets, and driving track days occasionally.
GP-2: Digressive 2-Way
The GP-2 Digressive 2-Way coilover kit has an adjustable valve body similar to its GP-1 digressive kit. Even other features such as rebound and compression control with the external reservoir are also similar here. 
So, temperature reduction with increased fluid storage is also found in this line. For those who require additional security and greater regulation of vehicle motion, the Digressive 2-Way coilover Kit is optimal. They're especially suitable for top-notch control and adjustability on the road, mountain ranges, or track.
Riaction Coilovers Review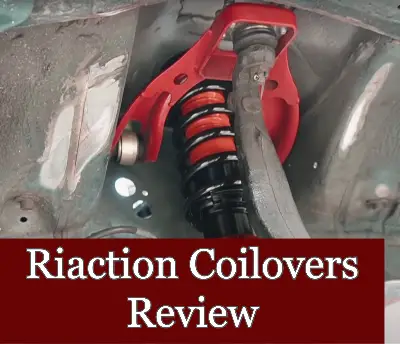 Let's now dig down into what I found from real-life experience. Here I'm going to highlight all the crucial factors one by one. 
Ride Quality 
Ride quality is the first consideration among tuning enthusiasts. So, what about the ride quality of Riaction coilovers? Here is my experience. Well, these coilovers give me a ride quality that rivals the stock suspension, if not smoother than the stock suspension. 
However, they give me the same control that you would expect out of a high-performance coilover, which, if that makes any sense, the point is they're smooth. 
They're very smooth yet allow you that nice control that you're looking for. I haven't played with adjusting the preload on any of the springs. For those who don't do any tracking, it's not an important feature. Still, it's something that some of you may be looking for and it might be a very well influential feature for you. 
Design and Appearance
For some people, the color, the look, any of that stuff doesn't matter. It's behind the wheel, you're not going to see it, so what difference does it make? Absolutely nothing.
Still, many of us actually want the stuff that's under our hood, under our wheels, behind everything, to look good and have that almost show-type quality about them. 
Thankfully, the Riaction coilovers deliver on that, too. The two-tone, black and red really works well. And behind my wheels, you still get a glimpse of them and they look pretty sharp. 
Honestly, the Swiss springs on the reaction coilovers just look absolutely stunning.  So, from a design standpoint, I give them top marks for that. In addition, the build quality is fantastic. Overall, the design is right on the money.
Construction
Where you get into some differences, though, is in the construction of it. The Reaction coilovers feature a chrome heat-treated steel shaft, which allows for increased strength, better performance, and more reliability of the coilover itself. 
You also have camber adjustments, which feature a high-quality pillow ball, which allows for a direct feel, but also makes it so that you don't get any spring binding during operation. They also give you radial bearings, which give you a smoother steering response and also allow for quieter operation. 
Adjustability
If you're drifting your car or doing any kind of racing, you need to be able to adjust the preload on that spring specifically. With a traditional setup, you can't do anything but adjust your ride height on the rear. 
You'll have 32 levels of adjustable on the Riaction coilovers. Some other ones only offer you 16 or 24 levels. Riaction gives you 32, so you can really fine-tune the ride quality for you. 
The Riaction coilovers also give you adjustable mounting brackets so that your mounting bracket is independent of the actual spring load adjustment. Therefore, you can adjust your ride height without adjusting your spring load again. However, this can be fairly common in other manufacturers as well. 
Dampening Setting
I've actually found it quite enjoyable for daily driving, that the lowest damping setting, giving me the softer ride, is actually the most comfortable, especially for highway driving. 
And then if you're going to be kind of out and about just taking a joyride on some back roads, you might dial the dampening down to maybe halfway to stiffen up the front end. This helps to take some corners a little bit quicker than you would normally. 
But for just everyday driving, the lowest dampening setting is very comfortable and very smooth. However, when you do dial the coilovers down to stiffen them up, it gives a superior response without sacrificing too much of the ride quality. 
You're going to get a little stiffer ride because the dampening is stiffer, but not anywhere near the way it may ride with lowering springs. So it's a huge plus there. 
Installation
The other plus side of Riaction coilovers is the ease of installation. Installation is pretty quick and simple. If you've done installation coilovers before or worked your springs, even if you've just changed out shocks before, this is not a hard thing.  
To do, and anybody really can do it without a high level of mechanical knowledge. It's pretty easy to do your camber adjustments if you're running a specific wheel setup where you need to be able to adjust your camber. 
In my case, I locked them in right where they came from the factory, and my fitment is right on the money. But if you're running a body kit or you're running a wider wheel setup where you may need that camera adjustment to be able to tuck them into the fenders, you have that ability with these. 
Pricing
Best of all, these are no more expensive than BC racing coilovers or any of the mainstream coilovers that are out there. And honestly, for the money, you get a lot for your money. I personally feel that these perform at a level that is well beyond their price range. The price that they're set at is an exceptional deal for these coilovers. 
Customer Support 
Now, let's be real. There are more companies out there that offer more aggressive things, aesthetics, and maybe comfort, for a little higher price. But when it comes to Riaction, I love their customer service. This is quite essential indeed. 
Before you make your purchase, you should ensure quality service and have a great warranty program, because when it comes to suspension or anything, stuff can go wrong. 
Things can happen, and the shipping process or something can just obviously go wrong. And if you buy from a company that has great customer service, you wouldn't have to worry about it. Thankfully, Riaction is right in California. You can get parts pretty quickly from them. So if something does go wrong, support is immediately therefore to you. 
Recommended video for installation:
Pros and Cons Riaction Coilovers
Like any other aftermarket suspension parts, you'll find both pros and cons in Riaction coilovers. Here, those pros and cons are shortly highlighted below:
Pros:
Decent pricing
Superior ride comfort
Excellent customer support
Great design
Outstanding street driving
Cons:
The stiff ride might not be appreciated by certain drivers
Durability is questionable
Riaction Coilovers Review – Are They Worth It?
People have reportedly noted Riaction coilovers are a little more on the stiff side, despite most of their kits having lower front tires than other makes. These suspension kits are intended to facilitate better handling, therefore they're made to enhance the vehicle's steering.
Regarding reliability, comfort, and customer support, I was able to locate nothing but positive feedback regarding Riaction coilovers. In short, these coilovers are well worth the money. 
Absolutely well worth the money. And if you're considering BC racing coilovers or cane or any of the other ones, you really want to take a look at these and seriously consider these as well, because you will not be disappointed.
See also: