Tein Coilovers have developed many different Coilover models for various vehicles, such as the Tein Flex Z, Basis Z, Street Flex, and Street Advance. Each Coilover offers its own unique characteristics, ride height, and competitive prices.
Let's compare Tein Flex Z and Street Basis Z, which are the new models. What differences can we find between the two? Price, types of cars they fit, how high they make your ride go, all that sort of fun stuff.
The main difference between Tein Flex Z Vs Street Basis Z coilovers are:
Price – Tein Flex Z Coilovers are more expensive than Tein Street Basis Z Coilovers.
Construction – The Tein Flex Z Coilovers are crafted with the most advanced, high-grade materials, making them more resilient than the Tein Street Basis Z Coilovers.
Ride quality – The Tein Flex Z Coilovers are super special because you can change the height of your ride – it makes it higher than the Street Basis Z.
Smooth ride – The Tein Flex Z system provides a smooth ride due to its progressive springs and adjustable dampers, allowing drivers to customize the suspension to their desired settings. In contrast, the Street Basis Z suspension lacks the adjustability of damping.
It's interesting to consider the differences between the Tein Flex Z and the Street Basis Z, both systems promise many dynamic features that make them unique and effective. But what about installing and ensuring a perfect fit for my car? Let's explore the possibilities.
Tein Flex Z Vs Street Basis Z In a Table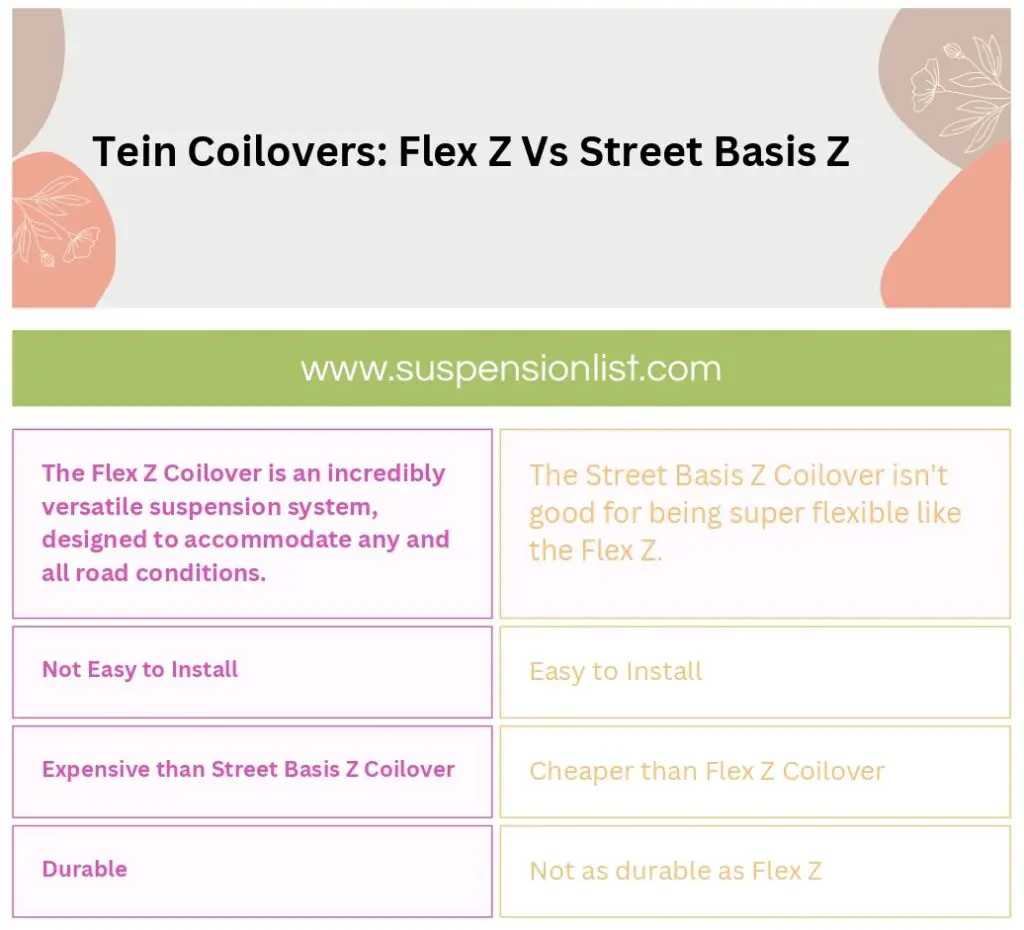 What is a Tein Flex Z Coilover?
The brand new TEIN Coilovers Series brings you the fantastic Flex Z, with all the features and quality that the Street Flex is known for.
Experience the ultimate ride quality with the superior craftsmanship of Yokohama.
The coolest feature is its 16-level Linear Damping Force Adjustment System, allowing you to customize the ride to your own preference.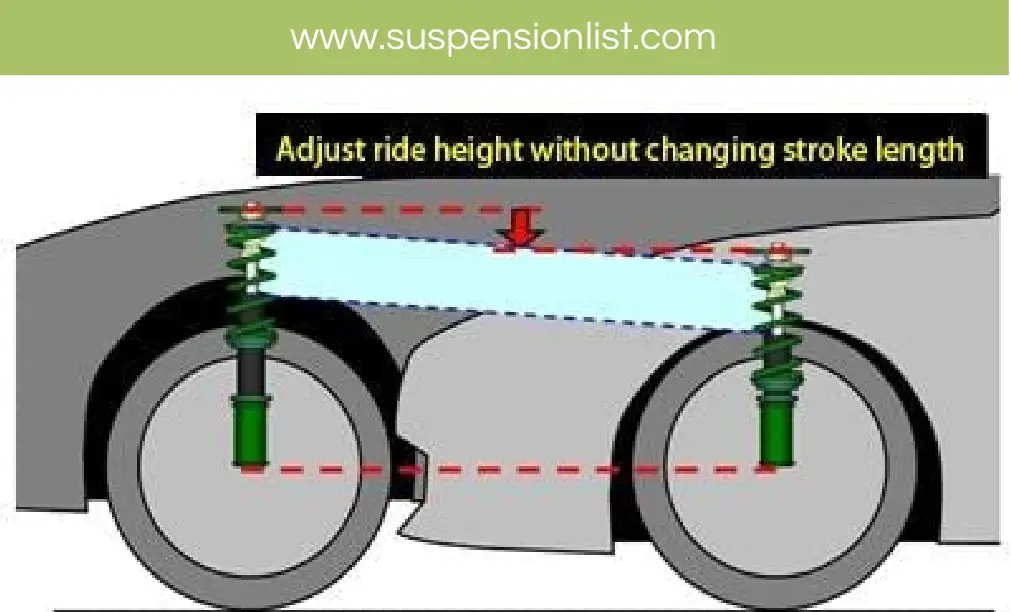 Get ready to adjust your ride height and have the comfiest ride no matter where you go. For the front, you can choose between -40mm, -50mm, -55mm, and -45mm, and for the back, -25mm and -30mm are your options.
This item includes a dust guard with a very sturdy bracket and shell case, making it much more durable. You can trust that it has all the great features you need.
What is a Street Basis Z Coilover?
The Street Basis Z Coilover is a fantastic ready-to-go set from Tein's coilover series, meaning you don't have to worry about any special customizations – it's super easy to use.
This Tein Street Basis Z coilover is made with all the good things from the Tein coilover series. It has all the great quality that the other Tein coilovers have, resulting in an ultimate good driving experience.
To keep your shock running smoothly and lasting longer, this shock is equipped with a dust boot guard to protect the piston rod from damage and keep dust away.
What else can you get?
This Coilover holds all the fantastic features but at an even lower cost.
Tein Flex Z Vs Street Basis Z Coilovers: Vehicles & Performances
Both coilovers are compatible with a wide range of vehicles, including the Mitsubishi Lancer, Honda Accord, Honda Civic, Nissan Sentra, Toyota, and more.
But the key is how they handle the roads – when it's bumpy or dirty, how do they cope?
The Tein Flex Z Coilover is a marvel of modern engineering, allowing you to adjust the damping to suit your own personal preferences. With its incredible ride quality and performance, no road will be a challenge – it truly is an ideal choice for any journey.
Alternatively, the Tein Street Basis Z Coilover offers a lower ride height adjustment than the Flex X Coilover, so you won't get the same performance, but it's still a great value for the price.
Tein Flex Z Vs Street Basis Z: Installation
Installing coilovers is a really important thing to look into because if it's an easy-to-install coilover, it can save you money. It could mean up to $250 to $500 less you have to spend. So when you're buying a coilover, you should see if it's easy to install, otherwise, you might end up spending too much.
If you're considering purchasing Flex X Coilovers, keep in mind that installation could prove to be a challenge due to the vast number of customization options available. However, with the right knowledge and expertise, you can take advantage of the various customizations and enjoy your new coilovers.
On the flip side, Street Basis Z Coilover is so simple to install. You don't need to be a genius – if you know a bit about what you're doing, you can fit it all by yourself.
Summary
The Tein Flex Z and Street Basis Z are two high-performance suspension systems that offer excellent ride quality and handling performance.
Both are excellent options for those looking to upgrade their vehicle's suspension system. However, the Tein Flex Z offers more adjustability, so you have more control over the ride and handling characteristics.
When you take a long road trip and go down lots of different streets, you should get a Flex Z Coilover so it's more dependable and you can drive better.
If you're looking to save a bit of cash and don't go for a long drives often and on different roads, why not consider investing in Street Basis Z Coilover? It's a great choice for a reasonable price.
More Comparison: