Contemporary automobiles' suspension designs yield numerous compromises, as manufacturers must build their vehicles to suit many specific requirements while ensuring that clients have a positive experience. 
Naturally, the cost is a large element of the decision process when luxury vehicles are involved, as well as the model's capabilities and purposes. Your needs and budget might differ from what the manufacturer had in mind for a specific model, in which case you may opt to replace the suspension.
You have two alternative options, with OEM factory parts being the prime alternative. But will adding aftermarket suspensions prove beneficial in your case? Or can you remain faithful to OEM parts? 
You could be uncertain of what you decide, considering there is much debate around the matter.  Don't be stressed. We won't leave you in the lurch; we are here to present you with the facts you require for the most appropriate decision.
What Does it Mean by "OEM" for Shocks and Struts?
OEM stands for Original Equipment Manufacturer. Your car's suspension repaired following an accident or event may need to be OEM replacement shocks and struts, as they are manufactured for your car from the same components the factory installed when your car was first created. 
Accordingly, the repairs will lead to the same high-quality performance as your original suspension system. OEM parts are more expensive than aftermarket accessories because they come directly from the manufacturer. 
However, the availability of the parts can be a complex factor since the manufacturer only makes them available back to them to ensure the fit and finish are exact. 
Why Should You Choose OEM Shocks and Struts?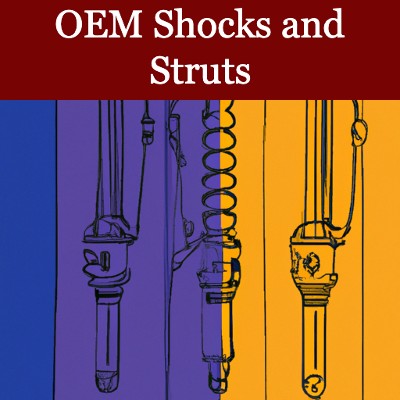 When you prioritize quality, reliability, and performance over anything, OEM shocks and struts won't disappoint you in any case. Till this point, we have already hinted at a few positive sites of OEM shocks and struts. However, here are some good reasons why you should choose OEM shocks and struts as replacement parts. 
Better Fitment and Quality
You have seen that Original Equipment Manufacturer (OEM) parts are made by the same company that made your car or truck, and aftermarket elements are made by another entity. That isn't inherently a bad thing, but bearing in mind that they are not made for your specific car or truck, you may see that they're not as effective as they could be.
Let's take your Honda pilot as an example. You go in to have it checked out, and the mechanic informs you that it needs new shocks. You can choose between OEM Honda shocks and aftermarket shocks according to your choice. 
But the uncertainty remains when it's about quality and fitment since they are unlikely to perfectly fit your Honda Accord because they may not be made specifically for that model. Whilst you will have a tailor-made unit for your vehicle when purchasing OEM parts.
Better Investment in The Long Run
Depending upon the store you purchase aftermarket shocks from, they can work out to be slightly more expensive than OEM shocks. So, it often seems like an attractive idea to buy aftermarket shocks because they're usually less expensive compared to OEM shocks. 
However, OEM shocks are a more potent investment, and they will save you more money in the long run. You notice it or not, using aftermarket shocks means applying pressure on other parts and shortening the life expectancy of your wheel, tire, and suspension components. 
Staying away from aftermarket shocks prevents additional stress on the other components of your vehicle, which saves you money and spares you the worry of having to replace your vehicle's parts earlier than necessary. 
No Complexity in Finding the Right Setup
If you bear the thought of configuring countless aftermarket shocks, the sheer number of options can be boggling. You'll have to research extensively to compare different shock brands, as well as to confirm if these will fit your specific car or model of the vehicle and whether they are separately covered under warranty. 
Even if you conduct such exhaustive research, there is no way of making sure you will find aftermarket shocks that are similar to the original ones. Ultimately, the best part about getting OEM shocks is their size fits your vehicle perfectly. All you have to do is navigate through our catalog of genuine OEM shocks to find the right part number.
Warranty Coverage
Something else to bear in mind is that original parts come with warranties, while aftermarket parts do not. Thus, if problems with your OEM shocks or struts arise, take your repairs back to the dealership, and the store might either fix or replace the part. 
With aftermarket parts, you'll often get a one-year warranty; for the majority of the parts, though, you are responsible for repairs or replacements.
Aftermarket Shocks and Struts – Where They Grab The Spotlight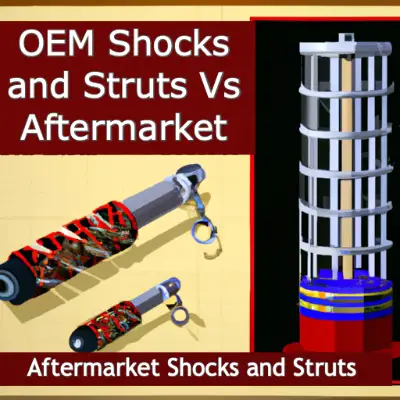 After looking at your existing shocks and struts and seeing what other options can be found, in some cases, you might choose to swap out the factory-installed parts with aftermarket parts instead of OEM ones. 
These aftermarket parts are less expensive, making them preferable if you have a tight budget. Of course, aftermarket parts are also frequently more adaptable, so if you have special requirements, you can add aftermarket parts to meet those.
For example, if you enjoy off-roading, you might consider aftermarket shocks and struts created for off-roading. You could also consider getting a softer ride by installing shock absorbers and struts at online or physical stores that are specifically designed to that end.
Likewise, if your vehicle involves racing or tracking, Coilovers that go well with this sort of driving are a smart investment. Performance Ksport Coilovers cost between $800 and $3000. They are specifically designed to improve handling and will most likely be going to enhance your vehicle's performance.
OEM Shocks and Struts Vs Aftermarket: Which Will Be Best for You?
It has already been debated as to whether or not aftermarket shocks and struts are a better option than the originals. Some things have to do with the prospective buyer. 
Some people might find these accessories a great way to improve the performance of their car, while others will appreciate the affordability but count on the quality of the parts to be comparable. Learn more in this situation so that you know whether aftermarket parts can lead to great results for your car.
Considering what benefits you hope to get out of suspension upgrades will help you decide what fully qualified shocks and struts to buy. As we mentioned earlier, aftermarket shocks and struts can provide benefits such as increased handling, greater stability, and a smoother ride. 
If your interest in these benefits is high, then after-market shocks and struts may be an optimal choice for you. You should keep in mind that aftermarket parts may not always work with your car, so it is smart to ensure they're compatible. 
You may also discover that aftermarket shocks and struts are more expensive than directly with your car in the long run, which means you will need to budget for this in your decision-making process.
Final Words
There are just some cases where customers should consider getting non-OEM shocks and struts, but if they've decided to take the vehicle to an experienced mechanic, they will probably go with OEM. 
OEM shocks and struts are manufactured to the highest standard, function perfectly for virtually any style of driving, last for a very long time, and cost less than aftermarket shocks in the majority of scenarios.
More resources: