The Fox 2.5 is one of the best shocks in terms of performance. Although, the adjustability isn't that great in the case of most 2.5s. But the Fox 2.5 introduced a massive upgrade in the adjustability section. Now, which Fox 2.5 series shocks can deliver the best results? For this particular reason, we thought, why not write a Fox 2.5 Review post?
From the outside, every fox shock looks the same. You can differentiate them unless you know about their core constructions and performances. For this reason, we're thinking of showing you some of the best Fox 2.5 models so that you can determine which one to choose for your car. 
Fox 2.5 Coilover Review
Here's a list of some of the best shocks from the Fox 2.5 series. We've added a brief description of these shocks alongside their good and bad. We hope our list will help you decide on the perfect shocks that meet all your requirements.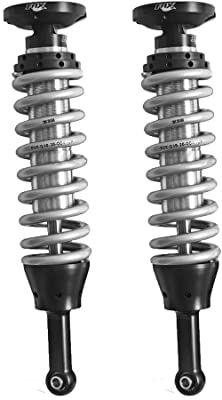 Fox 2.5 factory series have always been a serious contender as an industry-standard product. However, this one comes at a pretty good price. The shock helps reduce friction and ensures better dampening consistency in terms of performance. Well, the Coilover did receive new pistons over the years of the upgrade. Indeed, the shocks come in a high-flow race design with 3D CNC porting. As a result, it boosts riding comfort. 
So, why is this one the overall best? You can't judge the product simply by checking the performance, that's for sure. If you're an extreme off-roader (like racers or cars with corrosive parts), the Fox 2.5 factory series Coilover should be a significant auto part. No doubt, this shock has been a great one to offer the best off-road experience. 
Pros
Reduces friction and increases dampening consistency
Increases the ability to fine-tune the shock
Provides exceptional value for recreative users
Gain better off-road performance
Cons
Missing adjustable wrench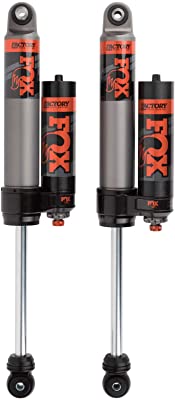 This particular model is great for keeping your jip comfy on a ride. Well, the first thing we liked about these shocks was the installation process. Installing the shock is pretty straightforward. You have a couple of self-tapping screws to hold the bracket on for the front reservoirs. However, you can use rivnuts to get better results. 
Well, this specific model is quite the same as its previous successors. But the shocks offer better construction as you get an aluminum shock body. On tougher county paved roads, the shock will make you comfortable. At least the Fox 2.5 shocks Jeep JL review is positive enough to be confident. 
Pros
Easy to install
Durable construction quality
Similar to off-road race shocks
Aluminum shock body
Cons
The factory series has a fully adjustable internal bypass with remote reservoirs for the jk. If you take factory and AEV suspensions as a baseline, you will feel the riding experience is much smoother with these shocks. The dual-speed compression adjusters are easy to use on hand, and you can easily dial your preferred settings. 
Well, the 2.5 factory series shocks provide a significant boost to your car's performance. Especially, riding through a fire road is far better. However, the product is not adjusted for high-speed racing. Although adding upgraded bump stops can help you in this matter. Certainly, it won't perform like a sports car but the highway control will satisfy you.
Pros
Excellent build
Easy to install
Fully adjustable for preferred speed 
Substantial increase in your riding quality
Cons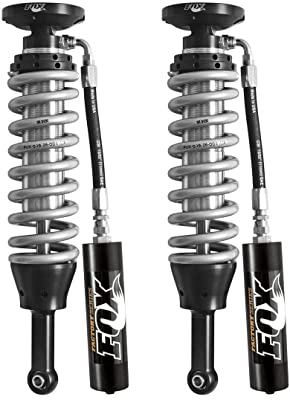 From the customer's fox 2.5 Tacoma review, we can say this is one of the best mid-range kits for Toyota Tacoma trucks. After receiving the package, you are sure to notice the beefier construction with a large fluid capacity. The larger shaft enables you to adjust the height of your truck up to 3 inches. 
The riding experience is smooth according to a user fox 2.5 Tacoma review. Now, the product comes as a pre-set to level your vehicle out of the box. Installing the product is not a problem as the package has all the important parts. With the Fox 2.5 Tacoma, you can say goodbye to annoying nose-diving. Instead, you get superb control on your ride. 
Pros
Provides improved damping
Get precise control
Adjustable ride height option
Features a true bolt-in system
Cons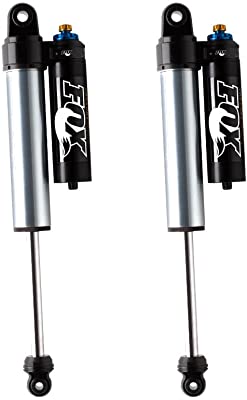 Serious off-roaders can consider our fox 2.5 f150 review for a suitable choice. As we were saying, these shocks can handle large motion off-roading thanks to the heavy damping ability. Not to mention, the precise control and performance make this a great choice for off-road riders. To be honest, Fox has tested the shocks thoroughly to get the best durable results. So, performance is no issue. 
Now, you might want to know whether the shocks are perfect for harsh racing or not. Yes, you can expect a hardy racing experience thanks to the improved damping. Also, you are getting an external reservoir for extra fuel or nitrogen. Overall, it's a performance beast in terms of 2.5 coilovers. 
Pros
Improved  damping in any terrain
The adjustable coil spring is adjustable
External reservoirs for increasing oil and nitrogen capacity
Well-tested for durability
Cons
In short, our fox 2.5 4runner review can declare, this is a shock that can do it all. When you are entering the world of world road, this one is amazing in its capabilities and versatility. If you can adjust this shock according to the situation, the shock will deliver the best off-road experience. 
Just imagine yourself on a washed off-road filled with holes. You are sure to stay dreadful about the bumps you have to face. But with these shocks, your ride will become scary and smooth. Once your rough off-road ride is complete, the easy compression settings will help you adjust your riding. Yes, according to our fox 2.5 4runner review, the shocks will deliver an optimum off-road experience without sacrificing any comfort. 
Pros
Best for off-road bumpy rides
Only shocks to have two-way adjustment
Better than its competitors
Comes in pre-set settings
Cons
Need to ensure the alignment is right
Fox 2.5 Customer Review
Mike Rockingham on Fox 2.5 Tacoma review, "Well, I am just a regular dude with a moderate knowledge about the mechanicals. Previously the nosedive on my trucks was annoying as hell. But I am pleased with this setup. Now, my rides have stiffened up nicely, and it's a dream ride for me. Surely a great product."
Adam E on Fox 2.5 f150 review, "After riding for a while, I think it's a great suspension kit. However, I would give it a four-star as I had removed the coil overs. After that, I had to place the Coilover in the H-frame to get a stable result. However, now I have a smoother riding experience. Most of the fox 2.5 f150 review does have some negative sides, but I liked it."
James on fox 2.5 4runner review, "For my fox 2.5 4runner review, I would say, it will deliver demanding performance. Yes, the shocks are capable of becoming comfortable at any time. I was impressed with the two-way speed settings. I guess this is the only shock to have this feature." 
Comparing Fox 2.5 shocks with key competitors
Fox 2.5 vs King 2.5
Well, both Fox 2.5 and King 2.5 offer a wide variety of great OEM products. King is the largest shock manufacturer company, they create shocks for just about every type of vehicle. You will get a wide variety of shock kits at a reasonable price from them. 
On the other hand, Fox uses better seals, shafts, and shock oils. However, Fox shocks are pretty expensive. But if you want a durable option, Fox should be your first priority. They provide more advanced shock adjusters on the market. So, even if they are pricey, the construction quality gives them an edge over King 2.5. 
Fox 2.5 vs Bilstein 6112
Among the two, Bilstein 6112 is the cheaper option. Bilstein does offer some good suspension kits on the market. However, Billstein is not popular for its durability. Rather the price point makes them a popular choice. 
Fox 2.5, on the other hand, comes with an expensive price tag. Compared to Bilstein 6112, Fox 2.5 offers a more stiff riding experience. If you are looking for shocks for larger off-road riding, Fox 2.5 is the best choice. Not to mention, Fox shocks are serviceable. 
Fox 2.5 vs Falcon 3.3
In terms of performance, both shocks deliver similar results. The fox 2.5 can deliver a little stiffer ride. It's because the shocks need to move more oil. On the other hand, Falcon 3.3 comes stiffer than Fox. According to the customer feedback, tuning the Falcon according to personal preference is easy. Both of these shocks are high in quality. 
But the main difference between the two is serviceability. You can fix your Fox 2.5 in any local shop. But Falcon 3.3 is serviced by Teraflix. For now, you can't just go to any local shop for service.
Fox 2.5 vs 2.0
Well, the difference is in the diameter of the shock body. Other than that, both Fox 2.0 and 2.5 have similar spring rights. Well, the Fox 2.5 can hold more oil and can stay cooler for a longer period. Also, the 2.0 has issues with adjustability. From the outset, it may not seem like a huge upgrade. However, the Fox 2.5 is obviously a comfortable upgrade over the Fox 2.0. 
Fox 2.5 vs Bilstein 5100
The Bilstein 5100 is a great option for moderate off-roaders. It is designed especially for any uplifting trucks or vehicles. Not to mention, the Bilstein 5100 has a zinc coating to keep the shocks safe from debris. If you are not into ultra-racing, you can use them. After all, they are the affordable option. 
In terms of performance and durability, Fox 2.5 will ride a steamroller over Bilstein 5100. The powder aluminum coating on Fox 2.5 suspensions makes them more durable. Not to mention, the valving on the Fox 2.5 makes them firmer. But they are more expensive than Bilstein 5100. However, if you consider the durability, the price tag is satisfactory. 
How to install Fox 2.5 shocks?
In this section, we have a step-by-step procedure for Fox 2.5 shock installation. The installation process may differ depending on the model. We ask you to check the installation guide first. 
However, here is a basic guide:
Step 1: Properly secure and lift your vehicle. Record the front vehicle ride height. Make sure the vehicle has a proper lift for the installation. 
Step 2: Make preload adjustment once the shock assembly is installed.
Step 3: Now, remove both wheels from your vehicle.
Step 4: After that, you have to disconnect both outer tie rods at the spindle steering arm. It will create installation clearance.
Step 5: Time to remove the 3 top nuts. Well, top nuts keep the stock shock assembly secured. Make sure you don't remove the center nut. If you remove the center nut, the spring from the stock assembly may harm you. 
Step 6: After removing the top nuts, you have to remove the bolt connecting the shock to the lower control arm. 
Step 7: Now you can remove the stock shock assembly. But be careful, don't damage any electrical wire or brake lines. 
Step 8: It's time to install the new Coilover assembly. Check the user manual or installation guide that came with your shock model. 
Step 9: First, connect your shocks to the lower control arm. Reuse the bolts and nuts here. For external reservoir models, you need to use the supplied hose clamps. Just use the hose clamps to attach the shocks to the reservoir brackets. 
Step 10: After that, reinstall the outer tie rod ends. 
Step 11: Torque your shocks according to factory specifications. 
Step 12: Steer on both sides to check whether the suspension has a proper clearance or not. 
Step 13: Finally, reconnect both wheels. 
Test: Now, drive the vehicle back and front to settle the suspensions. However, we suggest you check the wheel alignment for a safe ride.
FAQ
How long does Fox 2.5 shocks last?
Well, they should deliver great performance for 1 to 2 years. But most people would want to have at least 4 to 5 years of service. After all, Fox 2.5 is quite expensive. But one thing people seem to have unnoticed is that Fox shocks are serviceable. No need to worry about the longevity of Fox 2.5 coilovers. You can visit any local shop to get a service for your Fox shocks.
What is the difference between Fox 2.0 and 2.5 shocks?
The main two differences between Fox 2.0 and Fox 2.5 shocks are the diameter and adjustability options. Well, both models have the same spring rights. Anyway, Fox 2.5 is a major upgrade over 2.0. as Fox 2.5 offers better adjustability.
What are 2.5 coilovers?
Mainly, the Fox 2.5 coil-overs deliver the same performance as 3-tube bypass shocks. However, they are contained within a single Coilover package. With 2.5 coilovers, you will find three compression zones and three additional rebound zones. That's why 2.5 can provide a smoother riding experience.
Do I need 2.0 or 2.5 coilovers?
Well, it depends on what type of user you are. The 2.0 coil-overs are great for mid-range riders. It's especially a popular size for zips. First of all, the 2.0 is tunable and affordable. But when you are a serious off-roader, 2.5 coil-overs offer optimum performance. 
Wrapping Up
After reading our discussions on each Fox 2.5 product alongside its pros and cons, you should get a clear idea about your preferred shocks. When you get a closer look at the difference in the performance of each product, you get a clear idea. As a result, making a decision is not so confusing after all. 
Yes, you need a good pair of shocks for a better riding experience and comfort. Fox 2.5 coilovers are expensive, of course. But they deliver the best performance and durability. There's another fact that Fox 2.5 shocks are serviceable. 
But if you want to invest in quality Fox 2.5 coilovers, we suggest you get the Fox 2.5 factory series. The Fox 2.5 factory series is a serious contender as an industry-standard Coilover. Starting from the installation to the performance, this is one of the best you will get.
See also: