If you're a tuning enthusiast, you might have heard the name "Yellow Speed" recently. Their entry-level coilovers are a perfect addition to most modern cars for daily driving. 
They also have coilovers for specifically track-focused race cars. In this case, Yellow Speed Premium competition inverted coilovers are used in many Trophy Championships and Civic Cut up. These provide maximum handling and performance. However, they aren't suitable for road use. 
But what about you? Will these coilovers shine with your car or give you the performance and comfort you desire? To find your answer, you must read this Yellow Speed coilovers review until the end.
Variations of Yellow Speed Coilovers
Currently, Yellow Speed offers 8 different series of coilovers. Yellow Speed classified these coilovers mainly based on their intended application. So, it's good to be acquainted with different types of Yellow Speed coilovers first. Here is the short description below: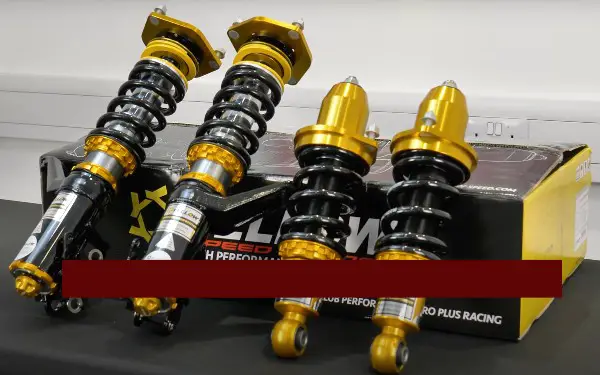 Dynamic Pro Sport Series
On the street or at the track, Dynamic Sports Coilovers by Yellow Speed is made with passionate car lovers in mind. These suspensions are ideally designed for driving daily, and mild track use and durable components are developed and chosen for this reason. Drivers can rest assured the components endow their automobiles with exceptional handling and stability while on the road.
Dynamic Pro Drift Spec Series
Dynamic Pro Drift Spec coilovers are widely considered a tremendous addition to Yellow Speed's coilover lineups. As Yellow Speed claims, they invited two legendary Japanese Niche Racing Team experts to develop this new lineup. 
Their new Dynamic Pro Drift coilover kit for drifting is built around years of experience collaborating with these experts developing coilover kits from coilover frame and spring assemblies, pursuing engineering innovation, and implementing rigorous testing processes. The Dynamic Pro Drift coilovers do not present any conundrums to people regarding their expectations of what a coilover kit oriented around drifting should be.
Inverted Pro Street Series
The inverted Pro Street coilovers feature many of the characteristics of the popular Dynamic Pro Sport Coilovers, but come with an added 55-millimeter inverted monotube damper to increase the strength of the suspension and improve the handling of the vehicle. 
This 07-series coilovers kit boasts a hydraulic lowering function to lower your vehicle conveniently and a monotube design for improved vehicle handling and a smooth ride. 
Super Low Series
The Super Low Coilover kit is ideal for those looking to maximize their vehicle's appearance through its significant ride height drop. Compared to other coilovers by Yellow Speed, this kit is one of the most straightforward and affordable options. 
It is a suitable alternative to Air Suspension, which decreases the price of building your vehicle and remains economical. The Dynamic Pro Sport kit lowers the car's ride height by 50–100 millimeters from the factory ride height, depending on your specific vehicle.
Club Performance Series
Included in this model are independently adjustable compression and rebound damping settings, as well as a unique full-ride height adjustment feature. This suspension system is popular among racers and racing enthusiasts who partake in occasional track days, club circuit racing, road racing, or the motorsports industry.
Pro Plus Racing Series
Yellow Speed's Pro Plus Racing coilovers allow your team and you to be able to produce the coilover setup for any time attack, circuit racing, or endurance racing competitions. With edgier tires, these coilovers produce the maximum handling and performance for your car.
Advanced Pro Plus Racing Series
Advanced Pro Plus Racing Series contains high-precision, 2-way adjustable coilover systems made for MacPherson strut vehicles. The system allows you to adjust rebound and compression damping independently. 
An external reservoir allows these coilovers to utilize additional oil volume for dissipating heat, compared to coilovers that use an internal reservoir. Stability during high-speed driving and motorsports competitions will improve strength, handling, and overall performance.
Gravell Rally Series
Yellow Speed Racing's Gravel Rally Coilover Kits effectively function as a coilover alternative for drivers that operate on rough terrain over traditional off-road racing tracks. 
This system has been designed with a MacPherson strut-type suspension system, with a monotube inverted design known for its ability to decrease heat transfer from the brake system to the damping oil and shock absorber.
Yellow Speed Coilovers Review
Now it's time to go deep down to the core of my review. Here I'm going to discuss some crucial aspects regarding Yellow Speed coilovers. 
First Impression
So opening the box up, you can see all items are well packaged like all Yellow Speed products to ensure no items are damaged during transit. So inside the box, there will be one pair of Coilovers, two front, and two rear. 
The next item in the box is the toolkit consisting of the contents check sheet to ensure all items are accounted for, the installation instructions booklet, and a flashy little Yellow Speed sticker and dampener adjusters. In addition, you'll get two of those.
Adjustability
In terms of adjustability, Yellow Speed coilovers are absolutely on the good side. They have more dialing capabilities or fine-tuning than many other coilover options at the same price range. Their 33-way adjustable dampening settings are quite satisfying. 
You have options between soft and hard. So they allow a little bit more fine-tuning, adaptability, of course, height adjustment, and things of that nature. However, you have to select the appropriate adjustment on your own. 
Otherwise, you may experience a little bit more of a bounce in the rear and even in the front. Generally, it's wise to firm up the front and rear to avoid such bouncing. 
During dampening adjustments, ensure you're jacking up both sides of it because you don't want one side to be higher than the other. Otherwise, the sway bar will start pulling down on the lower control arms on the opposing sides, and it's going to make it really annoying to try to get these coilovers up and in the car. 
Installation
Installing Yellow Speed coilovers is straightforward if you already have some experience with suspension systems. The one drawback is that the bracket on the strut where the front link is attached is rounded, so the link weight with which the strut gets mounted doesn't sit perpendicularly as the others do.
There needs to be room between the strut and its adjuster nut for it to sit right; otherwise, the strut adjustment nut may be bent or scraped. That makes the line slightly hunched as it holds the strut in place. Therefore, it requires a little adjustment.
However, outside just matching the height on both of them, I don't want to make any adjustments. Because once you get the actual new wheel and tire set up on the car. So, you have to adjust all of this anyway. This will help you to ensure the height on both front and rear coilovers is the same. 
The preset's been set from the factory, so you shouldn't have to mess with any of that. But it's good to measure it to ensure they are identical. So that way, you don't have any deviance between one or the other. However, for preload, you have to measure spring compression. 
Ride Quality
The ride is comfortable but definitely stiff. I can perfectly maintain it stiffly compared to other folks at my level. I leave the damper settings on the middle rows at 12 forward and 8 back, and they appear to work exceptionally well for my body shape. 
Body roll is practically non-existent. They feel very tight and appear to be a good upgrade compared to factory settings. After running them for a few weeks, I began hearing a rattling noise coming from the back of my car last weekend. This is probably a variation on the colloquial expression if your hatch is up but not appropriately tightened and bares up and down. 
Yellow Speed Pros
Thanks to the end of the link attachment, you can't see any part of my beefier end product welds. Everything in these links is smoothly connected, and nothing is overpowered or oversized IMO. 
But at least small things are worth mentioning, including the construction of dust boots, a more robust bushing design, pillow ball top-mount, needle roller thrust bearings (top) thrust sheets (bottom), and box-shaped camber adjustment for maximum camber range.
The Yellow Speed spring is arguably significantly larger and thus stronger compared to the OE springs. As it needs to be installed within the frame, the SY springs define how the frame stands upright, whereas the perch of many coilovers at the same range use a universal spring. To drop low and slam your ride, this is the specialty of Yellow Speed Coilovers.
Yellow Speed Cons
Their generic parts, such as the shock mount, do not have the edition plate notch that comes at the knuckle and does not include the ABS line mount. In doing so, their brake line mount and the end link mount adapter are defective; they come out at a 45-degree angle with a rounded end rather than vertical with a flat end.
Sadly, like any other coilover line on the market, there isn't a bolt mounted on the bottom of the fork for the bottom bolt to ultimately develop into in place like the stock suspension. This can be a bit annoying and can render the nut bolt grow loose, which could lead to severe complications.
In addition, the manner in which the bolt was attached to the rear fork also resulted in some scratches, but that is to be expected if anyone wants to show that part off eagerly. Eventually, the bumps you hit will lead to the fender rubbing on the driver's side, which is rather unsettling. Your side always feels like it's scraping more than the others, and it has been like this since you got Coilovers.
Yellow Speed Coilovers Review – My Verdict
I'm not at all certain that they will be able to build a new reputation as a songwriter, given all the established, recognized names in the field. Moreover, in addition to all the misrepresentation and generalization, there are plenty of other (undersold) notes of comparable quality in the marketplace as well.
Sadly, I could not stumble upon many facts or technical detail on Yellow Speeds' US site, but I could found on its European site, which has an extensive amount of information and product on sale. I believe this is because this site is the only one they distribute their items through, while in the US, they also utilize a middleman.
I will give them a low score for their customer support. However, driving is not worth a chunk of money for soccer moms and dads, but what if you want to have fun with active sports driving? Aren't these the kinds for you? You will appreciate the experience immensely if you ever try slamming. They are offered in many price points and models, so you need to know your applications and go for it.