If you have heard of the name "Silvers," you might also know their flagship Neomax Coilover series. These coilovers are most suitable for street cars like Subaru WRX and BMW. Still, they shine in tracks. 
But what's the catch? How can they outperform others at the same price range, even some expensive ones? Here I have come up with a detailed Silvers Neomax coilovers review to analyze these coilovers. 
And as long as it's your concern whether you should buy these coilovers or not, this review will help you indeed. So, without further ado, let's jump. 
Silvers Neomax Coilovers Review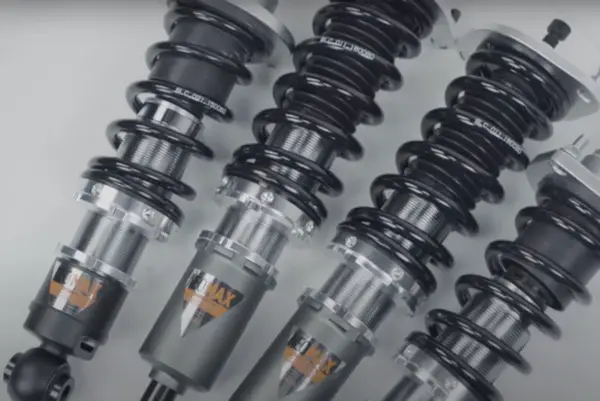 To make everything clarified, I have structured the review based on several crucial factors. This will help you to justify how good they are quickly. 
Packaging Details and Initial Impression
First things first, we're going to crack the box open and see what we got going on. Silvers adopt lovely packaging, ensuring your coilovers are not destroyed on the way over. The front unit has really nice powder-coated springs. One thing that I like the most about silvers is they think about everything. 
So they throw on a bracket for you, your brake line, and your ABS, so that's really impressive. They actually keep protected all of their studs with caps. This is really amazing, considering such an affordable coilover kit.
Another thing that they thought of when making the product is to include a nut. So on the factory suspension, they usually have just a welded nut on the side of the shock. 
In that case, you have to provide yourself with your own nut. So, Silvers actually took care of that for you, so you don't have to make a trip to the parts store and pick one up. So that's always nice. They also send you some stickers.
Design and Construction
This is the Super Low kit, so it will be a much shorter shock design, which is excellent for guys who want to go super low because you no longer have to sag the spring or lose that preload and have a horrible ride. 
They really thought of that, so they shortened it up. Taking a look at everything, the spanner wrenches are actually really nice. I like these a lot more than a lot of the ones you see on the market. 
They have a cutout for a half-inch breaker bar, easier adjustments, and get everything super tight so it doesn't come loose on you. We don't have clunks or rattles or anything like that, so that's a really nice feature. 
So Silvers is just breaking into the North American market. Believe it or not, they've been around since 1999, and all of their coilovers are custom-built in-house. They can make custom applications. Whether you drift track or want to go super low, they can care for you. 
There is anything that you want, anything you desire. And you don't have to wait a long time. In a traditional coilover that's not a super low kit, you will have to SAG the spring to achieve the load you want. 
So this is impressive because you can bring down the lower bracket, run it low, and still have your preload and the coilover working as they should. Also, on some of the McPherson styles, they offer camber plates, which is lovely. That means you can fine-tune your settings more conveniently. 
Adjustability
You have your camber adjustment as well as the dampening adjustment. They also have a lower bracket with cutouts on the bottom for easy adjustability. I haven't seen any other coilover have that option. Also, have 24-way adjustable dampening, so it's not like your standard, like 32. And it's really easy to access.
The nice thing about this is they come out of the box preloaded. You don't have to adjust them. A lot of coilovers I was looking at say to reset the preload. Thankfully, Silvers Neomax coilovers are already preloaded. 
You just throw them on, and all you got to do to adjust the height is move the bottom, move the bottom ring, and spin the bottom. You don't have to touch the top part at all. They're all set precisely the same. So you don't have to sacrifice the spring rate to change your ride height. 
Their two-way coilovers are some of the most hyped coilovers they're currently marketing. The two-way coilover allows you to adjust the compression and the rebound of the dampening of the shock independently of one another. So that's really good for a track car, and it's pretty apparent that a streetcar could also benefit from it. 
Ride Quality
They absorb some bumps pretty well. But if I hit a steep bump, a pothole, or anything, the car just bounces. And it's so soft. It's too soft. So when you go into a corner, the whole car rolls almost as severely, maybe worse than the factory. 
It can be an absolute nightmare if you have used lowering springs in your car. Because your car is actually sitting higher than it was with the lowering springs, but you're rubbing more. So every time you hit a bump, the entire body of the car will drop, hit the tires, and rub like crazy. 
However, the car isn't rolling at all. And I don't have any sway bar upgrades or anything. This is in a front strut bar. That's so much better. So it gives the feeling of stiffness around the corners, back from my lowering springs. But the comfort of, like, a stock strut, it really feels great. 
Like, if you're driving it in a normal straight line, you're not being aggressive. It feels like it's on stock suspension. This is really good. It doesn't lean really severely to one side. But then, when you drive over bumps and stuff, it's still smooth.
On flat roads. When you're not doing a lot of tracking, you're not on many bumpy back roads. I think they would do okay if you're living in the city. They'd be fine. They're almost too comfortable, and I say comfortable because I think they try too hard to make the ride smooth and they make it bouncy. 
Installation
Installing Silvers Neomax coilovers is precisely as easy as it gets. It takes approximately 1.5 hours. But there's but one issue, you will require some basic knowledge. As far as I'm concerned, I'm somewhat dissatisfied with the progress of the installation before the suspension is concluded. 
The lack of a back shock absorber clip concerns me but does not adversely affect the load line. I strongly suggest obtaining high-quality strengthening clumps, as they're not cheap and are meant to endure you for a long time. 
The advantage of the front coilovers is that they're much shorter than the stock struts, and it's, therefore, a lot easier to put them in! The front coilovers are shorter than the rears by roughly an inch, while they still perform surprisingly well.
Pros Of Silvers Neomax Coilovers 
From the above discussion, let's highlight some of the positive factors regarding Silvers Neomax coilovers:
Smooth and comfortable ride
Zinc-plated finish
Excellent pricing
Satisfactory customer service
Easy to install
Cons Of Silvers Neomax Coilovers 
Naturally, you'll find some negative things when Silver Neomax coilovers are installed in your vehicle. Here are what we found:
Very soft ride
Tapered lower mount
Struggles on bumpy roads
Silvers Neomax Coilovers Review – The Verdict
To summarize, the handling and confidence these coilovers give are great. I would not say the coilovers are like a go-cart, but they pretty closely resemble. I should add a "confidence" rating category, but I decided not to. Yeah, the ride is a bit bumpy, but not anything like the bumpiness of the stock spring. 
I believe in comparing linear springs that respond to everything they encounter. However, progressive springs that hide some issues are more product of a comparison between rigid spheres that are responsive throughout their surface and the amount of flexibility.
Read also: