Truhart coilovers have garnered incredible popularity among tuning enthusiasts who want to give a sporty look to their cars. Basically, you can set Truhart coilovers on any car. However, they're especially best for lowering vehicles and used in daily driving, and of course, at a cheap price range. 
But are they worth your investment? To be honest, aesthetics isn't the only thing that will justify whether these coilovers are worth the money. Ride comfort, handling, and service life, there are so many things you have to be concerned about while choosing any coilover setup. 
To make everything clarified to you, I have come up with our Truhart coilover review. If you'll continue reading this review, you might gain additional insight into these Coilovers in detail. This will help you to make an informed decision. 
Truhart Coilovers Variations 
Truhart classifies its coilovers into two major variations, one is Truhart Basics and another is Truhart Streetplus. Their entry-level coilovers are the Basics, and they offer more features with their TruHart StreetPlus Coilovers. 
TruHart primarily sells Basic Coilovers, which are the cheapest coilovers the company offers. Not only are the heights adjustable, but they usually range from a minimum of an inch drop to a maximum of 3.5 inches from the bottom of the coilover. 
It has zero top hats, so you have to buy new ones. Because of its price, it can be completely discounted. Instead of using coil-over shocks, they recently developed springs with new innovations and they have been quite pleased with them. 
StreetPlus Coilovers are still deemed to be inexpensive coilovers since their cost is low, generally under $550. However, they offer other capabilities, such as allowing you to raise or lower the vehicle by reducing or suspending the vehicle using the lower mount. 
This makes it so you do not have the sudden shock hit', and have top mounts for easy mounting. Hence, it's not necessary to reuse your factory top hats and get rid of the factory collapsing springs from the OEM shocks.
Truhart Coilover Review – Exploring Some Major Factors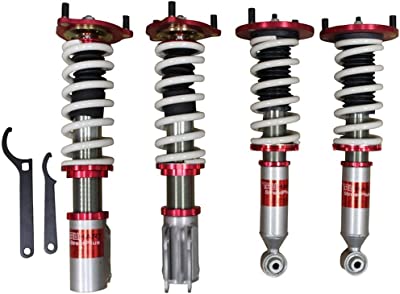 See On Amazon
As I mentioned in the beginning, there are certain factors that you may always be cautious of or your expectation might be centered on something like a comfortable ride, better performance, and so on. Here, I'm going to explore whether Truhart coilovers can be worth your investment. 
Visual Appearance
The struts had decals with the TruHart brand name on them, and not all of them were straightforward labels. No one is going to see those logos, so this is not a concern for me. However, I usually go there anyway, so bids are for my preference only because my main goal is to examine and study its quality and how usable it is.
When removing the packaging, I noticed several things. For one thing, coilovers come with their own upper mounts, and they already had been attached to the spring, but not using a preset preload. Not an issue, everybody needs to customize their spring preload in any way they like.
However, as assembling the lower wheel mount on the strut, the threading on the strut looked very clean on all struts with no remarkably unwanted friction when screwing in and out. 
In addition, camber plates in the front were not set to '0 or a few' or any other joint, so this is a very personal alternative that should be completed based on your preferences. When you consider the quality of shipping and products, workmanship, and aesthetics, ought to be taken into consideration.
Installation and Fitment
So, let me talk about the installation and fitment. What we term, "quick install," is the term I want to use for this coilover unit. All of the parts needed to complete the installation were in ideal condition, and the few minor changes needed to make these coils bolt-on ready (other than your preference and some slight rubber mount trimming) were very straightforward. 
I think that the best thing about these coilovers is that they slotted straight into all the links, lines, and sensors. So, it will only take a few minutes to hammer them into place exactly where you need to be. Alongside, the belt stayed where they were supposed to all the time. I felt confident it wouldn't start vibrating loose anytime soon and prevent brake lines from being worn down. 
Ride Quality
The time has come to talk about ride quality. Regardless of all spring preloads, shock absorber travel lengths, and saddle travel settings, it could take some time until everything finally settles in. It's suggestible that your car harmonizes after 3 days or 350 miles of driving on serious highways and very rough surfaces. Generally, they need no changes whatsoever.
All the sections of the coilover, including the struts and spring, are leveled the same and evenly. This is an advantage as well since it shows that the components were made well and evenly. 
Setting the strut pistons at the top and the strut tubes at the bottom does tend to boost the coilover's feel. Hard to say! I'm a big fan of coilover strut suspensions, so I prefer them, but I would advise you to know what garnered your interest in getting them before you could judge my opinion.
If you want an exceptionally higher drive-ability along with premium road-holding dynamics, then my opinion will be valuable for you. So, ride quality is particularly excellent due to the stiff front end, responsiveness with zero body roll, and slight rear travel. 
Even so, it indicates that upon its rack, the TruHart coilovers aren't "squishy," soft," or"pale " as some may think or read about it in the very limited places this sort of info is available.
Dampening Adjustment
It's also worth noting another crucial point now. Well, the Street plus coilovers and the Truhart Basics have no adjustable damper settings because they were already set at the factory at a certain damping setting.  If you are looking for an adjusted ride, don't hesitate to have a look at adjustable dampers at the Truhart Streetmax poses.
However, if you aren't really wanting a racing suspension, this won't bother you either. In short, Truhart Basics and Streetplus coilovers are merely functioning coilovers that would elevate how quickly you respond to road conditions and would accommodate your driving style. 
Generally, dampening adjustment is essential if you're participating in a racing competition. So for people who need coilovers for street driving or light tracking, damping adjustment isn't compulsory at all. 
For example, taking sharp turns even at 90 degrees with a 2.5-inch drop and 35 MPH speed with these coilovers will cause no problems and minimal body roll. Therefore, Truhart's major coilovers are for people who need the ongoing reliability and longevity of the twin tube design. 
Customer Service
Nobody ever plans to wind up in the position of needing to get in touch with customer service. But if you ever have to, you want to be sure you have done your due diligence, and that you have bought a brand whose customer service work you like. And reviews suggested that Truhart is one such brand.
One reviewer talked in particular about the horrid luck that he had with installing the rear coilovers, as they wouldn't line up with his bolt. Thankfully Truhart was able to send out a substitute in due time, and he is now very pleased with the overall appearance and functionality of his vehicle.
Recommend video to adjust your Coilover:
Pros of Truhart Coilovers:
From the above discussion, we can highlight the following positive aspects of Truhart coilovers:
Affordable price
Decent construction and quality
Value for the money
Perfect daily driving 
Lifetime warranty
Cons of Truhart Coilovers:
Yeah, Truahrt coilovers also have some negative points that you should be aware of before purchasing them. Check the cons mentioned below: 
Not suitable for racing or off-roading
The stiff ride might be unlikable to some people
See On Amazon
Final Verdict – Are Truhart Coilovers Worth It?
Now it's time to answer the most hyped question, should you choose Truhart coilovers? Are they really worth the deal? Like any other aftermarket parts, the decision of choosing Truhart coilovers depends on what you're expecting from your vehicle, how much you want to pay, and your driving style or conditions. 
But if I have to summarize it straightforwardly, my opinion will be like this. The TruHart coilovers could possibly be just the thing for automobile enthusiasts looking to enhance handling and keep performance at a high level, without putting their savings at risk.
Their struts and springs are moderately responsive and spongy in terms of spirited driving and cornering maneuvers. If you've got a limited budget and want a dependable, budget-friendly, and quality coilover suspension for everyday driving, Truhart coilovers would be the perfect deal for you. 
But possibly you are not gonna get much out of them compared to the Eibach Sportline coilover, these coilovers will do fine with your everyday driving. However, it is essential that you have your car or truck professionally fit the ideal spring preload and correct fitment. 
When you buy a high-quality ride-quality suspension like the TruHart StreetPlus and you will be entirely dependent on the stops and push yourself up or the spring preload to get the best feel. These are terrific products and great value for the money.
See also: