Megan Racing is one of the oldest names in the high-end suspension marketplace. Megan Racing has been succeeding in this space since a similar enthusiast movement manifested in the mid-90s. Megan Racing coilovers are designed specifically for European cars, race cars, or anything else.
Among the less expensive coilovers kits on the market, Megan Racing coilovers are available in a range of types, the most inexpensive being the EZ I. They gradually hit the Premium segment with their Track series. But how do they perform in real life? 
Should you pick one of their coilover units for your car? To find the answer, you have to read this Megan Racing coilovers review. Hopefully, it will give you an insight into every essential aspect you need to know. 
Megan Racing Coilovers Variations
As I always prefer, starting with a short description of different variations of Megan Racing coilovers. At present, Megan Racing supplies 8 different lines of coilovers. These are shortly described below:
EZ Series
Megan Racing offers coilovers in its EZ Series line for those who are interested in more affordable options but still carry all the essential features.  
These coilovers are best suited for street driving, as they offer 15 levels of damper force in order to accommodate dynamic elevation change. The EZ Series coilovers will allow for the adjustment of the spring preload and the car's ride height independently.
EZ II Series
The EZ II series (also known as Version 2 of the EZ Series coilovers) is the latest release from Megan Racing's large range of coilover kits. The EZ II coilovers are almost identical to the EZ coilovers.
The main difference between EZ II and EZ coilovers is that EZ II coilovers will include at least two upper mounts and are optimized for all driving and cornering situations. 
Euro I Series
The entry-level coilovers for European cars are entry-level coilovers, also called Euro I series coilovers. These use monotube technology and a longer shock top than other types of coilovers, and their components can be substituted with a group of OEM or simpler shock top mounts. 
Typically, they are designed to adjust the levels of fifteen, and the damper used is typically 304 stainless steel.
Euro II Series
The Euro II Coilovers are a little above their equivalent from Euro I with an added upgrade of the 32-way adjustability. They're often outfitted with stiffer coilover springs but are even more dampened shocks. 
Many incorporate top mounts and basic camber plates to suit the application. These coilovers come with a 1-year warranty. 
Street Series
Megan Racing's Street series coilovers are the greatest the company makes for the everyday driver. Because of stiffer damping settings, suspension enthusiasts consider the ride to be harsh, but the majority of those customers say the benefit of outstanding handling is more rewarding. 
Customers have camber plates, and their adjustability ranges from 32-way all the way to 104-way. They are perfect for people who like their suspension very firm.
Spec-RS Series
Megan Racing launched their new Spec-RS Series coilovers. The new SPEC-RS Coilovers feature the ability to change compression and rebound rates for unmatched fine-tuning options independently. 
On its own, the coil-over body retains its suspension stroke while allowing the suspension stroke and air spring pre-load to stay independent, allowing the spring rate and shock height to be easily adjusted. 
Easily adjustable compression and rebound settings can be perked up with individual adjustment knobs at the top of the damper for rebound adjustment and on the external reservoir for compression tuning. Just twist a knob and set your driving style and suspension up.
Track Series
Megan Racing Track Series Coilovers have been built especially for use in aggressive driving environments. A traction-enhancing spring rate and valved dampers promote better dynamic control, while higher grip track tires allow for better steering performance. Front pillow ball camber plates also include an adjustable adjusting option.
Utilizing 32 damper force levels, camber adjustable pillow ball front top mounts, and shock length adjustment, the pillow ball can be adjusted to retain full suspension stroke and be able to fine-tune the suspension characteristics completely.
Swift Track Series
Those who want peak performance and handling from their vehicle must look into the latest redesigned Swift-Track series of coilovers by Megan Racing.
The market-leading Swift-Track Series coilovers really stick out above the rest due to the dependability and performance associated with Megan Racing suspension systems. 
The gunmetal finish of the Megan Racing Swift-Track-Series shock absorbers incentivizes performance, while the rim-mounted Lorentz Swift-Track Impedance Pipes attenuate vibrations and unsprung mass.
Megan Racing Coilovers Review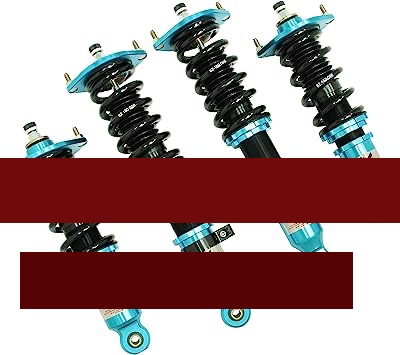 Here comes the core of our discussion. This is the main part of my review where I'm going to share my experience and opinion regarding some crucial aspects. So, start reading.
First Impression 
Megan Racing loves to pack its products as compactly as they can. This may surprise you thinking how they can make this happen. Well, after meticulously inspecting and realizing there was nothing wrong, I can confidently say that their packaging is more than sufficient. 
All set items are carefully packed in individual parts so that customers don't miss out on any item they need. 
Inside the package, you will find two rear coilovers, two front coilovers, wrenches, the HEX key, and the return form if any defects exist. Additionally, they provide some stickers in case you have competitive spirits and are willing to show them off. 
Quality
Now it's time to describe the quality. For this, I checked the entire unit. In this case, my first point was the welding status. I don't know what differentiates a good weld from a bad, so speak up with any expert about it if this is up for discussion. 
In my view, they appear to be fine, but I am not sure. When setting up the camber plate, I was awed by how smoothly it clicked and reduced as you changed settings. I had issues with this characteristic in other coilovers. For the elite versions, I would mention the camber adjuster and its functionality which is very easy to differentiate. 
I can't get enough to say about the camber plates and the absence of play. The camber nuts were generally very easy to apply. I began inspecting the springs and perches. You should take note that the springs come preloaded. Hence, you should ensure that they are adjusted accordingly 
The perches took me a bit of time to set up because I found them very imprecise, although I could actuate them from flaccid to loose with little effort. Oh well, they do what they're supposed to do. 
Installation
Ready to put everything in place, and it's time now. Please note that while moving those bolts is going to be extremely difficult if you messed with them years ago, it would be best that you have a lubricant on hand. 
It's important to familiarize yourself thoroughly with all components and their placements before installing coilovers for the first time, and this documentation may represent the optimal approach to begin. 
After you take away the old struts and shocks, installing Megans is quite easy. You'll have to lift the hatch and lower the ride height if you wish to keep your car close to the prior operating state. 
That is because these lures are lowered down to loosen the bar only by two inches, even when your vehicle is still similar to new. Therefore, take measurements beforehand and refer to specifications before mounting. 
Additionally, remember to save the old parts in case you need to replace them again. So, everything will line up appropriately, and everything will go smoothly.
Performance
First, I'm going to explain how Megan Racing coilovers perform. These are the positives of coilovers. Their operational perfection is at your disposal, and off the peg, they provide you with superior steering control, a smooth ride, and never sink in. 
When you hit a bump, the rear springs are of help, but the front end might be rather rough. The best point about the front is the simple extent to which you can hit it (and likewise, in the same way, the lesser impact on your car with Eibach springs and, to a lesser extent ARK ones).
The rear of the car may seem more like a self-propelled vehicle driving without the sway from the body roll. That is pretty great! One can say upfront handling has improved, but it was not truly much better.
Yes, you will undoubtedly have less body roll than stock, but that does not mean the car will be more controllable. Since you can start off with increased damping in moderate to soft settings, you may get rough ride bounces that could rebound from bumps or large dips.
Banking things up in order to make some semblance of rebound control simply provides extra adhesion to the groove that the front end would preferentially bounce onto during averse bumps. After you've bought your car, you should try the Track Series. I am afraid the car is too light for the used front springs, and the valving isn't useless for the spring turn rate.
Adjustments
Adjusting Megan Racing coilovers is simple and straightforward. You can single-handedly access a standard damper knob at the top of the shock shaft by lifting the car up until you lower the wheel. You snug up your arm in the well and turn the adjuster.
I think many people will probably be happy with this configuration over having the shock setup at the top of the lever, which implies removing the shock. With this setup, it is easier to experiment quickly. 
Because many lower-end systems use the same mechanism, the adjusters control both compression and rebound rates. As you make it stiffer, the rate of compression and rebound will be slowed down. 
Unlike other series from Megan Racing, the EZ Street series doesn't have a front camber plate, which has holes on each side of the hood adjuster for adjusting the camber of the front struts. It is very difficult to do this while working on the vehicle. 
To prevent such a situation, don't be discouraged from performing this adjustment at the front-end mounting bracket. The goal is not to choose too much camber.
Potential Issues
We've got everything square when we determine that the rear adjusters are at partial resistance with the road dirt and debris. Washing the worst spots as required, adding some PB Blaster, and spraying a little will do it. 
I may use a mountain bike inter tube, zip ties, and grease to safeguard the parts once the weather becomes cooler. The back of the Springs is designed for the bumps of roads. When grinding and pressing against the bottom, the bottom can break and disengage.
Automating wheel replacement is advisable if the trouble results from insufficient lubrication or from living in a wet or winter environment. It's a relatively straightforward procedure. Unbolt the axle nut and drain away the oil, remove the wheel, disable the rod link, eliminate the bolt at the top, and remove the top nut to remove the top of the strut. 
After that, remove the strut top for maintenance. No need to worry about pulling a strut out of the knuckle if you're switching the springs. Quickly remove the spring from the hole in the hanging strut tower, then remove both top hats simultaneously. 
Megan Racing Coilovers Review – Final Verdict
There are some excellent factors to justify Megan's expense. However, other weaknesses exist too. I'd love to discuss these coilovers, and I would certainly have no problem giving over a positive assessment at this moment. Megan Racing ought to clearly mark the spring refresh rate and may choose to determine how those coilovers are specified for that audience. 
Right now, this is the only major drawback I have against their products. Since I received them recently, the dampers have been a little on the sloppy side. Be that as it may, this problem has taken care of itself after many intense modifications and adjustments. 
This feature remains entirely well in spite of its modest amount of features. They are a great set of dampers for the price, and I would recommend them to anybody searching for a good value but wanting a decent coilover system.