When comparing the Godspeed coilovers to Tein, a notable distinction lies in the pricing. It should be noted that the Tein coilover comes at a higher cost than its Godspeed counterpart.
The Godspeed coilover is renowned for its cost-effective offering that provides excellent value for money. Conversely, the Tein coilover is distinguished for its exceptional build quality, longevity, and versatility.
The Godspeed Coilover offers an extensive range of variants, including the MonoSS, MonoMAXX, and MonoRS. Each of these coilovers offers an affordable solution to the requirements of various car models.
Tein Coilover boasts an expansive selection of coilovers, such as the Street Basis Z, Flex Z, and Mono Sport, all of which are expensive, except street basis Z.
What Is Godspeed Coilovers?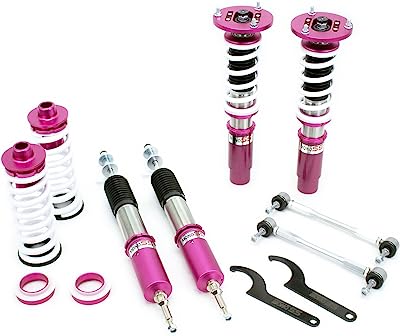 The Godspeed Coilover system has been engineered as a highly adaptable racing coilover that remains street-friendly, all at an affordable cost.
The good side of this Coilover is a carbon seamless steel 52mm mono-tube. The internal piston has been designed to deliver exceptional damper response, ensuring maximum performance.
When evaluating the performance of a product, certain customers may provide feedback in the form of a review. In one such instance, a customer expressed their satisfaction with the durability of a particular coilover.
It has a remarkable feature in its 16-level damping adjustment, which provides superior adjustability for your vehicle in street racing scenarios. As such, we highly recommend seeking the assistance of a professional for its installation. This will ensure optimal performance and safety on the road.
Several motorists express concerns over the wear and tear of individual components, however, Godspeed Coilover provides a distinct advantage as it allows for easy replacement of the shock absorber when it becomes worn out.
What Are Tein Coilovers?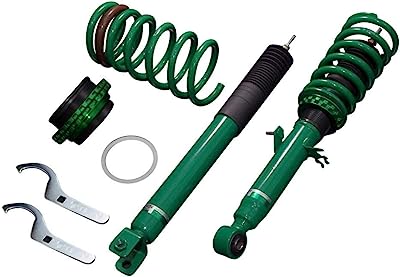 TEIN Coilovers offer an array of coilover types, however, their most sought-after series comprises the TEIN Basis Z and Flex Z Coilover.
It has a dust boot.
The dust boot is composed of a top-quality material that is optimally suited for its purpose. The resilient and supple composition of the dust boot is highly effective in safeguarding the piston rod from harm, while concurrently preventing the infiltration of extraneous matter into the shock absorber.
In addition to delivering impeccable performance, the Tein coilover boasts unparalleled damping force adjustment, seamless ride height adjustment, and premium damping oil.
With a multitude of innovative features, this product is designed to elevate your driving experience to new heights.
The cost of the Coilover component is subject to variation, as the TEIN series offers a diverse range of coilovers with varying pricing models.
Godspeed Coilovers Vs Tein: Adjustable Ride Height
Coilovers offer a multitude of benefits, including elevated spring rates that effectively manage body roll, customizable damping that regulates compression and rebound response, and the ability to balance weight distribution across corners.
In order to identify your primary concern when seeking a Coilover with ride height adjustability, it is recommended that you direct your attention toward the Tein Street Basis Z or the Godspeed Mono-SS. These particular models are regarded as exemplary options for their ability to finely tune ride height adjustment.
The Street Basis Z by Tein carries a slightly higher price point when compared to the Godspeed Mono-SS.
Godspeed Coilovers Vs Tein: Comfortable
Both the Tein and Godspeed coilovers are equipped with adjustable ride height functionality. The ability to adjust ride height is a crucial component of any coilover system, as it enables a more comfortable driving experience in response to fluctuating road conditions.
When seeking out optimal ride comfort, the Godspeed Coilover MonoMAXX proves to be a viable solution, offering a refined and comfortable ride. Conversely, the Flex Z presents itself as an equally ideal option for those seeking a comfortable ride experience.
It is worth noting that the Goodspeed monoMAXX is priced at a more affordable rate compared to the Tein Flex Z. It is imperative to mention that the Tein Flex Z is constructed with additional features that enhance its durability, making it a formidable competitor in its market segment.
Final Words
In the event that an individual seeks to enhance their daily driving experience and optimize ride adjustability for traversing dirt roads with ease, the acquisition of a suitable coilover system is highly recommended.
So many coilover options available in the market, both Godspeed and TEIN coilovers are undoubtedly among the most notable. However, when it comes to selecting between them, one must exercise discernment to ensure unparalleled ride quality.
In order to gain a more comprehensive understanding, it is essential to acknowledge that the Tein coilover system is more costly than its Godspeed counterpart. However, it is important to note that this heightened expense is directly correlated with the system's increased durability. This durability is derived from a specifically designed dust boot shield, which ultimately contributes to the Tein's superior longevity when compared to the Godspeed coilover system.
In consideration of purchasing a Coilover for personal use, I would strongly prioritize durability and longevity in my investment. Although the initial cost may be higher, the long-term benefits of this decision far outweigh any short-term savings. It is my professional recommendation to opt for a high-quality coilover that will serve you well for years to come.
More differences: