It is important to be mindful when choosing Coilovers for your car. Your coilovers are the key components in terms of comfort, performance, and overall handling of your car.
It's essential to make sure that you are selecting the right Coilovers for your specific make and model, as this will ensure that you get the most out of your car's suspension system.
Knowing which elements to look for and how they impact your choice can help you make an informed decision about the perfect fit for your car.
What is Coilover?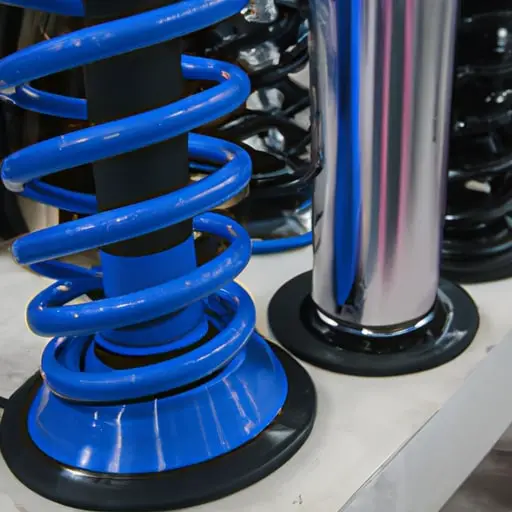 Coilovers are an innovative way to provide superior shock absorption and suspension. By combining the convenience of a coil spring with the performance of a shock absorber, this setup will keep your vehicle on track for years after installation.
Coilovers are a type of suspension system used in many vehicle chassis, including cars, trucks, and SUVs. They can be used to improve ride quality, increase handling performance, and adjust ride height.
Coilover systems consist of a damper, spring, and mounting system. The damper helps absorb and dissipate energy from the wheels and works with the spring to properly control the vehicle's motion.
The springs can also be adjusted to provide the desired ride height, allowing for customization of the vehicle's appearance. With the right setup and tuning, coilovers can drastically improve a vehicle's performance, making them a popular choice for modified vehicles.
Related: Pros And Cons Of Coilovers
How to choose the right coil-overs?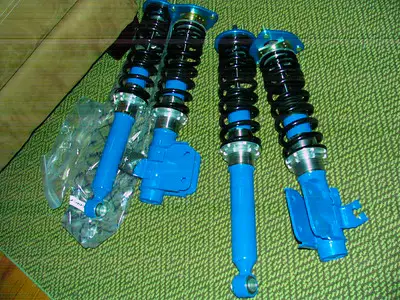 With this newfound knowledge, you have a detailed understanding of the important role that coilover suspension plays in vehicles. From improved handling to increased durability and safety – it's clear why so many look to them as an invaluable asset on their cars.
Coilovers are a great way to improve your car's handling and performance, but before you buy a set, there are four key components you should consider.
Springs Rate: When purchasing coilovers, it's important to consider the spring rates. Spring rates are determined by how many pounds of pressure it takes to compress a spring by one inch. So, the higher the spring rate, the more pressure it will take to compress the spring. This is important because it determines how stiff or soft the suspension will be.

Ideally, you want to choose a spring rate that is appropriate for your weight and driving style. If you're lighter weight and don't drive aggressively, you'll want a softer spring rate so that the suspension is more compliant and comfortable. Conversely, if you're heavier weight or drive aggressively, you'll want a stiffer spring rate so that the suspension can handle more abuse.
Valving Adjustability: Coilovers offer a huge range of adjustability that can be used to fine-tune the handling and behavior of your car. While many factory suspension systems are adjustable, they often have very limited ranges or are not adjustable enough for serious enthusiasts. Coilovers, on the other hand, can be adjusted to account for changes in ride height, spring rate, and damping characteristics.

This range of adjustability makes Coilovers an ideal choice for those who want to fine-tune their suspension setup or who are seeking to match their suspension to a specific set of driving conditions or track layout. By allowing you to tailor the suspension's behavior to your individual needs, coilovers can provide a much more controlled and responsive driving experience.
Top Mount: Top mounts are the connection between the shock body and the vehicle's chassis, and their condition and quality can play a large role in determining the performance of your coilovers.

Top mounts come in many different forms, from steel camber plates to aluminum pillow ball mounts, and the desired stiffness and strength of the mount will depend on the application.

Additionally, the type of top mount may also affect the suspension geometry of the car, which can have a major impact on how it handles and performs. It is important to select a top mount that is of the right material and design for the intended application in order to ensure safety and performance.
Monotube vs. Twin Tube: When choosing coilovers, you'll need to decide whether you want a monotube or twin-tube design.

Monotube coilovers are considered the best option for track use because they're more durable and can dissipate heat better than twin-tube designs. However, monotube Coilovers are also more expensive.

Twin tube Coilovers are less expensive than monotube options and are better suited for street driving. They're not as durable as monotubes and don't dissipate heat as well, but they'll still provide a significant improvement in driving dynamics over stock suspension.
Identify the type of suspension setup on your car
There are two types of suspension setups on cars: dependent and independent.
Dependent suspension systems rely on a single pivot point, or fulcrum, to transfer the load from the vehicle to the suspension and tires. Because the load is distributed through a single point, these systems are often called "McPherson Struts" after the McPherson strut design that uses this type of system.
Independent suspension systems use multiple pivot points to transfer the load from the vehicle to the suspension and tires. This design allows each wheel on the car to move independently of one another, which provides better control and comfort over bumps in the road. Some common examples of independent suspensions are double wishbone suspensions and multi-link suspension systems.
Choose the right coil spring rate
Selecting the correct coil spring rate for your vehicle is an important factor for safety and performance. The correct rate for a vehicle depends on many factors, such as the weight of the vehicle, the desired ride height, and the intended use of the vehicle.
To ensure optimal performance, it is important to select the correct rate for the spring.
Different manufacturers offer different spring rates depending on the type of vehicle and use.
Evaluate the weight, ride height, and intended use of the vehicle to help choose the best spring rate.
Additionally, the appropriate rate can be determined by consulting with a professional who has experience in selecting the right spring rate. It is important to take the time to select the right spring rate to ensure optimal performance and safety.
Consider ride height adjustment
Ride height is an important factor to consider when it comes to optimizing the performance of your vehicle.
Properly setting the ride height of your vehicle can make a big difference in how your car handles, its stability, and its overall performance. Additionally, it can also improve the comfort level of your ride.
Choosing the right Coilovers that fit your needs will be an advantage for your daily drive.
Ensure the coilover fits the vehicle
When selecting a coilover for your vehicle, it is important to ensure the product is a good fit. Measure carefully to make sure your measurements match the product specifications, as this is key to ensuring the coilover is an effective and safe fit.
Additionally, check the product description to make sure the coilover is compatible with your particular make and model of vehicle.
To ensure the best fit possible, it is best to select a coilover that is made specifically for your vehicle, as this will provide the best performance and safety.
Finally, if you are unsure about the fit or have any questions, it is recommended to contact the manufacturer for assistance.
Check customer reviews and rating
Before purchasing coilovers, it is highly recommended to check customer reviews and ratings. This is a great way to gain insight into the quality and performance of the Coilovers, as well as the customer service and overall satisfaction of those who have already purchased them.
Reading customer reviews can provide valuable information when making a purchase, such as any common issues or problems with the product and how the company responded to those issues.
Additionally, customer ratings can be a great indicator of how well the coilovers perform and how satisfied customers are with the purchase. Doing research prior to purchasing coilovers can save time and money in the long run.
Characteristics of an Ideal Coilover
Coilovers should have the following characteristics:
They should be adjustable so that you can change the height of your car depending on your needs.
They should be durable so that they can withstand a lot of wear and tear, and extreme road conditions.
They should be affordable so that you don't have to break the bank to get a good set.
They should provide a smooth and comfortable ride on the street, while also providing good performance on the track.
Reliability is needed (so that drivers can count on them to perform well under all conditions)
Quality construction (so that they will last a long time without needing frequent repairs or replacements)
Does brand matter?
When it comes to buying Coilovers for your car, the brand does matter.
Coilovers are tasked with providing an adjustable ride height and improved handling, so you want to make sure that you're getting a quality product from a reliable manufacturer.
There are many brands of coilovers on the market, so it is important to do research before making a purchase. You should consider the reputation of the manufacturer, how long they have been in business, and the quality of their products.
Additionally, you should look for reviews from other car owners who have used the coilovers to get an idea of how they perform in the long term.
Top recommended Coilovers
1. ksport Coilovers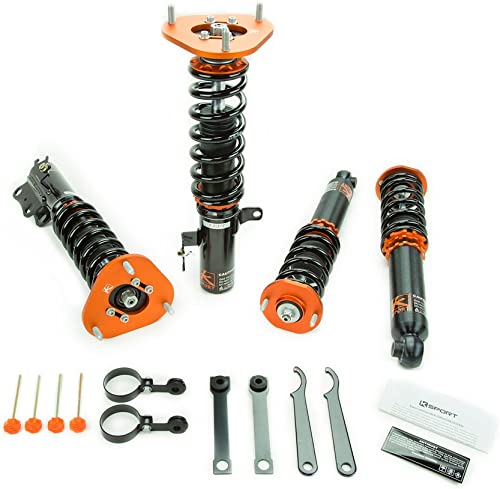 Ksport is one of the top brands that provide excellent prices and products that can meet the customer's needs properly.
These high-quality suspension components are perfectly engineered to provide superior handling, increased stiffness, and improved vehicle stability.
Their adjustable height feature allows you to customize your ride height to achieve that perfect stance. Ksport Coilovers boast heavy-duty stainless steel construction for maximum durability and corrosion resistance.
Customers are raving about Ksport Coilovers, giving it a near-perfect 4.9 out of 5 ratings. From car enthusiasts to everyday drivers alike, this product is earning top marks for its performance and reliability.
2. Mostplus Coilovers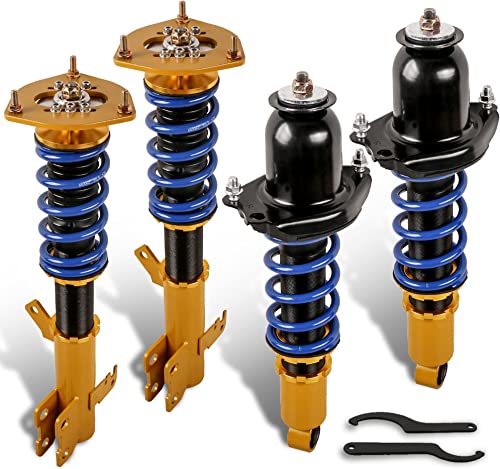 The next top choice is our Mostplus coilovers. Mostplus coilovers are the perfect choice for drivers looking to optimize their vehicle's performance and provide a more custom ride.
Their adjustable dampening and height adjustment capabilities make them ideal for both street and track driving.
With their durable construction and high-quality materials, Mostplus Coilovers are built to last and are sure to provide reliable performance for a long time.
Mostplus coilovers have received a remarkable endorsement from customers, with an impressive 4.8-star rating out of 5.
3. V Maxx Coilovers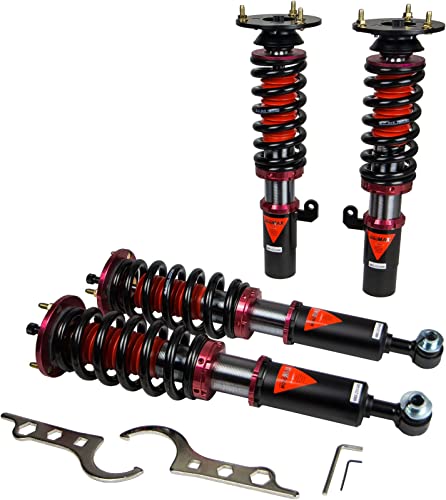 Next coilover that V Maxx Coilovers are the perfect choice for any driver who wants the ultimate in performance and quality.
With a wide range of adjustments and customizable settings, V Maxx Coilovers provide the perfect setup for any type of driving condition.
Whether you are looking for a better ride on the street or improved performance on the track, V Maxx Coilovers have you covered.
V Maxx Coilovers have earned an impressive 4.4-star rating out of 5 from customers, proving the product's outstanding quality and satisfaction!
4. Ridetech Coilovers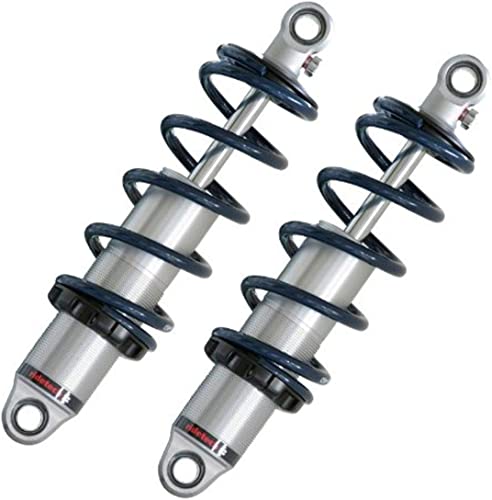 Ridetech Coilovers are the perfect choice for those looking to make their car ride smoother and more enjoyable.
With their adjustable spring rates, adjustable damping, and adjustable ride heights, these Coilovers offer a wide range of customization options to fit any driver's needs.
The coilovers come with a lifetime warranty, so you can rest assured that your investment is in safe hands.
Independent reviews reveal that Ridetech Coilovers have received glowing feedback from customers, earning an impressive 4.9 out of 5 stars.
5. Skunk2 Coilovers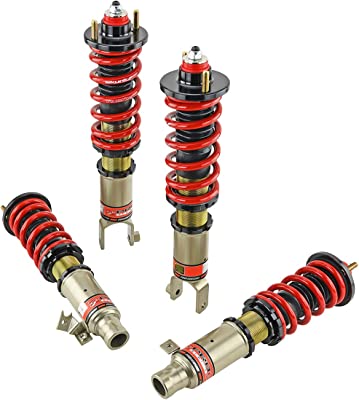 Skunk2 coilovers are renowned for their superior performance, as they provide a highly adjustable and comfortable ride for any driving situation.
These coilovers are ideal for those looking to improve handling and tuning capabilities, as they allow for a wide array of adjustability and fine-tuning.
Skunk2 coilovers feature an independent spring and damper setup, allowing for completely independent tuning of the ride height, camber, and rebound settings.
Skunk2 Coilovers are a fan favorite, as evidenced by their stellar 4.7/5 customer rating – making them an obvious choice for vehicle upgrades.
6. Tein Coilovers
Tein Coilovers are one of the most popular and innovative suspension solutions available on the market today.
They are designed to provide superior performance, comfort, and reliability, while also providing a unique style to your vehicle.
Tein Coilovers offer a wide range of adjustment and tuning options, allowing you to customize your ride to meet your exact needs and preferences. With a wide range of options, including height adjustability, stroke adjustability, and dampening adjustability, Tein Coilovers are the perfect suspension solution for any vehicle.
Tein Coilovers have earned a 4.6 out of 5 review rating and come with a higher price tag.
7. Readylift Coilovers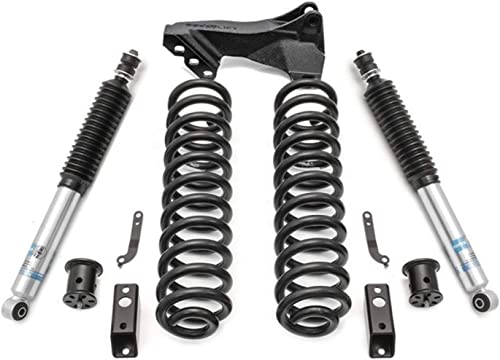 Readylift coilovers, one of the best coilovers, offer a versatile and reliable suspension solution for those looking to upgrade their ride.
With their durable construction and adjustable height, these Coilovers are the ideal choice for customized rides.
With a simple installation process, you can easily achieve the perfect ride height and stability, whether you're hitting the track or hitting the streets.
ReadyLift coilovers have earned a 4.8 rating out of 5, with customers expressing great satisfaction with their performance.
8. BC Racing Coilovers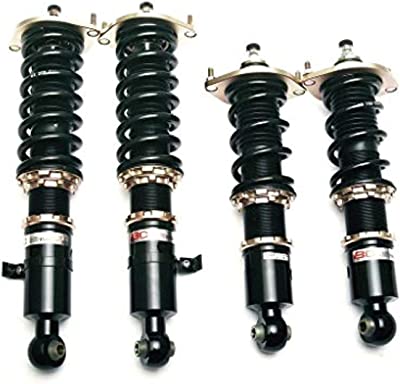 BC Racing Coilovers are an excellent choice for your vehicle's suspension.
They feature adjustable ride height and dampening, allowing for a tailored suspension setup for any driver's needs.
With over 10 years of experience, BC Racing has become a leader in adjustable coilovers, offering durability and performance that is second to none.
BC Racing Coilovers have received an impressive 4.8/5 review rating from customers, who are delighted with their performance, handling, and durability.
9. Truhart Coilovers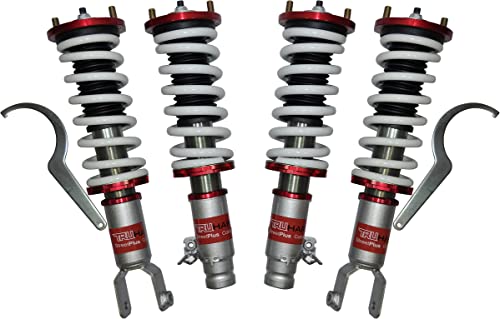 Truhart coilovers are a great addition to any vehicle and can greatly improve overall performance.
Not only do they provide superior handling and performance, but they also come with a wide range of adjustments, allowing you to customize the ride height, stiffness, and other aspects of your ride. 
Additionally, Truhart coilovers are designed to be durable, offering long-lasting performance without sacrificing quality.
Truhart coilovers have been reviewed with a rating of 4.4 out of 5, and are renowned for their smooth ride quality.
10. Maxpeedingrods Coilovers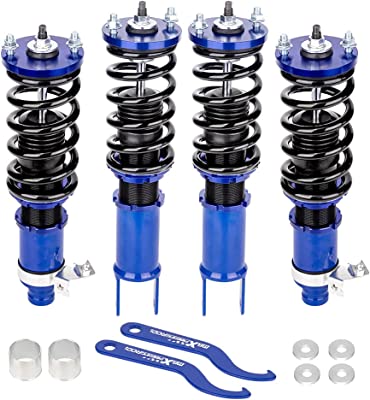 Maxpeedingrods Coilovers provide an excellent level of performance and tuning for a variety of vehicles.
Their unique design and construction combine with advanced suspension technology to provide incredible handling, response, and comfort.
Their highly adjustable nature allows drivers to customize their vehicles to their exact specifications, allowing them to achieve the perfect balance of performance and comfort.
Maxpeedingrods coilovers have earned an impressive 4.9/5 rating for their superior ride handling and off-road performance.
The benefits of having Coilovers on your car
Coilovers offer a wide range of benefits for drivers, including:
Improved handling and cornering ability
Reduced body roll and sway
Quicker steering response
Better suspension tuning for different driving conditions
Height adjustment for drivers of all sizes and types of cars