Trying to discover acceptable replacement parts for your vehicle's suspension system without breaking the bank? The perfect is not defined for anything, so you can't anticipate anything out of your dreams. 
Even so, there's hope for getting what you paid for.  Sensen, Monore, and KYB are some of the leading brands of alternative strut suspensions, particularly in the budget segment. 
But, as you must pick one of these products, how can you choose a winner from your Sensen vs. Monroe vs. KYB Struts showdown? Examining the recent price of these products, comparing their features, and reviewing end-user feedback will make you dizzy when you have to evaluate everything yourself. 
Don't lose heart. We have dealt with the tedious process for you and broken down this complex fight via a comprehensive comparison.
Sensen vs. Monroe vs. KYB Struts – Comparing Major Factors
So, here comes the main comparison section. In this part, we'll gradually discuss some notable facts about these struts you must consider making your choice well-judged. Let's start:
Feature Analysis
What do you focus on first when purchasing aftermarket parts for your car? If we're not wrong, it might be the features of a particular component. Yes, you may get a glimpse of features when making a purchase. 
However, we have done the tedious job of putting some noteworthy features of struts from these three brands side by side. So, you get quick access to analyzing their potent features. 
Features of Sensen Struts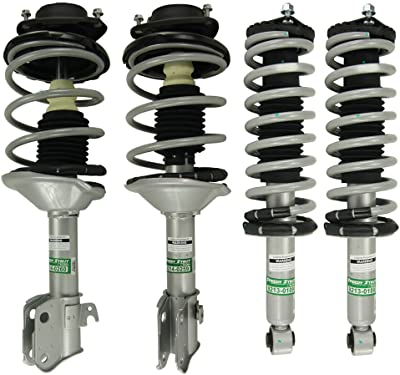 Sensen struts are intended for enthusiasts as well as mainstream customers, and they serve virtually all vehicle brands as well as models. Their unequaled material options, premium style, and intricate design aspects have generated a major market for this establishment. The unique aspects of their products fall in this regard: 
Shock oil should be balanced to avoid thickening and thinning due to temperature fluctuation. Otherwise, such a fluid can turn into a thin liquid through shifts in temperature, giving you suboptimal shock absorption as you go over uneven terrains.
For that reason, Sensen struts use an all-weather shock oil which is consistent as water but will be different when it comes to motion. It will lubricate well, protect against wear and tear, and absorb considerably more damage than other unstable oils.
The main purpose of the spring seat is to offer and maintain adequate support for springs throughout every driving scenario. Springs should be mechanically resistant in order to prevent corrosion and wear, as well as abrasions and collisions under various weather and when hit by little things.
Sensen Struts utilize heavy gauge spring seats that resist rust corrosion and damage due to varying temperatures, harmful gases, and aggressive liquids. As a result, these seats can endure the spring elements of your automobile for over five years over the course of 5,000 miles of rough terrain.
Since weather elements such as moisture and air are present, the steel components of struts will be damaged by rust. With rust comes wear and tear, decreased performance, and ultimately, breakdown of the vehicle.
That's why Sensen Strut comes covered with a powder-clad painting in its standard shade. This paint is thermal and abrasion resistant, meaning it does not melt as easily nor peel off as readily when subjected to intense heat and cold. This guards the steel parts, so they will not corrode through, lasting as long as their struts last.
Higher Grade Materials in Mounting Hardware
The general connection between the strut and chassis may be referred to as the strut mount or housing. It depends on the impact strength of the assembly to cooperate sufficiently with the mounting to ensure good performance.
SAE 8 grade is the strongest steel readily available today, which Sensen uses to build its hardware. The strength and resilience of the hardware enable this hardware to endure heavy movements, shocks, and vibrations.
Features of Monroe Struts
Let's have a look at some of the key features of Monroe struts: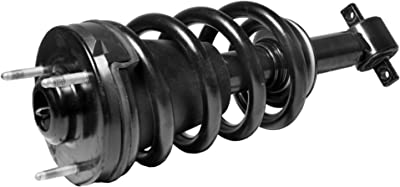 These particular struts are designed to accommodate a wide range of applications, so they're designed with goal-oriented application-specific valving for increased efficiency. 
All these struts feature subtle engineering, which results in enhanced performance. The design elements of these struts help replicate the vehicle's original handling and riding characteristics.
These struts now have a newly designed bearing plate that offers continuously accurate and consistent steering response by canceling out the ability of dash memory to steer. The rim on these struts also decreases the noises normally caused by corrosion or wear.
Steel made from quality US material that is precisely machined to the compatibility standards of vehicles is used by the spring in these struts. The refining process in creating this strut's coil spring allows for a higher amount of support for the safety factor of your automobile's ride height as well as its overall weight. 
Every single one of the coil springs is either powder-coated or covered in a specialized painting that prevents it from rusting too quickly.
Features of KYB Struts
Now, let's focus on the KYB struts features:

Naturally, OE-style springs are the best for use on vehicles since they do not significantly damage the tires. This is because they are more flexible and do not readily cause tire damage while in motion. 
OE-style springs used in KYB struts can also turn kinetic energy into other forms of energy in response to time. That makes OE-style springs a great solution for virtually any car.
The KYB shock struts use compressed gaseous compounds, such as nitrogen gas, to control the movement of the vehicle. Generally, in a vehicle, nitrogen is the preferred gas in conventional shock absorbers. 
In the KYB struts, Excel-G technology is used to generate balance. Consequently, whatever terrain you drive your vehicle upon, your vehicle will remain balanced.
Ease of Installation
When you're trying to determine what type of car part to purchase, you need to take a look at its ease of use. Slackness is a characteristic frequently noted during the installation of your particular vehicle component. If you do not have as much knowledge or skill, make sure that you contact a pro to do it for you.
Which is easier to install among these three options? This depends more on the vehicle model. Despite the major brands attempting to reach the whole world, the facilities are perfectly suited to their respective markets.
Monroe makes shocks and struts primarily for the Latin American market, whereas KYB is designed for the Japanese and Asian markets. Monroe shocks and struts are easy to install on Toyota and Honda models, whereas KYB shocks are widespread on Nissan cars. 
Considering that you are a do-it-yourselfer, about 4 hours of focused work should be sufficient for you to put together your Sensen struts. However, if you don't particularly know what you're doing, hiring knowledgeable help is probably a better choice. To appropriately configure your struts, you might break a bolt or two if you do not know what you are doing.
Sensen vs. Monroe vs. KYB Struts – Pros and Cons
What advantages do Sensen, KYB, and Monroe suspension pa possess in comparison? What are their drawbacks? This is an important factor to think about when choosing a brand. Below are a few of the benefits and drawbacks of all three manufacturers.
Pros and Cons of Sensen Struts
You might have seen some of the most attractive features Sensen struts offer. And yes, their most advantages lie in these features alongside the brand value itself. First of all, Sensen struts are constructed with premium-grade stainless steel to ensure a longer lifespan. 
You'll get OE shock performance even if they are aftermarket parts. That sounds quite impressive, indeed. Most importantly, their all-weather shock oil is just worth the investment that seals off the competition easily. Guess what, all of these you'll get at a tremendously reasonable price. 
Cons:
Sad but true, many users are quite dissatisfied with the ride quality they offer. Maybe it's due to the diverse choice of users. Still, you should be concerned about this.  
Another significant drawback is that Sensen struts are harder to install compared to many premium-quality or even budget-segment struts. 
Pros and Cons of Monroe Struts
Monroe struts have a number of beneficial attributes, including their long-lasting build. One benefit is its exceptionally durable metal rod made of high-quality materials. Their solid build is constructed of top-notch materials for the rod, such as the Monroe Magnum truck shock absorber.
OM, as a result of such investments, Monroe currently possesses the most advanced systems and technology available. Monroe works to continuously improve the product's quality through sound research and development. 
This can be seen in the truck absorbers that are theoretically based on nitrogen tanks. Since they have self-lubricating seals, they help reduce friction and wear, stabilize parts, and extend their lives.
Cons:
Monroe suspension parts have a few disadvantages that you should be aware of. One of the most frequent has to do with the vehicle's height. This is a drawback that you'll notice with different models, not all. 
As something of an inconvenience, your vehicle's rear suspension may experience wear. Monroe's suspension components typically have a decent history, but your vehicle's driving style and mileage are factored into the lifespan of the suspension.
Pros and Cons of KYB Struts
The resilience of KYB's products is their main selling aspect, translating to long-term viability and suitability for challenging terrains. KYBs have become common among owners of Japanese cars designed for off-road use. It relies on the leading age-appropriate technology for compatibility with both new and older model cars.
KYB has a large collection of suspension system parts available for purchase on its website. Its inventory includes parts such as shock absorbers, spring lifts, and electric leveling shocks for automobiles from both foreign and domestic manufacturers. 
Cons:
KYB suspensions used by your vehicle may wear out rather quickly on rough roads, and you are usually required to obtain this service quite frequently, costing a lot of money. 
Looking at prices, KYB's car suspension rating isn't as good as some of the models. Also, don't ignore the reality that outings on rough roads impact your KYB shocks and struts more frequently than they do other models.
Sensen vs. Monroe vs. KYB Struts – Our Verdict
So, which one is your winner from the Sensen vs. Monroe vs. KYB Struts battle? Still confused? Let's wrap up our whole discussion with some crucial words for you. 
Sensen struts are made in China, a name that seems horrifying to many people. However, when you're running behind in saving your cash, you should compromise something. That's what Sensen struts. 
Monroe shocks and struts have developed with global help. They are the primary American company that's been instrumental in developing numerous innovative and new parts for automobiles, buses, trucks, and so on. 
KYB may have been in operation longer, but the American sales division wasn't incorporated until 1974. Their goal is to fortify your auto's durability as much as possible.
If you favor greater wheels or bigger tires and need to add more value to your vehicle, you may want to spend more money on KYB products. We've tried Monroe products for towing and hauling, and they felt great, but we chose KYB simply because they were more dependable.
More differences: