Ksport is relatively new in the automotive industry, yet it has earned admiration from tuning enthusiasts. Their coilovers are primarily suitable for high-speed racing cars or other dirt and rally cars. 
Yes, they also have coilover models for street or daily driving as well. However, due to their firm dampening setup, daily drivers remain hesitant. Now, when you're searching for a budget-friendly coilover kit like Ksport's, you need a proper guide. 
In that case, KSports coilovers reviews can help you out. This is what I'm going to share and explain here. Let's get into a detailed discussion.
Different Types of Ksport Coilovers
As one of the world-renowned aftermarket car parts manufacturers, Ksport tries to fulfill the diverse needs of drivers. With this in mind, they categorize their coilovers into 3 major types depending on the type of vehicle and application. Here is a brief overview of Ksport coilovers variations. 
Street Application Coilovers
For those who want a reliable coilover setup for street driving or daily commuting, Ksport offers 4 distinct models. These are:
The Kontrol Pro is one of the most popular coilovers for the street and light track, receiving a special allegiance among people seeking a reduced ride height as well as an improved handling response. 
With 36 levels of damping adjustment, the Kontrol Pro system lets you calibrate your own ride for performance without compromising riding comfort.
Kontrol Sport optimizes and builds on key features provided in Kontrol Pro, including 36 levels of damping adjustment and stiffer valve settings, to provide an even greater level of performance.
This results in faster cornering and better responsiveness, making this a perfect coilover system for aggressive street driving and racing.
The GT Pro coilovers feature the same time-tested technology as the Kontrol Pro coilovers. Nevertheless, further significant durability improvements have been made for extended life. 
GT Pro comes equipped with larger 55 mm diameter shocks as well as an upside-down front design that separates the oil from the gas chamber and minimizes heat transfer.
The most intriguing quality about Ksport's Kontrol Plus 2-way coilovers is the determination of distant reservoirs offering separate settings for rebound and compression. 
The 2-way coilovers on offer by Ksport can limit setup time to over 864 individual settings, making them ideal for professional competitions and enthusiasts who seek maximum control.
Race Application Coilovers
Ksport offers 4 different models for performance lovers. These models include:
Slide Kontrol coilovers are capable of enduring the abuse of the drift circuit. Particularly, these coilovers come with inverted 55 mm struts, heavy-duty pillow ball mounts with camber adjustment, and steel lower mounts, which make them the most suitable options for MacPherson-type vehicles.
Version RR was created for customized road racing and or extreme vehicle use. With an aggressive reaction time and sturdy valving, the system provides excellent handling and precise handling on multiple tracks. Lowering ride height could also be done to deliver improved aerodynamics.
The DR Coilover Kit is quite similar to the Version RR Coilovers; however, it's purpose-built for drag racing and comes with internal, setup-specific amendments. The kits are all factory-set for drag racing, and springs have been preset to provide optimum traction and weight transfer with variable rates.
Circuit Pro 3-way is the best system for high-speed track use. Each circuit can be set up with patented compression and rebound damping independently. All external reservoirs lengthened the shock oil reserve gas capacity and reduced shock oil operating temperatures during long runs. 
Camber caster adjustable top aspect enables you to adjust the caster in relation to the central plane and enables braking less during racing than on your vehicle during conventional driving.
Rally Application Coilovers
Drivers who love the thrill of driving on dirt have a particular line of coilovers from Ksport. This line includes 2 models, these are:
Asphalt coilovers feature elongated stroke, strong structural components, and simultaneous compression and rebound adjustment. Large-diameter pistons within the shock allow for a larger quantity of lubricating oil for increased efficiency. Selectively tuned spring rates and shock-damping settings allow the vehicle to move smoothly and easily through various road conditions.
Gravel Rally coilovers are designed to handle the harsh riding of the gravel rally racing circuit. This system features a long-lasting compression stroke along with longer springs, enabling the shocks to pick up on any sort of road. In addition to heavy-duty top mounts, the coilovers have a heavy-duty steel base for greater strength and protection.
Ksport Coilovers Reviews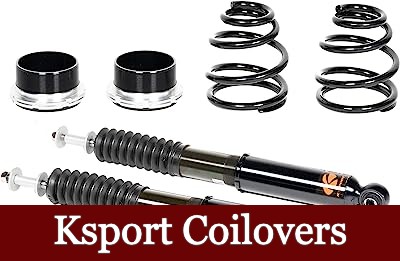 Now it's time to focus on Ksport coilovers' real-life performance or whether they give something you expect. 
Packaging Details
Silverstone-dominant sport coil-overs can come in a sporty orange anodized aluminum shade with silver or black anodized coils. When you purchase the coilovers, you will be provided with all the elements needed to install the struts, springs, perches, and spring mounting hardware for the struts. 
In addition, you'll receive 2 crescent-shaped devices to adjust the elevation of the center poles, four control rods to adjust each shock, and metal brackets for better control of the brake line.
Ride Quality
Going on regular daily drives, you may acquire the impression that everything you encounter on the road is extremely rough, but your unaffected driving may cause large bumps in the road. You'll feel things on the road very severely. 
However, driving on roads will be equipped for safe travel, and you will not feel every imperfection in the road until you start driving vehicles or around the city streets.
Large dips in the road will still be felt and will rock the car, but it is still easier. The low-slung body still handles beautifully, with the full grip of the springs. It was incredible that I could drive without any rear coil shocks, as I still wanted to advance the car over bumps but refrained from doing so. The high spring rates are really beneficial to do that.
Dampening Adjustments
The Ksport coilover's adjustability is only best compared to the most remarkable systems, but for an everyday driver looking to buy shock or spring systems all at once, this is an excellent option.
At first, you will perceive a noticeable distinction between the softest and medium settings we usually use. The car feels much more pleasant around corners when we typically feel significant wheel movement. Cracked road surfaces tend not to arrive at the cabin. 
The car now seems a bit slightly more locked through the curves than before, and even bumps and ripples will no longer cause the car to skip down the road. This gives the driver a bit of increased directional confidence on the front end of the car, feels as if it has more grip than before, and the vehicle tracks straighter around the curves.
The ride in the hard setting is bouncier if the surface contains more abrupt bumps, while hard-corner bumps seem to bother you most compared to the corners at the center of the vehicle. 
On the outside, the front end seems less planted, and in the middle, the bumps appear to be more jarring. In general, the hardest setting has less confidence in the front wheel compared to the medium and soft settings.
Installation
Installation of these coilovers is easier than a spring installation since you do not need to take the frame away from the struts so new coilovers can be put in. Anyone who's installing these for the first time should plan to have it take a whole day to be dealt with. 
These consist of adjustable struts and threaded seats to adjust ride height and shock travel to your requirements. One thing I haven't quite figured out about the installation of the rear spring perch is how that is aligned. 
When you install the spring on the spring perch without placing the vehicle on top of it, by the time the seats in front of you in the coilovers are lowered onto the spring. Besides, the perch is compressed, so the perch does not seem to align. It does not impact the operation of coilovers, as far as I can tell.
Yet another annoying fact is that by lowering the car enough in the back, you won't have access to raise the car back up by means of the tools required for that. Instead, you'll have to remove the spring support and remove it all to raise the automobile back up once again. It's an extra procedure but very fast and time-consuming and requires none of the driver's resources.
Pros and Cons of KSports Coilovers 
From several perspectives, Ksport coilovers have several positive sides or advantages. However, it's not surprising that there are some drawbacks as well. Let's point out what pros and cons I have found regarding Ksport coilovers:
Pros:
Well-judged and high-quality construction
Reduced body roll
 A lot of adjustability
Diverse coilover options
Excellent customer service
Cons:
Noise in the top mount rubber
Installation seems a bit time consuming
Ksport Coilovers Reviews – Final Verdict
For a supple, easy suspension outstanding at absorbing bumps and potholes, Ksport coilovers aren't a good pick. However, if you prefer a modest, stiff suspension that will minimize body roll and dive tendency, these suspensions aren't like every other and enable you to adjust your ride height easily.
One thing worth mentioning about the KSports is you can specify your front and rear spring rates, and the shock will automatically coordinate with them (valve dampener accordingly). For this technical reason, not everyone s preferences for ride comfort are equal. 
In addition, many people may have different tire-wheel systems for their cars, and thus, one must not allow tire-wheel stiffness to affect the dampener set. I will speak from an overall perspective to share my experience in choosing the spring settings. 
I feel good and will likely walk smoothly over batter, and overall road conditions because I feel under or over-damped on the high-speed compression and rebound dampening adjustments set much lower or in the mid-range. I ride smoothly on minor and major bumps.
See also: