Both Bilstein and BC Racing coilovers feature a monotube design shock system, offering superior damping capabilities in comparison to twin-tube shock alternatives.
One of the primary distinctions between BC Racing and Bilstein lies in their respective ride qualities. While BC Racing is known for its stiffness, Bilstein excels in providing superior ride comfort.
While the Bilstein offers remarkable adjustability, it is important to note that the valving system of BC Racing is unmatched in its superior performance.
Bilstein is renowned for its coveted line-up of series, such as the B12, B14, and B16. Conversely, the BC Racing BR Series Coilover presents itself as a formidable contender with high compatibility.
After conducting an extensive analysis, a comparison of Bilstein coilovers with BC Racing BR counterparts reveals that each individual coilover exhibits a unique set of characteristics.
Let's find them.
Bilstein Vs Bc Racing In a Table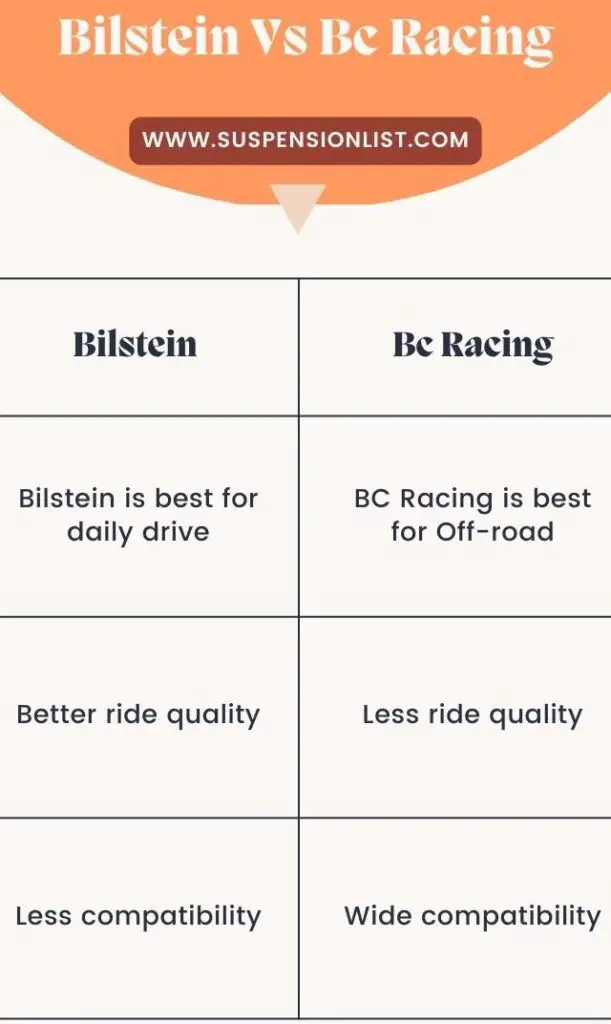 What Are Bilstein Coilovers?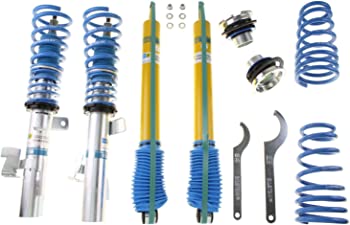 Bilstein is a well-established and preeminent name in the suspension industry, recognized for its exceptional quality and performance.
The brand holds a prominent position in the market, setting high standards for others to follow.
Bilstein products are proudly manufactured in Germany, adhering to strict standards of excellence.
Their innovative technology ensures unparalleled precision and stability, resulting in a smooth and comfortable ride for drivers and passengers alike.
The Bilstein coilover suspension system offers a highly versatile and personalized approach to lowering your vehicle's ride height by up to 50 millimeters.
The meticulously engineered zinc-coated and threaded body construction affords the ultimate versatility in achieving the ideal ride height position. Furthermore, the extensive testing regimen to which these coilovers are subjected ensures their exceptional durability and reliability.
Pros:
Durable
Comfort ride
Improve ride handling
Excellent adjustability
Cons:
What Are BC Racing Coilovers?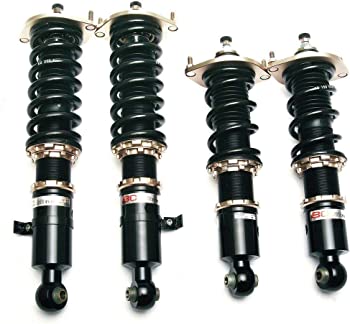 BC Racing is widely acknowledged as an industry leader in the field of coilovers, renowned for their exceptional quality and performance.
The manufacturing of BC Racing suspension systems is undertaken with precision in Taiwan, however, the finishing touches and final assembly of the product are completed in the United States.
BC Racing provides two distinct series of coilovers, namely the RS and DS.
The BC Racing Coilovers prove to be the epitome of excellence for street driving, with their superior capacity for compression and rebound fine-tuning, and independent ride height adjustment.
This particular system boasts an impressive range of 30 levels for damping force adjustment, allowing for optimal fine-tuning of compression and rebound.
This particular product boasts superior longevity and optimal valving functionality, all at a cost-effective price point.
Pros:
Budget-friendly
Excellent valving system
Improve ride handling
Smooth ride
Cons:
Bilstein Vs Bc Racing: Ride Height Adjustability
Regarding the matter of adjusting ride height, the Bilstein B14 coilover stands out as an exceptional option that possesses remarkable ride height capabilities.
Its state-of-the-art damper settings offer unparalleled handling performance on both the road and track, ensuring an incredibly sporty driving experience in any situation.
Furthermore, the Bilstein B14 is engineered to achieve optimal lowering, eliminating unsightly wheel gaps and delivering a seamlessly tuned appearance.
Although the BC Racing BR coilover system offers independent ride height adjustment, it may not achieve the same level of perfection as the Bilstein B14.
The Bilstein B14 series boasts upgraded features that propel it one step ahead of the BC Racing BR series coilover.
When considering the cost of BC Racing BR and Bilstein B14, it can be concluded that Bilstein B14 presents a more accessible price point.
Bilstein Vs Bc Racing: Damping & Quality
The Bilstein B16 suspension system is unparalleled in its damping capabilities and construction quality.
In addition to its customizable ride height, the system also boasts 10-stage, manually adjustable dampers with original equipment-grade components.
This results in an exceptional driving experience, where every bump and curve is met with precise control and comfort.
However, it should be noted that while the BC Racing BR coilover may be comparable to the Bilstein B16, it does not quite reach the same level of quality as the Bilstein B16 coilover.
In terms of the cost comparison between the Bilstein B16 and the BC Racing BR, it is evident that the B16 is considerably more costly.
Bilstein Vs Bc Racing: Comfort
When considering a comfortable ride, the Bilstein B12 stands out as the preferred choice over the BC Racing BR.
While both coilovers offer excellent ride handling, a side-by-side comparison reveals the Bilstein to receive the most positive response. 
Moreover, the price of the Bilstein B12 is comparatively affordable when compared to the BC Racing coilovers. For those seeking a superior riding experience, the Bilstein B12 emerges as a compelling and cost-effective option.
Bilstein Vs Bc Racing: Which One Better for You?
The optimal coilover, whether it be Bilstein or BC Racing, stands out among the competition in the current market.
However, when it comes to selecting one from the available options, it is crucial to consider your specific requirements.
For everyday commuting, the Bilstein coilover stands out as a top-performing option.
The BC Racing coilover system has been found to provide optimal performance in challenging off-road environments.
More comparisons on Bilstein:
More comparisons on BC Racing: